History-making nurse May Parsons reflects on a whirlwind year that has seen her meet the Queen, graduate and receive the Coventry University Endeavour award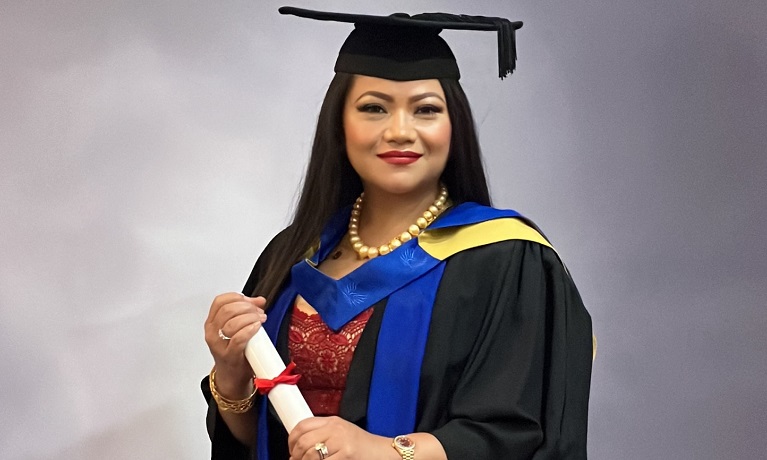 ---
Thursday 22 December 2022
Press contact
---
As May Parsons swapped her nursing blues for a Coventry University graduation gown, she revealed that if it was not for her mother's health scare, she might have missed out on a fulfilling nursing career that has seen her make history, meet royalty and become the face of the COVID-19 vaccine campaign.
May, 42, became the first person in the world to deliver the COVID-19 vaccine to a patient outside of a clinical trial, administering the first dose of the Pfizer/BioNTech vaccine to Margaret Keenan at University Hospital, Coventry, on 8 December, 2020.
On top of her demanding job caring for patients at University Hospitals Coventry and Warwickshire (UHCW) NHS Trust, May met the late Queen Elizabeth II, and has also been developing her leadership skills through a Master's degree at Coventry University.
But it could have been a different story had young May pursued her initial dream of becoming a teacher.
When I was nine, my mum asked me what I wanted to be.

I was helping my school teacher with younger children and I discovered I loved helping others. So, I decided I wanted to teach.

My mum encouraged me to dream big and so I thought about her heart problems and having seen first-hand how healthcare workers changed our lives by helping her, I decided to become a doctor.

In the Philippines you need to have a BSc to go to medical school, so I enrolled on a nursing degree. I found it so impactful as a young student to experience that I could help people and I haven't looked back.

May Parsons
Now her mother, who always encouraged May to dream big, has just watched on with pride as May graduated from her MSc Global Healthcare Management at Coventry Cathedral.
May was part of the first cohort on the Senior Leaders Master's Degree Apprenticeship and the School of Nursing Midwifery and Health recognised her with the Endeavour Award at her graduation.
The Endeavour Award is given to a student who has demonstrated skills and attributes that go above and beyond throughout the course of their studies.
It was very challenging but I would say to anyone wanting to do the course or to go back to education that it is so worthwhile.

The course has given me a wider view, not just of what we are facing as challenges in our local NHS, but on a global scale to improve the lives of the people we are serving.

It has given me more skills and knowledge and is something I will build on and take into my workplace.

I would recommend it to everybody.

May Parsons
The Endeavour Award and graduation have capped off another unbelievable year for May, as she reflected on meeting the late Queen Elizabeth II at Windsor Castle to collect the George Cross on behalf of the NHS in July.
The NHS is full of hardworking, committed people and to represent them and meet the late queen was such an honour.

I remembered all the people we have worked with, all the people we have lost and brought them with me in spirit.

Aside from getting married to my beautiful husband and having my kids I think that is one of the best moments of my life and one I will never forget.

May Parsons
May was chosen to represent the NHS due to her role in the vaccine campaign.
Since she delivered that first vaccine, the NHS in England has delivered more than 143 million vaccinations.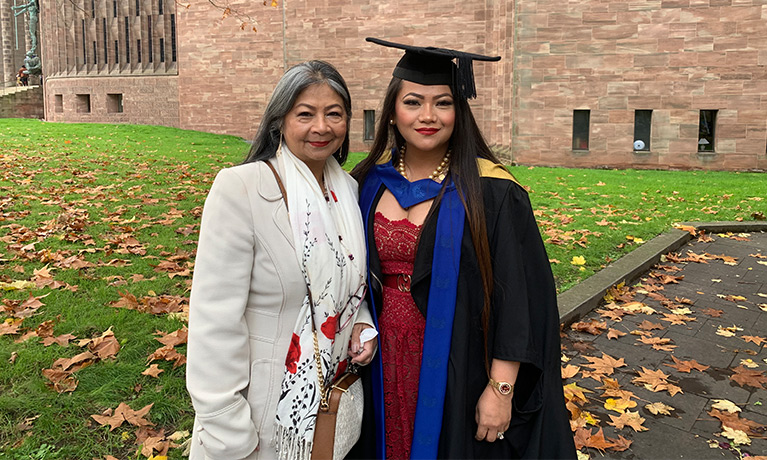 I think it provided the hope that we dearly needed in a time of despair. Hope is such a powerful feeling and that is what was offered that day.

It provided hope for all and for us healthcare workers who were risking our lives. It was the beginning of the end of the pandemic, which we are all grateful for.

May Parsons
May has still not had covid and encourages anyone eligible to get their vaccine.
The threat of COVID-19 is still there. We are still experiencing it. I know people have become complacent but as a person who has still not had COVID-19, it still frightens me, and I don't think people should make the mistake of not having the vaccine because they think it is all gone.

May Parsons
May is also backing the NHS and Coventry University's bid to recruit 1,000 new nurses in Coventry and Warwickshire by 2027.
My advice is to go into nursing with the intention of putting all your heart into it.

You can't make a nurse; you are born to be a nurse and it is not an easy path.

I look after my patients like they are my own family and you must be prepared to put your all into it and if you do, it will give back to you daily.

You can see the amount of positive impact you can give to one person and that impact ripples through to their families. You can touch so many different lives in so many different ways.

That is something you cannot measure.

It is the most rewarding and fulfilling career anyone could be blessed to do and I'm proud to say I will always be a nurse.

May Parsons
You can find out how to start your nursing career at Coventry University by booking a place at one of our open days on January 21 or February 18.