Nursing recruitment campaign on track to boost NHS in Coventry and Warwickshire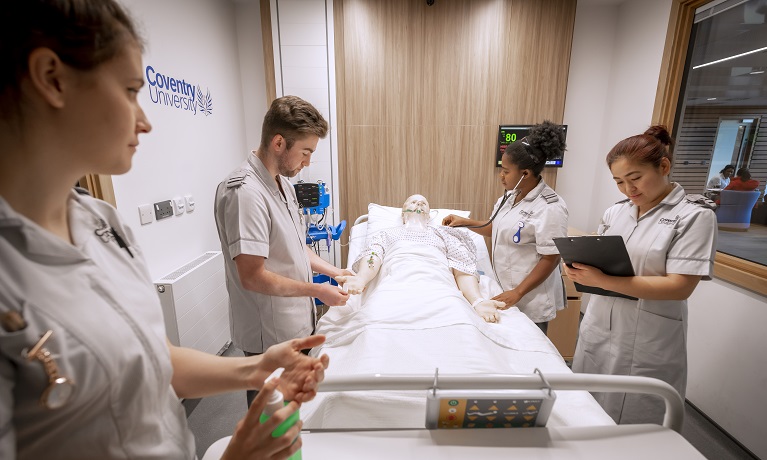 ---
Wednesday 19 October 2022
Press contact
---
The NHS and Coventry University are racing towards their target to recruit 1,000 new local adult nurses by 2027.
Coventry and Warwickshire Integrated Care System (ICS) and Coventry University announced in August that they were responding to the national shortage of nurses by working together to recruit 1,000 adult nurses from the local area over the next five years.
The university is on track to enrol a quarter of the 'Project 1,000' target by the end of January onto their adult nursing courses and it is hoped the new nurses will be in health and care settings in the region as early as 2024.
More than one hundred people answered the call to start their adult nursing journey at the university this September.
All of our staff have a nursing background, and we know how rewarding and challenging a career in nursing is. We know that you need to have the courage of a lion to be a nurse and that is one of the things we are looking for when we interview people.

Are you courageous? Caring? Compassionate? Committed? A good communicator and ready to learn the scientific knowledge and skills to be a nurse?

If you think you share those values and you are looking for a new challenge, then come and talk to our lecturers, students and NHS representatives at one of our open days on October 22 or November 26 and find out how we can help you develop the skills to make a difference.

Coventry University Nursing Course leader Laura Strumidlo
The students that have signed up range from 18-year-old school leavers to career changers in their fifties.
Nursing is a such a rewarding and varied career, with opportunities for continual development and a wide range of specialities to explore. I am so proud to be a nurse and want to showcase how amazing the profession is to future generations and people keen to start a new career. Attending one of the upcoming open days is your chance to learn more about the roles and how you can get into nursing. Starting your career in Coventry and Warwickshire will give you access to lots of exciting placements and with strong links across our local health network, you will get to learn from and be part of an extended team of supportive mentors. Following graduation, there will be many, varied job opportunities providing local nursing jobs for the local people of Coventry and Warwickshire.

We welcome future employees from all parts of Coventry and Warwickshire, from diverse backgrounds and of all ages, whether stating out as a student at 18, returning to nursing or people looking to change career.

Sarah Moppett, Interim Chief Nursing Officer at South Warwickshire University NHS Foundation Trust
Coventry University has a long history of providing trained staff for the NHS and the Faculty of Health and Life Sciences has a broad provision of health and social care courses that can lead to professional registration in: Dietetics, Nursing, Midwifery, Occupational Therapy, Operating Department Practice, Paramedic, Physiotherapy, Diagnostic Radiography, Clinical Psychology and Social Work.
Mature student Osazee Edosa is set to join those graduates after switching from a career in business to healthcare when her late mother fell ill.
She is on the accelerated Adult Nursing (pre-registration) Blended Learning MSc (for postgraduate students) and says the rewards outweigh the challenges.
Every time I went to visit my ill mother, I would watch her carer do everything so effortlessly and lovingly. The carer made me understand what it takes to care for people and show empathy.

It inspired me and gave me a burning desire to do more and be more.

I have learned to involve, reflect, and correct things around me and within me in just a matter of time.

Although there have been hurdles and might be more ahead, I am optimistic because of the support from my lecturers, placement colleagues and other students. The course is so rewarding and to me, making a difference outweighs all the challenges.

Adult Nursing (pre-registration) Blended Learning MSc student Osazee Edosa
There are still opportunities for people in Coventry and Warwickshire to start their journey this academic year with places on courses starting in January 2023.
You can find more information about those courses and our wide-range of nursing courses at our Open Days on October 22 or November 26 or at one of our drop-in sessions on November 2 from 4-6pm or November 10 from 10am-12pm.
Book a place on one of our open days or drop in sessions at the Alison Gingell building.