Coventry University in drive to recruit more men into nursing and other health careers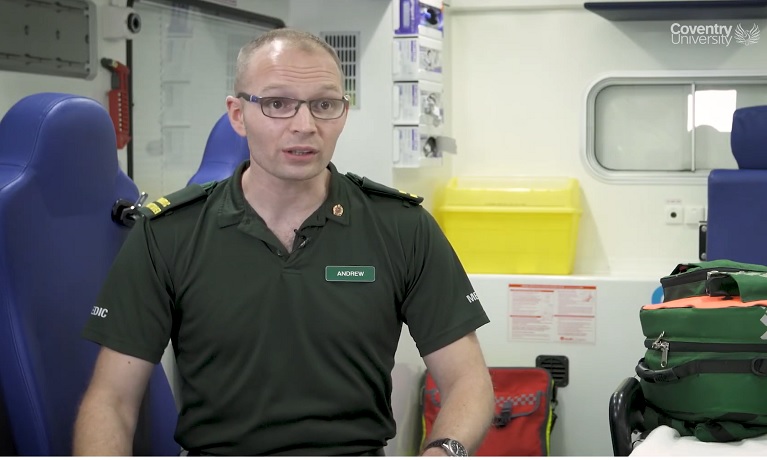 ---
Tuesday 25 August 2020
Press contact
---
Coventry University is encouraging more men into healthcare professions to bridge the gender gap and remove stereotypes around roles in healthcare under a partnership project with the Office for Students and the NHS.
The HealthPro project is funded by the Office for Students and aims to combat the struggle that healthcare organisations and providers traditionally face when trying to recruit men into nursing and allied health professions.
The university is delivering the project in partnership with NHS trusts and is especially keen to hear from men over the age of 21 who possess transferrable skills and want to switch to a rewarding and exciting health career.
Men in Nursing
Up until the Second World War nursing was predominantly occupied by women. In 1943 and 1949 the then Ministry of Health actively recruited ex-servicemen into Nursing. This saw a dramatic increase of men into nursing in Britain. Recently, there has been a slight recent rise in men entering the nursing profession, but men still only make up 10% of the workforce. Modern nursing and health care practice demands courageous, brave and agile leaders with humility, with many women and men ably demonstrating these attributes on a daily basis. All men are not the same. Sociologists nowadays refer to masculinities whereby men demonstrate caring, supportive and compassionate qualities, not just traditional behaviours such as stoicism and independence.
Diverse Career Options
You may be surprised by the number of skills that can transfer to nursing and allied health professions. Nursing specifically offers you as much opportunity for growth and development as any other profession and enables you to make a real difference to people's lives. In terms of pay and reward, a starting salary for nurses is around £26,000 per year with some nurses at the top of their field being on well over 6 figure salaries. Some nurses make their difference in education and/or research, or working abroad. The places where you work are also broad and varied, from busy acute hospitals, health centres, community teams, hospices to forensic units.
The government is currently offering extra financial support for those wanting to get into Nursing, Paramedic Science and Occupational Therapy with different support options depending on your individual circumstances including a training gran for eligible students of £5,000 per academic year, parental support of £2,000 for students* and more. See the full details at the NHS LSF website.
If you are seeking a career change or progression into male healthcare, Coventry University offers a number of courses including;
Studying full-time for 3-years can earn you a Bachelor's of Science Adult Nursing degree, with a variety of career options including A&E, critical care, nursing homes, GP practices and home care. Ranked in the top 5 for Nursing in the Guardian University Guide 2020. Upon completion, you will be eligible to apply for registration to the UK Nursing and Midwifery Council (NMC).
Train to be a paramedic with this 3-year degree, learn how to provide life-saving treatments and overcome challenges that you may face as a full-time paramedic. Use state-of-the-art equipment, simulations and hands-on learning to develop through the course. Upon completion, you can apply for registration to the Health and Care Professions Council.
The Coventry Midwifery course is ranked 4th for Nursing & Midwifery in the Guardian University Guide 2020. Study full-time for 3 years and learn how to support women & families through all stages of pregnancy, childbirth and the early postnatal period. The course is accredited by the Nursing and Midwifery Council (NMC).
Learn how to tackle the growing mental health crisis and how to help 1 in 4 of us, now needing treatment. Prepare yourself with hands-on clinical and care skills.
The course is accredited by the Chartered Society of Physiotherapy (CSP), enabling your registration with the Health & Care Professionals Council (HCPC). Develop your skills and essential learning before clinical placement.
Access to Higher Education - Health & Human Sciences
If you do not currently have the required qualifications for the courses, Health & Human Sciences is an access course to give you the skills, knowledge and confidence to start a degree programme of your choice.
For more information about the HealthPro Project and a full list of courses eligible, visit the project page here.
Modern Healthcare practice
Contemporary nursing and health care practice is beyond an association with the traditional feminised gender stereotypes of nursing. Healthcare practice is more than just caring and applying practical skills. It involves distilling high levels of evidence to make safe, intuitive and informed practice decisions, leading and working alongside others in very dynamic and fast-paced environments. The Covid-19 pandemic has exposed us all to the dynamic and challenging work situations currently facing nursing, health and professions.
Coventry's Health & Life Science facilities are state-of-the-art and continually being developed to further enhance student experiences, providing close to real-life experiences whilst learning with experienced professors who are here to help.

For our Health-Pro project, we are developing a range of novel approaches such as new digital and gamification resources to drive engagement with a demographic that is notoriously underrepresented in the field of nursing and allied health professions.
To encourage new applicants, the HealthPro team has pulled together the stories of some men who have already made the switch to a new nursing and allied health career.
I really enjoy my role within healthcare because I have varied patient contact, I see a lot of different patients on a daily basis and they come in for different reasons with different presentations. I really feel a sense of pride and benefit from reassuring patients at their most vulnerable time. A lot of the time I see patients that are in acutely unwell situations and part of my job is to reassure and support them. I've not looked back since I've become a health professional because there's such an avenue of opportunity for progression within nursing.
Watch students' video testimonials on our YouTube channel.
HealthPro aims to help overcome the gendered stereotypes associated with entering nursing and allied health professional careers. The Office for Students has commissioned this project as a key strategic priority to provide future healthcare staff by assisting males in making successful career changes into rewarding professions. We welcome the opportunity to support the local economy and our health community by working alongside Health Education England (HEE) and other stakeholders across the Coventry and Warwickshire Partnership.

Dr Martin Bollard, Associate Professor, Faculty of Health and Life Sciences and Project Lead for HealthPro