Meet the Experts
The experts play a vital part in your time at university. From lecturers, to tutors, coaches and more, these are the people that will teach you, guide you and support you when you need them the most. It's important that you get to know them.
This is why we created Meet the Experts, a guide to some of our favourite members of staff at Coventry. In each video the expert will be put in the hot seat and given a series of questions about their career and life by a hard-hitting journalist - their own student!
Keep checking back for more students putting the experts through their paces!
---
Thamu Dube
Thamu is a Media and Communications lecturer and is known for his passion for technology and his larger-than-life personality.
In the first episode of Meet the Experts, Thamu is faced with tough questions from his former student Joe. But did he do enough to catch the master of Apple products out?
Learn more about this course
---
I had a great time studying Media & Communications, and having staff members like Thamu really boosted my experience. It's like having a teacher, expert, colleague and friend all in one!
---
Sarah Whatley
Sarah is Professor of Dance at Coventry and Director of C-DaRE, our dance research centre. She is one of our longest serving experts, having worked with us for 30 years!
In this episode of Meet the Experts, Sarah is challenged by her current PhD student, Rebecca. Did she do enough to top the leaderboard?
Sarah was one of the founders of C-DaRE, whose work is consistently affecting the world of dance. You can find more about this research centre at their webpage, which contains news, upcoming events and the latest projects the team are working on.
---
Having a supportive supervisor is essential to successfully navigating the complex PhD process. As such, I feel very fortunate to have Sarah as my Director of Studies.
---
Want to know more? Visit an Open Day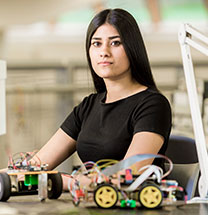 If you like what to you see here, there's a lot more you can learn about our experts and the courses they teach at our Open Days. By registering, you guarantee your place on the day so you can look forward to talks, workshops and the opportunity to meet the experts yourself!
Whether you'd like to come to an Open Day, a Drop-in event or take one of our tours, we feel we've got an event for anyone interested in studying. To register and find more information on our Open Day events, please visit the page below.
Discover the Open Day for you