Nursery
We are pleased to announce that our early year's provision reopens on Thursday 23 July. The nursery has a fresh newly painted and revised setting that has been meticulously redesigned. The nursery team are excited to welcome back our children and parents.
Although our world is currently very different the nursery team have gone above and beyond to ensure our children return to a safe, secure and motivated setting. For more information about the nursery, please contact Ruth Gandy, Nursery Manager.
The Nursery at Coventry University is open to children of the ages 3 months to 4 years and is run by qualified, dedicated staff.
Every day is an offering of fun play, group and individual activities, exercise and quiet time.
We are located conveniently both to the campus and the city-centre, and are open to all - parents who are students, university staff and to those who don't have a connection to the university.
Staff
Qualified staff provide care for the children. The Nursery is registered with Ofsted who regularly inspect it to ensure that the National Daycare Standards are being followed. Read our most recent Ofsted Report. We continually evaluate what we do, observe the children regularly and plan appropriate activities to meet their needs, as well as caring for them appropriately.
Facilities and setup
The Nursery is split into 3 different rooms and each room accommodates a different age group. Stepping Stones is for children aged 3 to 4 years old. The second room, Pebbles, is for 2 to 3 years old and Cuddle Corner is for babies from 3 months to 2 years old.
We have introduced free flow between the Pebbles and Stepping Stones, which gives the children more choices as there are more activities on offer through the two rooms; this happens at set times during the daily routine and the older babies are also included in the activity time with a member of staff from Cuddle Corner.
The children from all age groups benefit from the use of two garden areas. Our sensory garden is under cover and includes wind chimes, plants and windmills. The second garden is a lot bigger and is used for the children to play with their outdoor toys and we also organise racing games and activities such as painting and water play.
Meals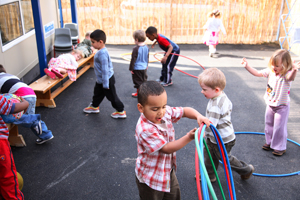 During the day healthy and nutritious meals are provided. Breakfasts can include cereal, toast and fruit. Dinner is a cooked meal such as a roast dinner or spaghetti bolognese, and puddings such as fresh fruit or apple pie. Tea varies from spaghetti on toast to wholemeal sandwich and vegetable nuggets. Weekly menus are on display in the Nursery for parents to refer to. Fresh fruit is provided every day together with bottled water that the children can help themselves to and we cater for children with specialised diets.
Waiting list
The Nursery operates a waiting list for morning, afternoon and all day sessions.
If you would like to add your name to the waiting list or if you would like further information on any aspect of the Nursery, please contact the Nursery Manager on 024 7688 7305 or nursery.ss@coventry.ac.uk.
Childcare vouchers
The Nursery accepts workplace childcare vouchers such as Busy Bees and we also offer funding from the City Council for all our 3 to 4 year olds. Every 3 year old child is entitled to this regardless of their circumstances and this can be claimed the term after their third birthday.
Fees and funding
The Student Funding Office can advise you on any funding you may be entitled to, including help with childcare. For more information telephone +44 (0) 24 7615 2040 or +44 (0) 24 7615 2050, or email funding.ss@coventry.ac.uk.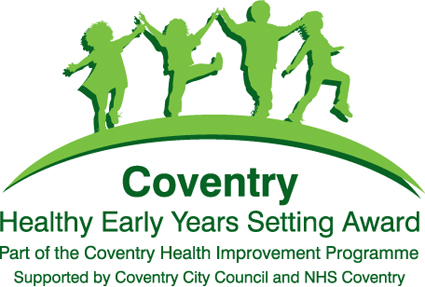 Coventry University has achieved the Coventry Healthy Early Years Setting Award (CHEYSA), a unique award which recognises and rewards Coventry nurseries looking after 0 to 5 year olds - that are doing the most to promote good health in the children they look after.
The CHEYSA has been developed in response to a national and local need to improve the standard of promoting health to children under the age of 5. CHEYSA has been delivered by working in partnership across a wide variety of organisations and funded by the Coventry Health Improvement Programme (CHIP) - a partnership between NHS Coventry and Coventry City Council.