Course Code
UCAS Code: FBLU069
FBLU069
International Code: FBLU069
Location
Coventry University (Coventry)
Duration
4 semesters full-time
Start date
September 2022
January 2023
---
Course overview
Study level: Undergraduate
Postgraduate
Top-up Courses
Our Finance MBus could help to equip you with the necessary skills to spot, analyse and resolve complex problems in a strategic way, and effectively harness the rapid changes in the financial sector.
Aimed at international students, this integrated master's course is studied over four semesters, covering around 15 months. If you have already successfully completed two years of a finance related undergraduate degree, successful completion of this course will see you achieve a master's qualification from Coventry Business School.

Global Ready
An international outlook, with global opportunities

Teaching excellence
Taught by lecturers who are experts in their field

Employability
Career ready graduates, with the skills to succeed
Why you should study this course
The Finance MBus course offers an insight into the financial world. By studying this course you will have the opportunity to or benefit from:
Coventry Business School is currently an active member of the Chartered Association of Business Schools (CABS) and the European Foundation for Management Development (EFMD), both of whom are committed to ensuring its members maintain world-class standards of teaching and research.
A strong focus on key, current issues facing the global finance sector, brought to life with relevant real-world case studies.
Fieldtrips to multinational organisations within a range of sectors and industries. Previous visits within the Coventry Business School have included a visit to Jaguar Land Rover and Manchester United in the UK as well as visits to New York in the United States; Berlin in Germany and Paris in France among others.*
Embedded employability through course modules, as well as access to Coventry University's Talent Team, who can offer tailored support as you plan your future career.
Coventry University is home to one of the largest academic trading floors in Europe, where you can get hands-on experience with market leading databases, and even study towards a Bloomberg professional qualification for free (subject to availability).
Access to Coventry Business School's Progress Coaches, who can provide both academic and pastoral guidance and support
Memberships
Chartered Association of Business Schools (CABS)
Coventry Business School is currently an active member of the Chartered Association of Business Schools, which has a membership of over 120 business schools and higher education providers, and supports its members in maintaining world-class standards of teaching and research.
European Foundation for Management Development (EFMD)
Coventry Business School is currently an active member of the European Foundation for Management Development, a global membership organisation dedicated to management development, covering over 900 members across 91 countries.
Coventry Business School is recognised by the above memberships for the 2022/23 intake. There is currently no intention for either of these memberships to lapse however if either of these memberships were not to be renewed we would notify applicants and students as soon as possible.
---
What you'll study
Taught over four semesters, the course is split into two distinct, but interrelated stages, with semesters one and two covering finance theory and an understanding of financial institutions, as well as exploring more specific topics such as corporate reporting and financial technologies. Semesters three and four then deepen your learning in specialist areas, developing your skills in econometrics and risk management, as well as investigating good governance and ethics within financial institutions. 
Across all modules, we aim to use real life examples, to help you bridge the gap between theory and practice and understand how to apply theories and techniques in different contexts and situations.  
Modules
Semesters one and two

The below modules are studied in the first two semesters of the course and aim to cover a broad foundation of knowledge in financial theory and the nature of international financial institutions. More specific topics are also covered, currently including financial technology, an area which is seeing increasing investment and career opportunities. You will also undertake a module focused on employability, Employability Skills in Finance as well as a focused module designed to support your presentation and report writing skills in English, Academic English for Finance. All modules on this course are mandatory.

International Banking and Financial Institutions - 20 credits

This module aims to provide a thorough understanding of the financial underpinnings of banking and other financial institutions, including insurance companies, fund managers, and securities firms. It will cover a range of topics concerning their roles, structure, and functions. This module will also examine the relationship between business models, balance sheet structures, and the creation of financial risks. Students will also appreciate current issues in banking and financial institutions, which should enhance their employability in the finance sector.

Financial Theory - 20 credits

This module aims to further develop student's understanding in the key concepts in finance. Students will learn about the function of capital markets, the relationship between risk and return and how to price a variety of financial assets.

Employability Skills in Finance - 10 credits

The aim of this module is to develop in students a range of key skills necessary for their learning, research and intercultural communication during their study of a top up programme on Banking and Finance. This module will enable students to actively pursue their academic development and will also lead to greater confidence in their broader lives, thereby allowing them to make the most of their overseas experience. Intercultural communication skills are recognised as valuable assets in the world of expanding global business. This module will help students develop a range of intercultural competences to work effectively with diverse teams to enhance opportunities for future careers or further study. The module relates to the students' overall academic study. Students are required to demonstrate skills to reflect on their progress on the course.

Academic English for Finance - 10 credits

This module helps international students to further develop their English language knowledge and skills, in the areas of finance, banking and investment to a level where they can operate effectively and independently. This is achieved in a context where the language is used for the study of finance, banking and investment. The emphasis is on developing practical reading, writing, speaking and listening skills to support the study of finance courses at the university. This module will involve activities and tasks designed to increase the range and effectiveness of students' use of language and the development of study and communication skills in a professional and academic context.

Corporate Reporting and Analysis - 20 credits

This module builds on the existing financial accounting knowledge of students. The module focuses primarily on the preparation and analysis of published financial statements by public limited companies. It aims to introduce students to some of the key International Financial Reporting Standards (IFRS's). Enabling them to develop the knowledge and skills necessary to understand and apply a number of IFRS's and accounting theory in the preparation of the published financial statements of entities, including a simple group. Students will also develop the skills necessary to critically analyse and interpret these financial statements and become aware of their limitations.

Analysis of Investments - 20 credits

The module focuses on the bond and equity markets. Students will evaluate and apply advanced bond pricing techniques along with bond portfolio managements and the associated risk immunisation methodologies. In respect to equity valuation, students will compare and contrast discounted cash flow methods with fundamental valuation approaches associated with approaches such as value investing and growth investing. Market timing is also explored through the application of technical analysis.

Financial Technology - 20 credits

The aim of this module is to provide a rigorous introduction to Financial Technology (FinTech). The module reviews the history and development of FinTech and discusses how FinTech is transforming financial institutions and the finance and business sectors more broadly. The module provides an overview of the application of innovative technologies within finance such as big data and analytics, AI and machine learning, cloud computing, blockchain, and mobile banking. The module also discusses alternative finance such as cryptocurrencies, peer to peer lending and crowdfunding. In addition, regulation and governance of Fintech and some specific industry applications are examined and evaluated.

Semester three and four

The below modules, studied over the final two semesters of the course, provide the opportunity for a deeper insight into specialist areas of importance for finance. These areas can include derivatives, risk management, and the importance of appropriate corporate governance within the financial sector. You will also be expected to conduct a Project in Finance, which will focus on a contemporary financial topic of interest to you. All modules on this course are mandatory.   

Business Strategy - 15 credits

Business Strategy aims to provide a firm foundation for understanding the overall direction of organisations, including how they grow, how they innovate, how they change, and how they compete in an extremely competitive business environment. This module also aims to the link corporate and financial strategy. It will therefore explore the techniques of strategic and financial analysis and evaluation available to companies, aiming to develop their strategic options, choices and business performance.

Derivatives - 15 credits

Over the last few decades derivatives markets have grown exponentially to become the largest financial asset class in the World, far exceeding the combined value of both bond and equity markets. This type of financial instrument forms one of the standard financial asset classes, and a high level of understanding of derivatives products and derivatives markets is essential for all finance professionals.

Quantitative Methods - 15 credits

This module will cover some of the quantitative techniques commonly used by financial analysts, economists, accountants as well as individual investors. The aim is to give students the basic grounding in econometric methods used in the analysis of quantitative data. The module will primarily focus on the statistical techniques of estimation, hypothesis testing and modelling using economic and financial data.

Governance, Accountability and Ethics - 15 credits

The aim of this module is to provide students with a framework to examine the key issues in corporate governance. These include underlying corporate governance theory and associated reporting and regulation, the role of monitors and issues of independence and ethics. It will also develop students' ability to critically appraise relevant academic literature and current issues and integrate and synthesise topics in order to participate in current debates and suggest potential insights for development.

International Risk Management - 15 credits

The purpose of this module is to introduce students to the international aspect of risk management faced on a day to day basis by modern MNCs and especially those of political, financial, operational and regulatory nature. Particular attention and detailed coverage will be placed on the ideas and tools used in identifying exposure to risk inherent in corporate functions such as international trade and money transactions, corporate financing and finally international investment/expansion decisions.

Institutional Investments - 15 credits

After successfully pursuing this module students should have knowledge of particular institutional investments and their relative merits from the perspective of retail investors. They should have an overview of the role of institutional investments in the economy in general, and personal financial planning in particular. They should have insights into the operation and management of institutional investments, and the specific types of investment fund available.

Project in Finance -30 credits

In this module students will carry out a substantive piece of independent research into a business issue relevant to their course of study. Students will be expected to draw upon the knowledge acquired, and the intellectual, technical and analytical skills developed throughout their course. To equip students with the additional research skills required to successfully execute the research, they will be supported by a series of workshops on research methods. Students will be supported in this module through a series of group supervisions, and will be allocated a project supervisor.
We regularly review our course content, to make it relevant and current for the benefit of our students. For these reasons, course modules may be updated.
---
How you'll learn
This course is studied full time over four consecutive semesters, meaning the entire course is typically 15 months long. To study the course, you must previously have completed two years of undergraduate business study. Coventry Business School also offers the option to top-up previous undergraduate finance or accounting study to a bachelor's degree through our Accounting and Finance for International Business and International Finance and Banking top-up courses.  
The underlying focus and aim are on developing your knowledge of financial theory, financia techniques and current financial topics, o that you can think strategically and harness the growth of the financial sector, and overcome the challenges facing it. Throughout all teaching and learning methods, such as lectures, workshops and seminars, real life case studies are used, as well as opportunities to practically apply learnt theory. These sessions may be delivered through a combination of face-to-face teaching and online classes and tutorials.
---
Assessment
This course will be assessed using a variety of methods which will vary depending upon the module.
Assessment methods include:
Formal examinations
Phase tests
Essays
Group work
Presentations.
The Coventry University Group assessment strategy ensures that our courses are fairly assessed and allows us to monitor student progression towards the achieving the intended learning outcomes. Assessments may include exams, individual assignments or group work elements.
---
Job ready
On successful completion, you will be able to:
Demonstrate critical understanding of financial theories and principles, and the ability to constructively challenge their assumptions.
Critique, interpret and apply financial frameworks and models to real-world and unstructured scenarios in global finance.
Effectively extract, manipulate and evaluate financial data from multiple sources and apply advanced mathematical and statistical methods to financial data to develop reasoned conclusions.
Exhibit a critical awareness of the role and importance of good corporate governance, ethical responsibility, professional accountability and civic contribution.
Execute research using critical judgement in the selection of methodological approaches, research techniques and tools.
Effectively communicate financial issues and solutions, both orally and written, to diverse audiences.
Critically examine the operation, function of international financial markets and institutions, and assess the significance of contemporary and innovative developments in finance.
Evidence a critical understanding of financial risk and associated risk management strategies, including the appropriate application and limitations of portfolios and derivative instruments to manage risk exposure.
Exploit diagnostic skills in dealing with financial and investment complexities to produce viable solutions, and utilise a variety of methods to communicate conclusions from both quantitative and qualitative analysis.
Demonstrate digital fluency by using information, software, and digital technologies in solving different financial problems.
---
International experience opportunities
This course is international in nature, and draws on financial topics and real-life case studies from all over the world. The international experience of the course team means you will have the opportunity to benefit from the experience of lecturers, who have either researched or worked in international finance. With the financial services sector continuing to grow into new markets across the world, the international perspectives offered by the course team help to ensure your learning is always placed in an international context.
There is also the opportunity to attend field trips, at a school or university level, to multinational organisations within a range of sectors and industries. Previous visits within the school have included a visit to Jaguar Land Rover and Manchester United in the UK as well as visits to New York in the United States; Berlin, Germany and Paris, France among others.*
---
Please note that this course has been designed for international students, and incorporates modules dedicated to the usage of English within a financial context.
We would recommend you contact us on info.fbl@coventry.ac.uk, or use our Live Chat, to discuss your application before applying.
To be accepted for the course students must possess a minimum of 240 credits (RPL with 120 credits at level 4 and 120 credits at level 5) obtained in a finance-related area from a higher education institution. An HND in a finance-related area with 240 credits awarded may also be considered subject to approval from the Course Director.
If you do not have the typical entry requirements, you may want to consider studying this course with a foundation year. We recognise a breadth of qualifications, speak to one of our advisers today to find out how we can help you.
Select your region to find detailed information about entry requirements:

You can view our full list of country specific entry requirements on our Entry requirements page.
Alternatively, visit our International hub for further advice and guidance on finding in-country agents and representatives, joining our in-country events and how to apply.
English language requirements
If you don't meet the English language requirements, you can achieve the level you need by successfully completing a pre-sessional English programme before you start your course.
For more information on our approved English language tests visit our English language requirements page.
To be accepted for the course students must possess a minimum of 240 credits (RPL with 120 credits at level 4 and 120 credits at level 5) obtained in a finance-related area. An HND in a finance-related area with 240 credits awarded may also be considered subject to approval from the Course Director.
---
Fees and funding
2022/23 Tuition fees
| Student | Full time | Part time |
| --- | --- | --- |
| UK | £9,250 per year | Not available |
| International | £15,300 per year | Not available |
For advice and guidance on tuition fees and student loans visit our Undergraduate Finance page and see The University's Tuition Fee and Refund Terms and Conditions.
We offer a range of International scholarships to students all over the world. For more information, visit our International Scholarships page.
Tuition fees cover the cost of your teaching, assessments, facilities and support services. There may be additional costs not covered by this fee such as accommodation and living costs, recommended reading books, stationery, printing and re-assessments should you need them. Find out what's included in your tuition costs.
---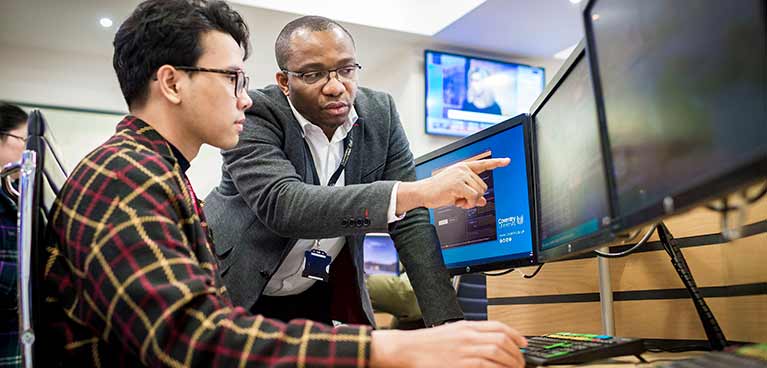 With 42 Bloomberg terminals, this facility can add a dynamic practical element to your course.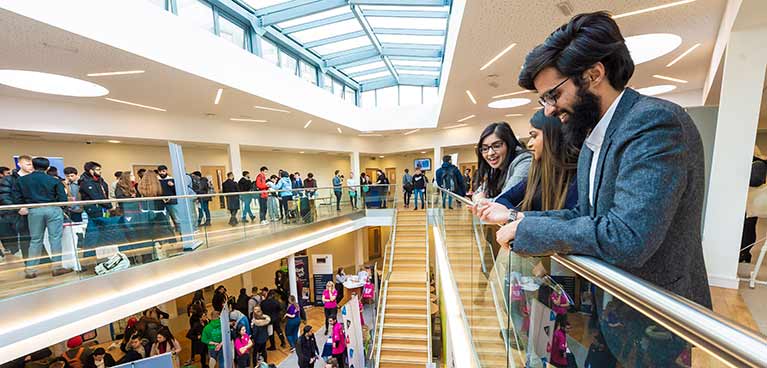 Our dedicated Talent Team can assist you in applying for work placements, graduate-level jobs and offer skills development workshops.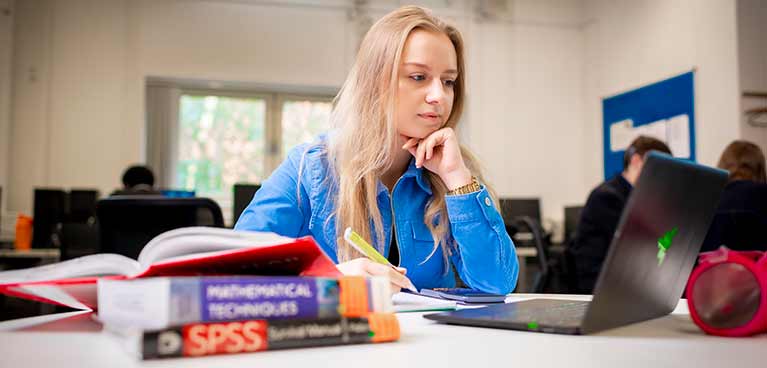 The sigma Centre offers maths and statistics support through drop-in sessions and bookable appointments.
---
Careers and opportunities
The financial sector continues to grow across the world, with an increasing international focus. This course aims to prepare you for a future career in the financial sector, by giving you the opportunity to develop a strong knowledge of the English language within a financial context, as well as financial theories and topics.
This course will allow you to gain an insight into a number of current topics of relevance to the financial sector, including financial technology, which is seeing increased investment and can provide career opportunities either in start-up companies, or within established firms seeking to improve their technological capabilities. You can also cover topics such as corporate governance, investments, and risk management, which will make you a well-informed, ethical graduate, which could help as you progress into any future career.
Coventry University is committed to preparing you for your potential future career options and aims to give you a competitive edge in the graduate job market. The University's Talent Team provide a wide range of support services to help you plan and prepare for your potential future career options.
Where our graduates work
Previous graduates of our finance courses have found employment positions as trainee-chartered accountants, finance assistances, financial advisers, or as graduates in sectors such as investment banking or management consultancy.
---
How to apply
UK Students

Full-time students applying to start in September should apply for this course through UCAS. Part-time students should apply directly to the university. Read our application pages to find out your next steps to apply.

---

If you'd like further support or more information about your course get in touch with us today.

International Students

Full-time students applying to start in September should apply directly to the university. Read our application pages to find out your next steps to apply.

How to apply

For further support for international applicants applying for an undergraduate degree view our International hub.

You can also download our International guide which contains lots of useful information about our courses, accommodation and tips for travel.

---

Get in touch with us today for further advice and guidance.
You may also like
Coventry University (Coventry)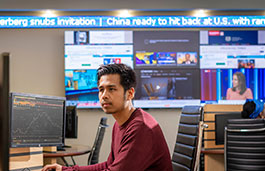 International Finance and Banking BSc (Hons) Top Up
Coventry University (Coventry)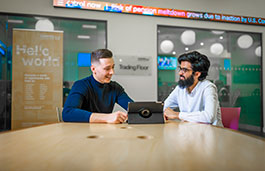 Accounting and Finance for International Business BSc (Hons) Top Up
---
Disclaimer

Student Contract

By accepting your offer of a place and enrolling with us, a Student Contract will be formed between you and the university. A copy of the 2021/22 Contract can be found here. The Contract details your rights and the obligations you will be bound by during your time as a student and contains the obligations that the university will owe to you. You should read the Contract before you accept an offer of a place and before you enrol at the university.

Tuition fees

The tuition fee for the course that is stated on the course webpage and in the prospectus for the first year of study will apply. We will review our tuition fees each year. For UK and EU students, if Parliament permit an increase in tuition fees, we may increase fees for each subsequent year of study in line with any such changes. Note that any increase is expected to be in line with inflation. Following the UK's exit from the European Union, EU students should be aware that there may be a change to UK laws following the UK's exit, this may change their student status, their eligibility to study part time, and/or their eligibility for student finance. We will act in accordance with the UK's laws in force in relation to student tuition fees and finance from time to time.

For International students the tuition fee that is stated on the course webpage and in the prospectus for the first year of study will apply. We will review our tuition fees each year. For international students, we may increase fees for each subsequent year of study but such increases will be no more than 5% above inflation.

Accreditations

The majority of our courses have been formally recognised by professional bodies, which means the courses have been reviewed and tested to ensure they reach a set standard. In some instances, studying on an accredited course can give you additional benefits such as exemptions from professional exams (subject to availability, fees may apply). Accreditations, partnerships, exemptions and memberships shall be renewed in accordance with the relevant bodies' standard review process and subject to the university maintaining the same high standards of course delivery.

Facilities

Facilities mentioned on this page may not be relevant for every course. Due to the ongoing restrictions relating to COVID-19, some facilities (including some teaching and learning spaces) and some non-academic offerings (particularly in relation to international experiences), may vary from those advertised and may have reduced availability or restrictions on their use.

Placements and study abroad opportunities

Please note that we are unable to guarantee any placement or study abroad opportunities and that all such opportunities may be subject to additional costs (e.g. travel, visas and accommodation etc.), competitive application, availability and/or meeting any applicable visa requirements. To ensure that you fully understand the requirements in this regard, please contact the International Office for further details if you are an EU or International student.

Additional costs

This course may incur additional costs associated with any field trips, placements or work experience, study abroad opportunities or any other opportunity (whether required or optional), which could include (but is not limited to), equipment, materials, bench fees, studio or facilities hire, travel, accommodation and visas).