Foundation Art, Design and Media Practice
Location
Coventry University (Coventry)
Duration
1 year full-time
Start date
September 2023
---
Course overview
Study level: Undergraduate
Foundation Year
This Foundation Art, Design and Media Diploma can enable you to explore and experiment across a wide range of creative disciplines.
The Foundation Diploma is a one-year, full-time preparatory course to prepare you for studio-based undergraduate Higher Education programmes. We provide broad, balanced and structured teaching to help stimulate your interest in art and design.
You will have the opportunity to generate exciting work, using our excellent facilities4 to build your personal independence in developing ideas. You can gain new skills with different materials and techniques, while building a substantial portfolio of work.
The Art, Design and Media Foundation allows you to work in spaces alongside inspiring undergraduates and setting your career aspirations early.
Please note: If you are 18 years of age at the date of enrolment for this course, payment of tuition fees will not be required. For the 2022/2023 intake, this course is currently funded by the Education and Skills Funding Agency. Applicants should check our website for the latest information regarding fees before applying or accepting offers. Should these terms change, we would inform all applicants and students as soon as possible..

Global Ready
An international outlook, with global opportunities

Teaching excellence
Taught by lecturers who are experts in their field

Employability
Career ready graduates, with the skills to succeed
Why you should study this course
The School of Art and Design at Coventry University has been producing accomplished creative graduates for over 175 years. We have had a successful track record of producing graduates that have made significant contributions to the world of Art and Design.
Currently planned to open in early 2023, our brand-new Arts and Humanities building is equipped with up-to-date facilities and studios, including: 3D rapid prototyping, clay modelling, film, photography, video, a large digital print bureau, ceramics, a printmaking workroom, screen printing and letterpress studios, all with excellent technical support4.
You will have the opportunity to be taught in a professional studio environment alongside undergraduate students, and postgraduate students and staff, many of whom are currently practising artists and designers, who have exhibited nationally and internationally.
You may also have opportunities to take part in overseas study visits. Students have visited major art and design centers in Europe, recently visiting traditional and contemporary art exhibitions from Birmingham to Amsterdam2.
---
The Foundation Diploma is specifically designed to foster a creative, critical and experiential approach to art and design practice. You will be encouraged to experiment with different artistic methods, test your ideas and reflect on your work through rational artistic approaches. In 2021/22, 93% of Coventry University students applied to and were offered places to progress on to study undergraduate courses.
Modules
Art, Design and Media Practice

The diploma is split into two stages:
The exploratory stage gives you time to explore different disciplines through a series of week-long projects. We encourage you to use new materials and ways of working so you can explore research methods and develop critical skills for evaluation and reflection. You will explore drawing and mark making as a means to record and generate ideas, and to express yourself through fine art, illustration or design.

You will have booked sessions introducing you to a variety of different technical workshops in the School of Art and Design. We also encourage you to explore additional workshop opportunities to widen your skill set and broaden your approach to your creative process.

We encourage you to explore your potential future directions and make a choice in regard to your specialism. You will work more independently on longer specialist projects and build a portfolio ready for progression to a BA (Hons) degree. You will have the opportunity to work in a vibrant studio environment alongside students following different specialist areas, such as fashion, automotive design, experimental film, painting, contemporary craft, animation or illustration. We want you to build a portfolio that shows you have a breadth of 2D and 3D skills, no matter what your specialist area of practice. To complement your practical projects, you will also attend a series of weekly lectures to help you put your ideas into practice. During this stage you should be supported with your UCAS application.

The Confirmatory Stage

The Confirmatory Stage sees you working on an independent, self-initiated, final major project. The completed work is exhibited at the end of the year. At this stage, you should be working as a professional artist or designer, managing your own workload, time and outcomes. You will have weekly opportunities to discuss your work with peers and tutors so you can continue to develop and produce the best possible work.
We regularly review our course content, to make it relevant and current for the benefit of our students. For these reasons, course modules may be updated.
---
How you'll learn
This qualification provides the knowledge, skills and understanding that will prepare you for further study or training. You will study one mandatory module that covers six area of learning:
Investigation
Experimentation
Evaluation & Review
Realisation
Communication
Self-directed practice
---
Teaching contact hours
We understand that everyone learns differently, so each of our courses will consist of structured teaching sessions, which can include:
On campus lectures, seminars and workshops
Group work
Self-directed learning
Work placement opportunities.
If you would like more information, you can request information about teaching hours.
Part of university life is undertaking self-directed learning. During a typical week you will have time that allows you to work independently to apply the skills and knowledge you have learnt in taught or facilitated sessions to your projects or assignment briefs. This self-directed learning allows you to use your research skills, consolidate your knowledge or undertake collaborative group work.
The contact hours may be made up of a combination of face-to-face teaching, individual and group tutorials, and online classes and tutorials.
As an innovative and enterprising institution, the university may seek to utilise emerging technologies within the student experience. For all courses (whether on-campus, blended, or distance learning), the university may deliver certain contact hours and assessments via online technologies and methods.
In response to the COVID-19 pandemic, we are prepared for courses due to start in or after the 2023/2024 academic year to be delivered in a variety of forms. The form of delivery will be determined in accordance with Government and Public Health guidance. Whether on campus or online, our key priority is staff and student safety.
Due to the ongoing restrictions relating to COVID-19, some facilities (including some teaching and learning spaces) and some non-academic offerings (particularly in relation to international experiences), may vary from those advertised and may have reduced availability or restrictions on their use.
---
Assessment
Your work will be marked according to how well you achieve the various learning outcomes. Coursework is assessed using a variety of methods including: presentations, portfolio reviews, essays, reports, reflective logs, e-journals, blogs, displays and exhibitions.
An estimated percentage breakdown of your final grade assessment is as follows:
Project work
You will be graded as pass, merit or distinction
The Coventry University Group assessment strategy ensures that our courses are fairly assessed and allows us to monitor student progression towards achieving the intended learning outcomes
---
International experience opportunities
We typically attract staff and students from around the world, which can provide a multicultural environment in which you can experience different cultures, approaches, perspectives and opinions. You may also have the opportunity to take part in overseas study visits. In the past, students have visited major art and design centres in Europe and North America2.
Overseas study visits/International experiences are subject to availability, competitive application, meeting visa requirements and additional costs2.
Whatever your aspirations are in art, design & media, tutors and lecturers are here to guide you towards achieving your individual goals. Critical studies work and practical projects have been designed to introduce a wide range of issues concerned with visual understanding, media, material handling, careers, art and design history, skill acquisition, knowledge and independent learning. With the help of tutors and subject specialists, you will be supported to develop your own personal interests. The foundation course curriculum focuses on individual, group and co-operative ways of working.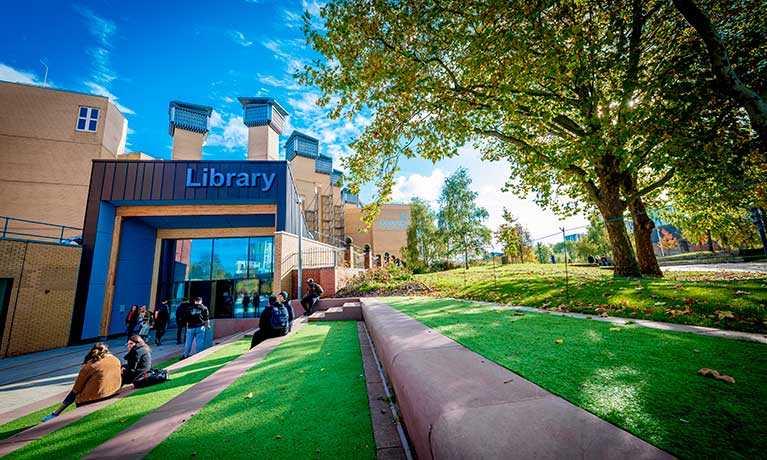 ---
1 A2 or Extended Diploma in a creative subject
4 GCSEs (including English Language or English Literature, and Maths) at A*- C or 9 - 4 in the new GSCE grading structure or equivalents.
All equivalent qualifications are welcome, as are mature students with alternative experience.
You may be required to attend a portfolio showcase, activity session or audition or submit a portfolio via email (as is appropriate to your course), either virtually or face to face, as is practical to arrange. Invites for these sessions will be sent directly to your contact email.
Select your region to find detailed information about entry requirements:

You can view our full list of country specific entry requirements on our Entry requirements page.
Visit our International hub for further advice and guidance on finding in-country agents and representatives, joining our in-country events and how to apply.
English language requirements
IELTS: 6.0 overall, with no component lower than 5.5.
If you don't meet the English language requirements, you can achieve the level you need by successfully completing a pre-sessional English programme before you start your course.
For more information on our approved English language tests visit our English language requirements page.
---
Tuition Fees
| Student | Full time | Part time |
| --- | --- | --- |
| UK | TBC per year | Not available |
| International | TBC per year | Not available |
For advice and guidance on tuition fees and student loans visit our Undergraduate Finance page and see The University's Tuition Fee and Refund Terms and Conditions.
We offer a range of International scholarships to students all over the world. For more information, visit our International Scholarships page.
Tuition fees cover the cost of your teaching, assessments, facilities and support services. There may be additional costs not covered by this fee such as accommodation and living costs, recommended reading books, stationery, printing and re-assessments should you need them. Find out what's included in your tuition costs.
Materials and equipment
Staff will advise you on the materials and equipment you will need for specific projects during this course. You will be expected to ensure you have the required materials throughout that relate to your own particular focus. In general, we would expect all students to have a basic materials kit and a list will be provided with suggestions to get you started.
---
Facilities
The Faculty of Arts and Humanities is joining two of our school's completely refurbished Art and Design buildings and adding a range of new facilities, currently planned to open in early 2023. These will include a hyper studio designed for cross-disciplinary projects; immersive studios with cutting-edge virtual reality and mixed-reality technologies. Our aim is to offer you sector-leading facilities in a unique environment4 .
Digital Design Workshop - Our Digital Design Workshop brings your ideas to life through different media. Here you'll find a high-powered laser cutter, printers, scanners and industry-standard software used for technical drawing and environmental modelling.
Computer suites - Our computer suites use industry software used in modelling, animation and analysis. This includes graphic, modelling and visualisation packages such as Alias, Maya, Adobe Creative Suite, Rhino, Vector works, Showcase, VRED and SRAMSIS and Jack ergonomics software.
Virtual experience - Visit our online degree show where we have brought together the work of over 500 students.
---
Careers and opportunities
When you've completed your foundation diploma, you will have a broad portfolio demonstrating a range of skills. You will have carefully explored your progression options, which will help you to make an informed decision about undergraduate study. You should be more confident and able to work independently in a professional manner in your chosen pathway.
In 2020-21, 97.5% of Coventry University students progressed on to higher level study or employment.
Students who meet our progression requirements can look to progress on to studio-based courses in the School of Art and Design and the School of Media and Performing Arts, as well as institutions throughout the UK and internationally.
Typically, our students have progressed to degree level courses in the following subjects: Fashion; Fine Art; Fine Art and Illustration; Illustration and Animation; Interior Design; Product Design; Automotive Design; Photography; Games Art; Graphics and Architecture. Many of these courses offer the opportunity to complete placement years in industry, providing valuable real-life experience2.
Further study
Many of our students take advantage of the internal progression routes and apply for courses within the School of Art and Design or the School of Media and Performing Arts.
---
How to apply
UK Students

Full-time students applying to start in September 2023 can apply for this course through UCAS from September 6 2022.

---

If you'd like further support or more information about your course get in touch with us today.

International Students

Full-time students applying to start in September 2023 should apply directly to the university. Applications are due to be open in June 2022, so please return to this page to fill out your application.

Apply via portal

For further support visit our International hub or download our International guide which contains lots of useful information about our courses, accommodation, tips for travel and guidance on how to apply.

---

If you'd like more information about your course get in touch with us today.
You may also like
Coventry University (Coventry)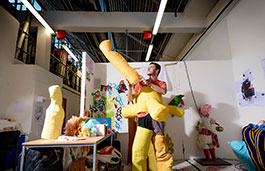 Coventry University (Coventry)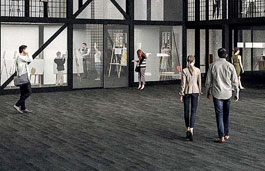 Interior Architecture and Design BA (Hons)
Coventry University (Coventry)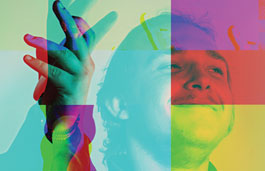 ---
Disclaimer

By accepting your offer of a place and enrolling with us, a Student Contract will be formed between you and the university. A copy of the 2021/22 Contract can be found here. The Contract details your rights and the obligations you will be bound by during your time as a student and contains the obligations that the university will owe to you. You should read the Contract before you accept an offer of a place and before you enrol at the university.

The university will charge the tuition fees that are stated on the course webpage and in the prospectus for the first year of study. The university will review tuition fees each year. For UK and EU students, if Parliament permit an increase in tuition fees, the university may increase fees for each subsequent year of study in line with any such changes. Note that any increase is expected to be in line with inflation. Following the UK's planned exit from the European Union, EU students should be aware that there may be a change to UK laws following the UK's exit from the European Union, this may change their student status, their eligibility to study part time, and/or their eligibility for student finance. Coventry University will act in accordance with the UK's laws in force in relation to student tuition fees and finance at that time. For international students, the university may increase fees for each subsequent year of study but such increases will be no more than 5% above inflation.