Nursing MSc
Study level:

Postgraduate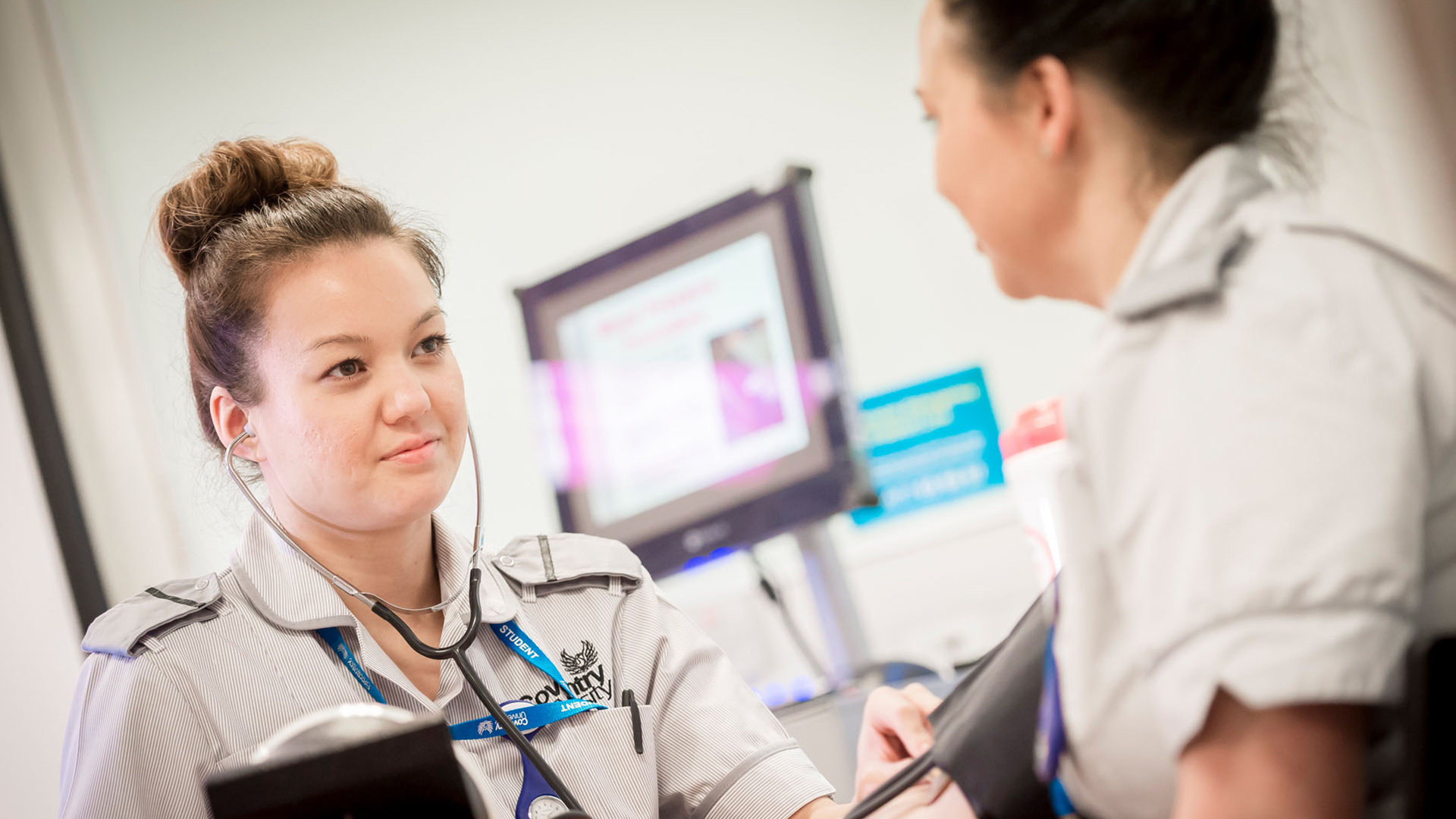 Studied on campus or 100% online, this Nursing MSc course is designed to offer continuing education and professional development to nurses to enhance your knowledge to underpin practice in a wide range of care settings.
Location
Coventry University (Coventry)
100% online study
Study mode
Full-time
Part-time
Duration
1 year full-time
2 years part-time
Course code
On campus - HLST273, Online - HLST280

---
Course overview
Studied on campus or 100% online, this Nursing MSc course is designed to offer continuing education and professional development to nurses to enhance your knowledge to underpin practice in a wide range of care settings.
The course is designed to provide Continuing Professional Development to a widening group of UK and internationally-based nurses, and aims to develop nurses in support of the global health economy and their contribution to nursing practice in a range of contexts.
You will have the opportunity to examine contemporary issues in nursing, and in the role and practice of the nurse through the analysis of political, social, cultural and economic influences on health and social care needs and service design.
You will study some of the latest developments in a range of contemporary issues in nursing, covering a range of key areas including leadership, evidence-based practice, and service delivery and improvement.
Particular emphasis is placed on the research and evidence base for leadership, service delivery and improvement.

Global ready
An international outlook, with global opportunities

Teaching excellence
Taught by lecturers who are experts in their field

Employability
Career ready graduates, with the skills to succeed
Why you should study this course
This course has been designed following extensive consultation with stakeholders and professional partners to ensure its relevance and ability to develop nursing leaders and agents of change.
You will be encouraged to consider how contemporary issues in nursing relate to your current practice and how what you learn can make a difference to, and improve the experience of patients/service users.
Upon successful completion of this course, you will be able to analyse approaches to support leadership, quality and service improvement and project management within policy and professional frameworks of nursing. You will also be able to demonstrate a professional approach to self-development in a broad range of competencies relevant to nursing across national borders and areas of practice including digital literacy, critical decision making, problem-solving, presentation and teamwork.
The course may be studied on-campus at Coventry University or online.
The enhanced skills and knowledge successful graduates of this course bring to their work provides a range of benefits, not only to the student but also their employer and patients/service users.
Students:
Access to learning from staff who are subject and clinical experts with knowledge of the latest developments in the field (staff may be subject to change)
Opportunity to network with a range of students from different backgrounds and disciplines
Improved knowledge of some of the latest developments in clinical practice and leadership
Enhanced critical thinking and clinical decision-making skills; and
Demonstrable leadership skills and knowledge through project work and accreditation from the Chartered Management Institute following the successful completion of an optional Global Professional Development module.
Employers:
Staff with developed confidence in clinical leadership
Enhanced ability to challenge practice and embed relevant evidence base to support quality care
Enhanced ability to innovate and lead clinical practices change derived from current policy initiatives and evidence bases
Increased commitment to achieving and leading quality care in service delivery; and
Staff who are better able to be flexible, engage in and potentially lead service developments.
Patients/Service Users/Carers:
Receive effective and comprehensive care from a professional who is:
Knowledgeable and skilled in practice
Able to challenge poor practice
Committed to demonstrating and developing contemporary practice to enhance quality in healthcare and healthcare practice
Committed to patient centred care
Patients/clients have access to, and benefit from enhanced quality in healthcare services.
Accreditation and Professional Recognition

---
Everything was well organised including the teaching which enabled our studies. I have learned so much and am wearing a different lens in nursing now – I love this programme.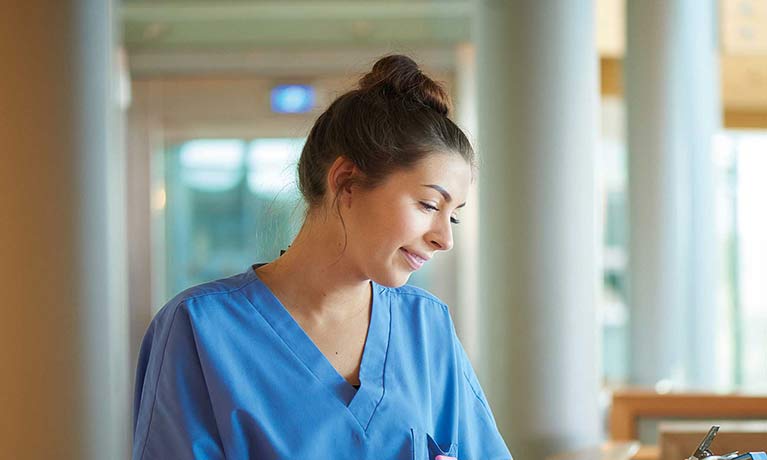 ---
All modules are mandatory. If you are studying part-time, module choices will be made in discussion with the Course Director.
Modules
Contemporary Perspectives of Care – Individuals with Long Term Conditions - 15 credits

This module explores the factors which influence nursing practice which supports the care of individuals with long term conditions. It will focus on concepts which transfer across boundaries of ill health for individuals and their families living with long-term conditions. You will examine the evidence base for supporting service users to adapt to their condition and promote a lifestyle that will encourage independence and reduce the risk of further complications.

Contemporary Issues in Nursing - 15 credits

This module aims to promote a critical interpretation of the role of the nurse within socio-cultural, economic and political contexts. You will explore the nature and application of the knowledge base for nursing practice and analyse the contribution of the nurse to health in a range of settings. Research findings, in conjunction with your own experiences will be used to examine factors which may influence nursing practice, including organisation of health care, professional regulation and autonomy, professional culture and identity.

Principles of Physical Health Assessment - 15 credits

The aim of this module is to enable you to critically evaluate the principles of health assessment and health assessment techniques and to demonstrate holistic health assessment and diagnosis.

Leadership, Service Improvement and Integrated Care - 15 credits

This module aims to provide you with opportunities to study leadership, contemporary thinking on organisations, quality and service improvement, project management and to contextualize these within policy and professional frameworks. The module draws on theories of clinical leadership, applied systems thinking and learning organisation theory to promote creative entrepreneurial approaches to previously intractable dilemmas of clinical practice, ensuring that the patient or service-user is central to the management and organisation of health and social care. Experiences of healthcare organisations will be used as a foundation for analysis of quality improvement and the principles and theories will be applied to healthcare worldwide.

Nursing and Public Health - 15 credits

This module aims to enable you to think critically about the improvement of population health and wellbeing and the role of nursing in public health. Students will analyse values, key principles, theory and concepts underlying public and global health and evaluate different strategies, interventions and challenges to improving health and wellbeing for communities and populations.

Research Methodology, Design and Methods - 15 credits

This module aims to provide an overview of the key approaches to designing practice-based healthcare research. It will consider the theoretical and philosophical underpinnings of research and critically appraise different design and methodological approaches utilised in health, social sciences and their related fields of practice. The module is designed to develop your ability to prepare a detailed research proposal relevant to your field of academic study, area of professional practice, or service improvement area. The importance of ethical, social, legal, political and economic aspects of research studies will be considered.

Teaching, Learning and Assessment in Nursing - 15 credits

This module is designed to enable nurses to explore the application of educational theory to support the facilitation and assessment of learning for individuals and groups in a range of health care settings. The concepts of adult education and the clinical learning environment will be examined within the framework of the knowledge, skills and attitudes underpinning professional nursing practice and contemporary drivers of healthcare professional education within a range of contexts.

The Evidence Base for Nursing Practice - 15 credits

This module will explore the principles and strategies of evidence-based nursing practice (EBNP) to enable you to acquire, appraise, apply and evaluate a wide range of sources of evidence within healthcare. The module aims to enable you to examine the theoretical and philosophical basis of EBNP and to explore the practical implications involved in achieving EBNP in clinical, managerial, research and educational settings. The module aims to provide opportunities for you to develop an understanding of the process of, and to apply evidence-based principles to your specific practice context.

Leading and Creating Organisational Health and Wellbeing (CMI module) - 10 credits

This module aims to provide you with a framework of knowledge and understanding of how to effectively lead and develop people in organisations for better health and wellbeing using a range of approaches whatever your master's degree. You will explore, for example, the influence and impact of leadership theories, culture and the impact of health and wellbeing on organisational performance in different types of organisational scenarios. You will appraise contemporary approaches for the creation of healthy work systems with emphasis placed upon modern-day methods and the role and skills of leaders in coaching and mentoring.

Ultimately, you will be given the opportunity to propose a series of recommendations to create and sustain a positive culture of health and wellbeing within an organisational context. Finally, the module requires you to reflect critically on your personal learning and development needs and how you work with others, from an ethical and professional standpoint to encourage your continuing professional development.

Master's Dissertation - 50 credits

The dissertation module is designed to allow you to undertake an in-depth individual study in an area of interest relevant to your nursing practice which will demonstrate research at an advanced level. The study will be supervised but independently undertaken. Within the study you will be expected to demonstrate understanding of the research process including ethical, theoretical and methodological issues associated with your particular subject and to demonstrate critical evaluation. It will build on the foundation provided by previous modules on this course.
We regularly review our course content, to make it relevant and current for the benefit of our students. For these reasons, course modules may be updated.
---
Studied on campus or 100% online, you will be encouraged to take an independent and self-directed approach to your study and to use the range of learning resources available to support your academic development. Individual modules adopt a range of teaching/learning strategies including workshops and seminars, student presentations and lectures.
This course can be offered on a part-time basis. Whilst we would like to give you all the information about our part-time offering here, it is tailored for each course each year depending on the number of part-time applicants. Therefore, the part-time teaching arrangements vary. Request further information about part-time study.
Explore our campus How online learning works
---
Teaching contact hours
Full-time students will have on average 10 hours of contact teaching time per week, part-time study hours will vary depending on the number of modules you choose.
Additionally, you will be expected to undertake significant self-directed study of approximately 10 hours each week, depending on the demands of individual modules.
There are also optional individual or group tutorials, which will normally be approximately 5 hours per module.
The Nursing MSc course team have developed comprehensive content for all modules to support your learning on the digital education platform FutureLearn; view the platform and register for access to free courses.
The contact hours may be made up of a combination of face-to-face teaching, individual and group tutorials, and online classes and tutorials.
As an innovative and enterprising institution, the university may seek to utilise emerging technologies within the student experience. For all courses (whether on-campus, blended, or distance learning), the university may deliver certain contact hours and assessments via online technologies and methods.
In response to the COVID-19 pandemic, we are prepared for courses due to start in or after the 2022/2023 academic year to be delivered in a variety of forms. The form of delivery will be determined in accordance with Government and Public Health guidance. Whether on campus or online, our key priority is staff and student safety.
---
Assessment
Assessment tools are varied and designed to maximise your opportunity to demonstrate comprehensive knowledge, critical thinking and application of theory to nursing practice.
Assessment methods include:
Essays
Service improvement plan
Presentation
Case study analysis
Posters
Independent research study for the dissertation
The Coventry University Group assessment strategy ensures that our courses are fairly assessed and allows us to monitor student progression towards achieving the intended learning outcomes.
---
Applicants should hold at least a 2:2 undergraduate degree in Nursing and should have completed a qualification leading to registration as a nurse. We will consider applicants with a Diploma in Nursing and evidence of continuing professional development that shows an ability to study at master's level*.
*For information regarding what might amount to 'evidence of continuing professional development that shows an ability to study at master's level' please contact our admissions team using the quick enquiry form.
We recognise a breadth of qualifications, speak to one of our advisers today to find out how we can help you.
Select your region to find detailed information about entry requirements:
You can view our full list of country specific entry requirements on our Entry requirements page.
Alternatively, visit our International hub for further advice and guidance on finding in-country agents and representatives, joining our in-country events and how to apply.
English language requirements
IELTS: 6.5 overall (with at least 5.5 in each component area)
If you don't meet the English language requirements, you can achieve the level you need by successfully completing a pre-sessional English programme before you start your course.
For more information on our approved English language tests visit our English language requirements page.
---
Fees and funding
2022/23 Tuition fees
| Student | Full-time | Part-time |
| --- | --- | --- |
| UK | £10,600 per year | Request fee information |
| International | £16,950 per year | Not available |
For advice and guidance on tuition fees3 and student loans visit our Postgraduate Finance page.
We offer a range of International scholarships to students all over the world. For more information, visit our International Scholarships page.
How do you know if you need to pay UK or international tuition fees?

We carry out an initial fee status assessment based on the information you provide in your application. Your fee status determines your tuition fees, and what financial support and scholarships may be available to you. The rules about who pays UK (home) or international (overseas) fees for higher education courses in England are set by the government's Department for Education. The regulations identify all the different categories of student who can insist on paying the home rate. The regulations can be difficult to understand, so the UK Council for International Student Affairs (UKCISA) has provided fee status guidance to help you identify whether you are eligible to pay the home or overseas rate.

If you meet all the criteria required by any one category, including any residence requirements, your institution must charge you the home rate. You only need to find one category that you fit into.
---
Facilities
Our aim is to offer you sector-leading facilities4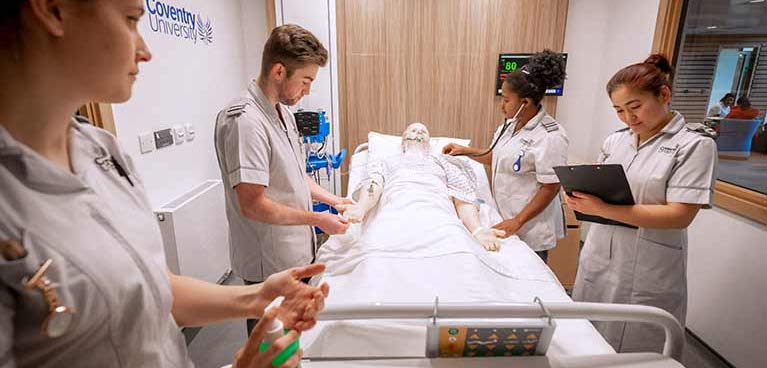 Alison Gingell Building
Our state-of-the-art Alison Gingell Building features mock hospital wards, an operating theatre, critical care settings and other real-life nursing environments.
Community houses
Learn how to work with patients outside of a hospital setting in our simulated, two full-size community homes, specifically built for teaching.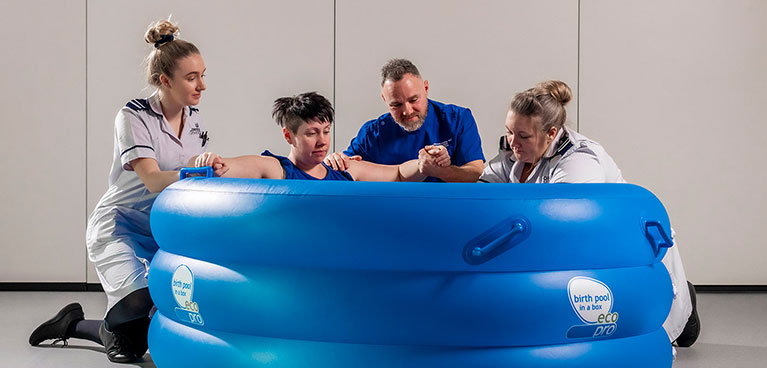 Midwifery suite
Our midwifery suite is equipped with delivery facilities including water birth options. Student midwives also use mannequins to simulate routine and emergency care to mothers and babies.
---
Careers and opportunities
Upon successful completion of this course, you will be able to:
Demonstrate a professional approach to self-development in a broad range of competencies relevant to nursing across national borders and areas of practice including digital literacy, critical decision making, problem-solving, presentation and teamwork.
Critically evaluate approaches to, and conduct of research to support practice and development of nursing care.
Evaluate critically the application and implementation of the evidence base to a range of national and international areas of nursing practice, and contributions of nursing to public health and community development.
Analyse approaches to support leadership, quality and service improvement and project management within policy and professional frameworks of nursing.
Evaluate the complex social and political nature of nursing care using an integrated approach and drawing on a range of disciplines.
This course provides an opportunity to learn from academic staff and clinical experts (subject to availability), to develop critical thinking and decision-making skills to support innovation, challenge and to develop the skills to support you in leading a clinical nursing practice.
Where our graduates work
Past students are working as nurses in a range of acute and secondary care settings in the UK and other European countries. These nurses have both senior roles as leaders and managers of teams or may be newly-qualified staff choosing to achieve their master's degree at an early stage in their career.
---
How to apply
UK students

To apply to study for a postgraduate course at Coventry University, you can apply online.

---

For further support or more information about your course get in touch with us today.

International students

Full-time international students applying to start in September should apply directly to the university. Read our application pages to find out your next steps to apply.

How to apply

For further support for international applicants applying for postgraduate degree view our International hub.

You can also download our International guide which contains lots of useful information about our courses, accommodation and tips for travel.

---

Get in touch with us today for further advice and guidance.
Disclaimers

1Accreditations

The majority of our courses have been formally recognised by professional bodies, which means the courses have been reviewed and tested to ensure they reach a set standard. In some instances, studying on an accredited course can give you additional benefits such as exemptions from professional exams (subject to availability, fees may apply). Accreditations, partnerships, exemptions and memberships shall be renewed in accordance with the relevant bodies' standard review process and subject to the university maintaining the same high standards of course delivery.

2UK and international opportunities

Please note that we are unable to guarantee any UK or International opportunities (whether required or optional) such as internships, work experience, field trips, conferences, placements or study abroad opportunities and that all such opportunities may be subject to additional costs (which could include, but is not limited to, equipment, materials, bench fees, studio or facilities hire, travel, accommodation and visas), competitive application, availability and/or meeting any applicable travel COVID and visa requirements. To ensure that you fully understand the visa requirements, please contact the International Office.

3Tuition fees

The University will charge the tuition fees that are stated in the above table for the first Academic Year of study. The University will review tuition fees each year. For Home Students, if Parliament permit an increase in tuition fees, the University may increase fees for each subsequent year of study in line with any such changes. Note that any increase is expected to be in line with inflation.

For International Students, we may increase fees each year but such increases will be no more than 5% above inflation. If you defer your course start date or have to extend your studies beyond the normal duration of the course (e.g. to repeat a year or resit examinations) the University reserves the right to charge you fees at a higher rate and/or in accordance with any legislative changes during the additional period of study.

4Facilities

Facilities are subject to availability. Due to the ongoing restrictions relating to COVID-19, some facilities (including some teaching and learning spaces) may vary from those advertised and may have reduced availability or restrictions on their use.

Student Contract

By accepting your offer of a place and enrolling with us, a Student Contract will be formed between you and the university. A copy of the 2022/23 contract can be found here. The Contract details your rights and the obligations you will be bound by during your time as a student and contains the obligations that the university will owe to you. You should read the Contract before you accept an offer of a place and before you enrol at the university.
---