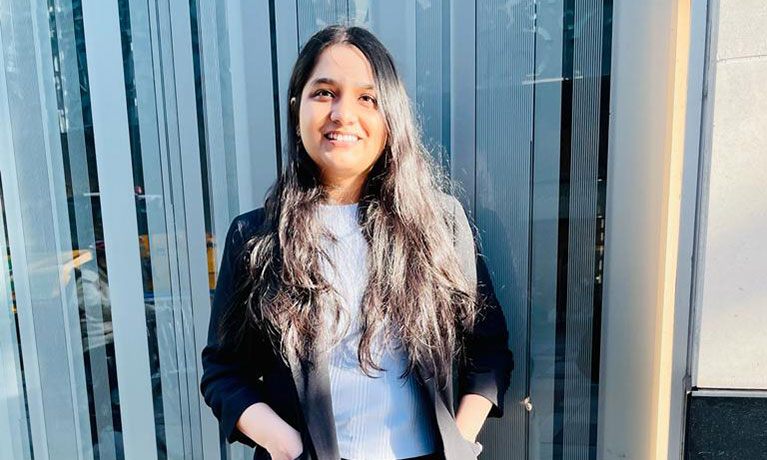 ---
Khushi Lakhlani, a second-year Computer Science BSc (Hons) student at Coventry University, shares her journey to securing an internship at Intel.
Rewind back to November 2021, when I first applied for the role of Technical Sales Support Intern at Intel and received my first interview call. I still remember being both extremely nervous and excited at the same time. The 'informal' 15-minute call turned into a full-blown competency interview on the phone. Towards the end of the call, I was told that I was through to the second stage and was invited to an assessment centre. I was elated to know this as I did not expect a response so quickly and could not believe what I was hearing.
The (virtual) assessment centre took place in January 2022. Throughout the day, candidates were interviewed on various aspects such as individual interviews and presentations, group exercises, technical interviews, and a meet and greet session with current interns at Intel. I was ecstatic with the entire experience as I received a positive response from the interviewers on the day. They were impressed with my in-depth research about Neuromorphic Technology and the way I was able to present a relatively technical aspect with clear and relatable terminologies.
Then began the long wait for a final response which made me anxious about an outcome. Finally, I received a third interview call with the team where they reviewed my performance and explained the role and responsibilities to me.
I will always remember the feeling when I received a phone call informing me I had been selected, followed by an email with the contract right after the call. I felt a rollercoaster of emotions all in the same instant as it was then that I realised I had fulfilled the dream I had set for myself right from the start of my degree - securing an internship with a global tech company! All the efforts I put in were worth it!
As an International Student and a Woman in STEM, I feel immensely proud of this achievement. It is a perfect opportunity for me to begin my professional journey with a global tech company, a company where I believe I will be given greater opportunities to explore and gain professional work experience.
This experience of securing an internship has made me realise the importance of setting achievable goals and achieving them through consistent efforts. Whether it be small steps or longer strides, if it is in the right direction, I believe success is guaranteed sooner or later. So, my advice for all my fellow students seeking out internships is to secure as many interviews as you can, and even if you fail, you can learn a great deal from it. The other piece of advice is to dream big. Lots of us have apprehension in our minds of "what if this does not work?" Let's change it and say, "imagine if and when it works?"
I am excited to begin this new journey. From the start, I imagined myself at Intel working in the role day in day out and I truly put all my efforts into preparing for it. With the right guidance, motivation, and the willingness to put in maximum effort, you too can achieve success.
With this, I can proudly say that I will be working at Intel Corporation Private Limited, Swindon, UK. I am immensely thankful to each person who helped me throughout this journey, without which this would not have been possible. Starting with my family and a special mention to my brother who guided me through each step and was a tremendous support throughout. Also, the Talent Team at Coventry University who helped me to prepare for interviews, staff within the Engineering, Environment and Computing faculty, and finally the entire team of the Women in Engineering Society, who gave me a platform to showcase my skills and get professional exposure.