A Global University
---
A Global University
An Innovative and Enterprising University in a Globalised World
By stating that we are a 'global' university we mean that:
We are amongst the foremost universities in the UK for widening access globally and making our excellent programmes available to students around the world, whether they choose to study with Coventry University in the UK or on a Coventry University programme overseas
All of our educational programmes are global in orientation and our students have the opportunity to acquire a new language or deepen competence in an existing second language alongside increased cultural proficiency and knowledge of global issues
We offer all our students a sector-leading range of mobility opportunities to study, do a project, or gain work experience abroad so that they are better equipped to be global leaders and employees of the future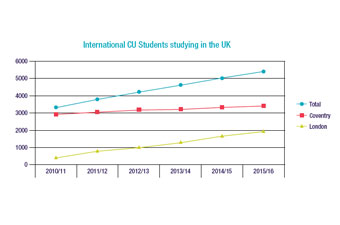 Similarly, we offer our international students the opportunity to have work experience in the UK
Our courses draw on material and case studies sourced globally and encourage the examination of issues from different cultural, economic and socio-political perspectives
We recruit students from all over the world and encourage the formation of social and professional networks across national boundaries which continue among our global alumni base
We exploit opportunities in the classroom and digital communication and collaborative technologies to bring students and staff together across different countries to participate in shared seminars, undertake joint research projects and learn together through taught modules
We disseminate our knowledge and expertise globally using digital and virtual means as well as the traditional forms of academic publication, knowledge exchange and transfer
We conduct research into global problems drawing on international sources of funding e.g. the European Union
We have active partnerships with universities and colleges in all continents through which we pursue joint research and teaching programmes, student and staff mobility, dual and double degrees and pathway programmes. We seek out external funding opportunities to further this agenda
We work with global companies on joint research and development agendas
We use our global connections to benefit our local communities, city and region
We conduct research that is judged to be world-leading or internationally excellent through the peer review process and the REF.
Aims:
To develop more multi-touch, deep, international partnerships where our joint activity includes a wide range of shared activities. We will do this through our unique Academic Partnership Unit which supports the development of new and existing collaborative relationships, coordinates the development and delivery of programmes and oversees quality management.
To increase international student numbers at Coventry, and to develop Coventry University London and other campuses catering primarily to the needs of overseas students outside of the UK as planned.
To ensure that every course contains a substantive international element that requires students to acquire a comparative perspective, or to engage with globally important issues, or to conduct joint projects with peers in another university overseas mediated via digital technology.
To increase opportunities for UK students to undertake an international fieldtrip or study visit, and/or a study or work placement abroad. Similarly to find and offer work experience opportunities in the UK to our international students.
To give greater priority in supporting Research with Impact projects with international/global companies or with overseas partners including HEIs, governments and Non Governmental Organisations.
To enhance the IT infrastructure to enable the many tools for academic collaboration so that it is easy and reliable to share and discuss research data, to run trans-national seminars, to set up student-to-student projects etc.
Metrics to assess progress in becoming a 'global' university by 2020:
Continued growth in recruitment of overseas students to the UK above the sector average
Doubling of students on programmes delivered with partners outside of the UK
Growth in the number of joint ventures with partners to establish micro campuses overseas
All students to have an international experience of some kind in their programme of study – either through joint projects with students in other countries mediated by ICT, or through study visits or work placements
All overseas students to be offered work-related experience of some form in the UK – through internships, placements or work-related projects
All courses to evidence a substantive and definable international component – for example, an international literature review, overseas case studies and/or analysis of global issues and perspectives
Coventry University to retain sector leadership for enhancement through internationalisation including remaining focussed on social and cultural intergration
I-graduate Survey to show steady improvement in international student satisfaction year-on-year on key questions.