Coventry's Faculty of Business and Law
Teaching of business studies and economics began at the Lanchester College of Technology in 1966, before being split into dedicated business and law classes the following year. Coventry Business School was founded in 1990 in a restructure of teaching at Coventry Polytechnic and its portfolio now includes leisure, sport and tourism as well as distance learning and courses supported by industry.
Since then the university has created the Faculty of Business and Law, winning awards for innovation and setting up teaching in countries worldwide.
We now offer thousands of students each year the chance to learn through our virtual learning environment, in real-world facilities including a Moot Room and Europe's largest academic trading floor.
We also offer free legal clinics to the community, and have a lasting partnership with ice hockey team, Coventry Blaze.
Coventry University's business school was presented with a Small Business Charter award at 10 Downing Street in 2014 in recognition of the role it played in helping to kick-start British enterprise and launch new businesses.
The Faculty of Business and Law's long standing partnership with the Coventry Blaze ice hockey team has seen over 50 players graduate with undergraduate and postgraduate qualifications over the past 16 years.
The majority of Blaze players have been enrolled on our courses to date, going on to to form successful careers following their time on the ice and in our lecture halls.
Coventry Blaze Partnership
Coventry University Legal Clinic
Our Legal Clinic is run in partnership with the Coventry Law Centre to provide free legal advice to people across Coventry. Second and third year law students have already provided free help and support to 500 residents, working alongside trained solicitors and lawyers to gain valuable experience while helping provide a much-needed service.
The benefits of this clinic for our students are enormous. To have the chance to work with a global law firm providing pro-bono legal advice is so rare. Students go through a rigorous process to gain this opportunity and they really give it everything. Instead of just offering advice they can now take a whole case which is a great learning tool.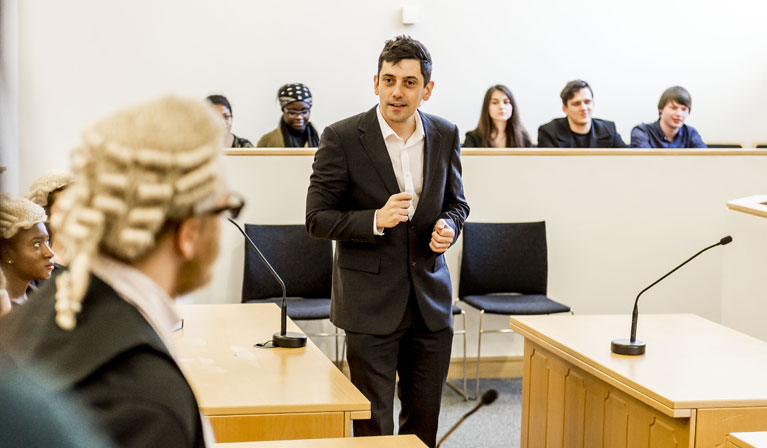 Coventry University Legal Clinic
Meet Vyara, an International Law student who worked with Allen and Overy Law firm in Coventry.