If you haven't applied to university yet then it's not too late! The final deadline for Coventry University courses isn't until Monday 4 July, so there's still plenty of time to submit your application. But, the sooner you send it, the sooner you will hear back and can plan your next steps. Contact us through live chat or submit an enquiry if you have questions about our courses or would like to discuss your application.
All applications will be considered equally for everyone that has applied from September 2021 to the Monday 4 July 2022. This is known as equal consideration and different universities will have their own equal consideration dates. You can also make an application to Coventry after Monday 4 July through Clearing, but we do recommend sending your application as soon as you're happy with your decision.
---
Not sure where to start?

Ask yourself the following to give you an idea:
Which subject(s) do you enjoy studying?
How long do you want to study for?
Are you more theory or practical focused?
---
---
How to complete your UCAS application

Once you've registered on the UCAS site, here are the sections you'll need to complete in order to submit your application:
Personal details – y

ou and your contact information

Student finance – UCAS can share your details with the organisation you're applying to
Course choices – you have up to five choices to play with
Education history – qualifications and predicted grades
Employment history – have you ever had a job or done any volunteering?
Personal statement – this is where you show off
Reference and application fee – the final step before submitting your application.
---
Write your Personal Statement
Top tip: get a friend to just chat to you about why you want to study your course, what hobbies you take part in, why you have a part-time job – and the list could go on. They can write notes, which can provide you with a starting point.
Your tutors are also there to help you with topic ideas for your personal statement.
Ready to start? Check out our tips for writing the perfect personal statement.
---
We're here to help
To discuss your Extra application or to find out more about our courses on offer call us on +44 (0)2477 652 222 get in touch through our enquiry form or live chat with us.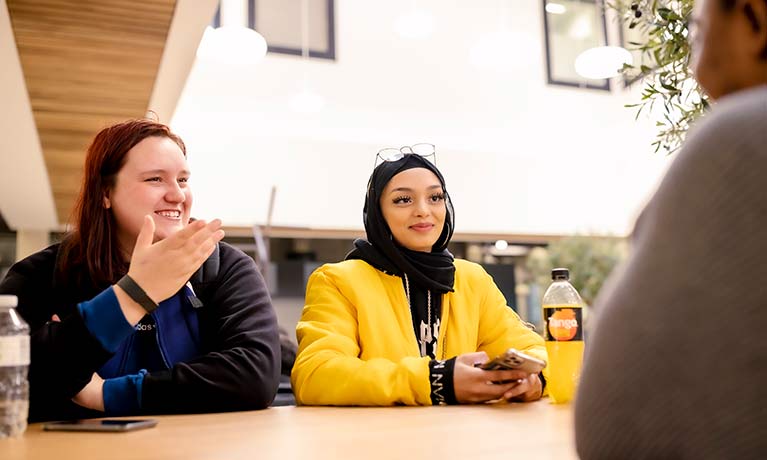 Virtual Experience

Take a virtual tour of our campus
Our Virtual Experience lets you discover the highlights of studying with us.
Your Coventry University application
Everything you need to know about the application process.
Why choose us?
Shortlisted for University of the Year
The Times and Sunday Times Good University Guide 2021
No.1 Modern University in the Midlands
Guardian University Guide 2022
Joint top Modern University for career prospects
Guardian University Guide 2021