BEACONING
Breaking educational barriers with contextualised pervasive and gameful learning
FUNDER
European Union, Horizon 2020
VALUE
€5.9m
COLLABORATORS
Herriot Watt University, BIBA Institute, INESC TEC Porto, Universidad Complutense Madrid, ORT France, Succubus Interative, Advanced Technology Systems, imaginary srl, Geomotion Games, Ifinity Poland, Playsoft group France, Sebit Turkey, Hands free (UK), Siveco (Romania).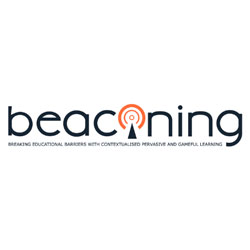 PROJECT TEAM
Sylvester Arnab, Katherine Wimpenny, Koula Charitonos, Luca Morini, Jayne Beaufoy, Aikaterini Bourazeri.
PROJECT OBJECTIVES
BEACONING sets a forefront in multifaceted education technologies through large-scale piloting of a digital learning platform that blend physical and digital spaces. As innovation action strategies, pilots combine opportunities for new ICTs in multiple ways that merge learning acquired in formal, non-formal and informal means, developing the skills for today's abled and disabled learners and workforce. The BEACONING platform will be a ubiquitous solution that exploits advances in user experience design, mobile communication, location-based and context aware systems, procedural content generation, pedagogy-driven gamification, learning analytics and cloud technology through innovative integration towards a blended learning space.
The BEACONING demonstrator will facilitate, assess and author gamified learning activities, integrating existing educational tools and services of the participating organisations. Focusing on STEM (Science, Technology, Engineering and Mathematics), the cross-subject approach embedded in a Problem-Based Learning model will contextualise learning within real world problem solving and applications.
RESEARCH IMPACT
To integrate technologies, pedagogical and social perspectives of using pervasive, context-aware and gamified approaches: ensuring that the BEACONING platform is innovative while also extending our scientific understanding and practice-based experiments of engaging a community of learners including those with disabilities with a more inclusive, connected and contextualised learning process.
To develop, implement and validate the BEACONING platform: that leverages cutting-edge approaches including the Future Internet technology, mobile, gamification, pervasive gaming, procedural game content generation, game authoring, human-computer interfaces, learning analytics and problem-based learning model; and to produce a platform that is usable, adaptable, extendable and sustainable.
To explore and measure the level of engagement, effectiveness and impact that is enabled by the BEACONING platform: towards incentivising learners and fostering acquisition and transfer of knowledge and skills, validate this through large scale pilots involving a community of stakeholders and practitioners in Europe, and provide an exploitation and business plan for the platform adoption.