The Story So Far
The first RISING Global Peace Forum took place in late 2015 with the support of Archbishop Desmond Tutu and the former UK Prime Minister Gordon Brown.
Speakers at subsequent Global Peace Forum events have included Lieutenant-General (ret) Roméo Dallaire, who led the UN mission in Rwanda in 1994, John Bruton, Irish Taoiseach just before the Good Friday Agreement was signed, Ad Melkert who was the UN Special Representative for Iraq 2009-2011, Julia Gillard, former Prime Minister of Australia and Marina Litvinenko, widow of the poisoned Alexander Litvinenko.
Since 2017 RISING has organised symposia events exploring specific issues relating to peace in Baltimore, Belfast, Bogota, Caen, Mexico City and Monterrey. Symposia were also held in London to discuss the role of women ulama in building peace in India and Indonesia and how young people in UK cities can build a positive society.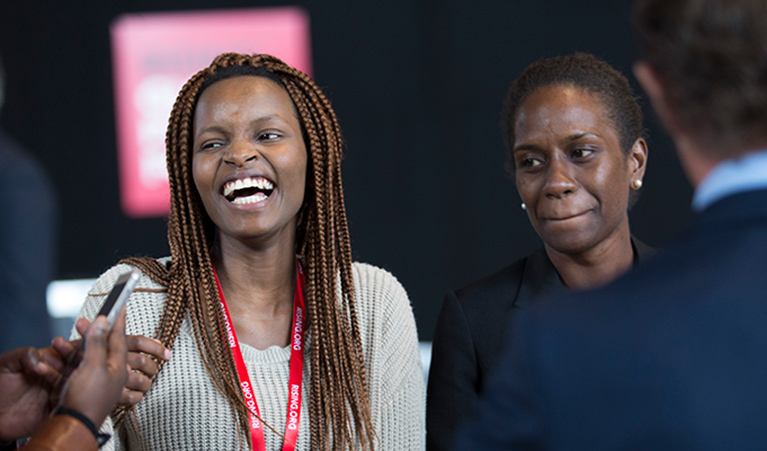 RISING is also very active on digital media platforms (mainly Twitter, Facebook, Youtube and LinkedIn) to promote inspiring and challenging dialogue about peace. As a result the global audience with whom we're speaking on a daily basis increased by 75%, reaching more than 30,000 people every month.
At the 2018 RISING Global Peace Forum we welcomed two Nobel Peace Prize winners, President Ellen Johnson Sirleaf from Liberia and Tawakkol Karman from Yemen. In 2019 we welcomed Julia Gillard and Helle Thorning-Schmidt, former Prime Ministers of Australia and Denmark respectively. At both events 35 leading academics and frontline peace practitioners shared with 250+ delegates in a series of participative workshops about how peace is being built and sustained at community level in places as far afield as Armenia, Baltimore, Cameroon, Colombia, Cyprus, Northern Ireland, Nigeria, Papua New Guinea and Syria.
Contact us
Contact us to find out more about RISING, including how to be part of our forthcoming events as a speaker, delegate or funder/sponsor.
Like us
---
Follow us
---
Latest news
---
Subscribe to us