About RISING
Let's exchange ideas and inspiration about peaceful communities.
Coventry's status as the UK's first and only City of Peace & Reconciliation already inspires thousands of people around the world in their efforts to resolve violent conflict and promote peace. RISING inspires peace by bringing together civil society leaders, policymakers, academics and peace practitioners to exchange ideas and inspiration about building and sustaining peaceful communities.
RISING started in 2015 as a unique partnership between the University, the Cathedral and the City Council. RISING's unique global legacy is for the world to have a better understanding of what's needed to initiate and make peace and then to have the energy and inspiration to deliver peace.
The need for RISING can be seen on a daily basis in the global news. On an international level tensions between states are rising and the threat of man-made climate change shows that we are not at peace with our environment. At a local community level fear of 'the other' and physical violence towards minorities combine to undermine the fabric of peaceful societies. Making and sustaining peace involves taking risks, and the difficult business of meeting, hearing and working with people whose values, aims and behaviours are very different.
RISING's reach extends far beyond Coventry, through its events and online activity to prompt inspiring dialogue and share best practice throughout the world.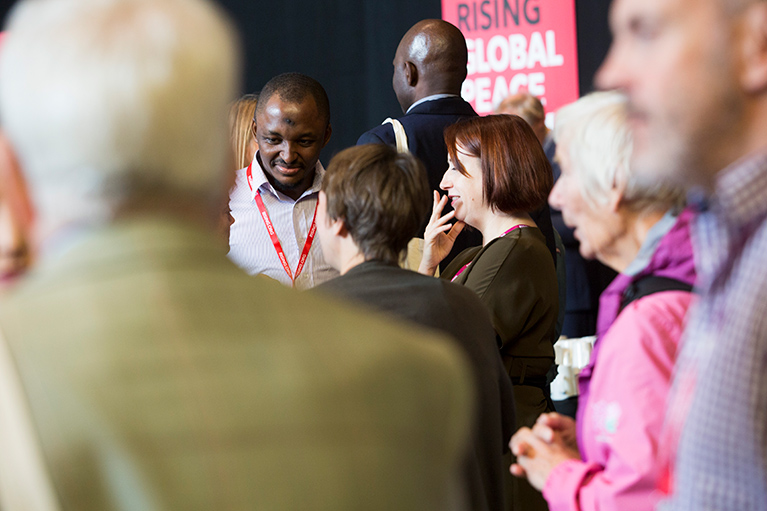 RISING symposia have been held in Baltimore, Belfast, Bogota, Caen, Monterrey and Westminster bringing together policymakers, academics and community representatives to share insights into the complex business of enabling communities to sustain peace and individual to pursue personal peacefulness.
On a daily basis, through its various digital media platforms, RISING is provoking dialogue about peace and inspiring academics and practitioners in their work. The global audience of RISING can be seen by the 20,000+ unique visitors from 150 countries to RISING's website and RISING's Facebook, LinkedIn, Twitter and YouTube pages have now reached almost one million people.
RISING is keen to meet and discuss with partners the possibility of working together to organise local symposia and to participate in the annual Global Peace Forum.
Sustaining RISING's success in inspiring peacemakers throughout the world depends on both the continued participation of academics, civic leaders and practitioners and the financial support from funders and sponsors who share the aim of RISING to deliver a legacy of peace and peaceful relations for future generations. Building and sustaining peace is a journey best travelled with others.
RISING 2022
Join the conversation today on social media and be part of the story by registering to attend the 2022 RISING Global Peace Forum 9th -11th November by email
Register now
---
Follow us
---
Latest news
---
Subscribe to us