Two-meters apart: discussing the impacts of a "loss of touch"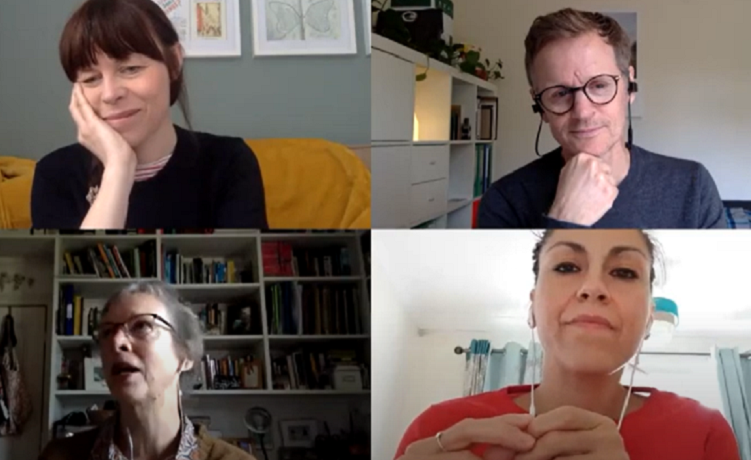 ---
Wednesday 13 May 2020
Press contact
---
Humans need to touch and be touched. It is one of the first things we experience when we are born – skin to skin contact with another person. In the COVID-19 lockdown period, we are in a position where a simple gesture can be dangerous for both ourselves and others. So how are we coping without it? How do we process a lack of touch?
Responding to a piece written by V (Eve Ensler) in The Guardian focusing on the difficulties of social distancing and what it means to live with limited physical contact, researchers from the Centre for Dance Research (C-DaRE) at Coventry University recently came together to discuss what a lack of touch means for us during the COVID-19 lockdown.
In the first of a series of video seminars responding to touch in the midst of the pandemic, Scott DeLahunta, Kate Marsh, Simon Ellis, Rosamaria Cisneros and Rosemary Lee reflected on how we might come to refine our understandings of what touch means in a time where we are thinking evermore about interaction, or lack thereof. They emphasised the importance of dance as a tool for opening new avenues for understanding touch and bodily movement in day-to-day life.
Despite being hopeful for a future beyond lockdown, the team raised concerns about how social distancing might affect children and young people, and explored the long and short-term impacts for people living in close proximity, or far apart.
If you want to hear the expert insights from C-DaRE, watch the video below. Further conversations with researchers around the topic of dance, touch and how we are adapting during the COVID-19 pandemic will be uploaded to C-DaRE's YouTube channel over the coming weeks.
C-DaRE encourage people to get in touch to submit questions for response in future videos. Please email Lily Hayward Smith, or follow the discussion on the C-DaRE Twitter and Facebook page.