Passenger Experience Steering the Future of Rail Travel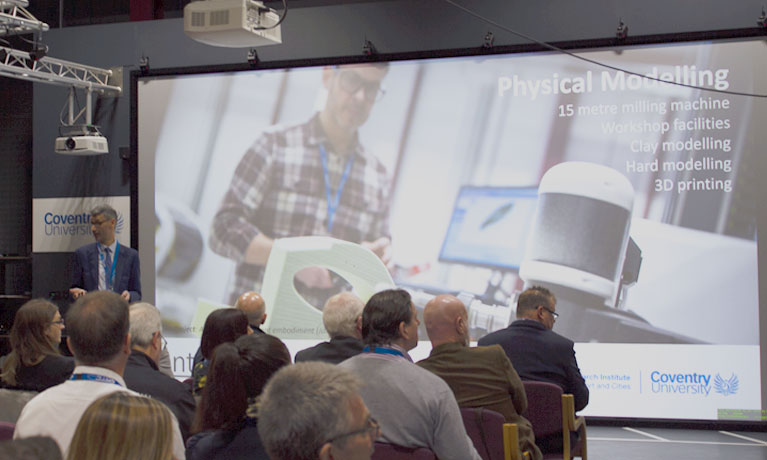 ---
Monday 17 February 2020
Press contact
---
Coventry University's National Transport Design Centre (ntdc) hosted The Rail Alliance's Light Rail networking event, influencing the direction of future commercial rail transport design towards a more user-centric approach.
Plans are underway for Coventry's very own tram network, connecting the city with High Speed 2, and improving links to the capital. As the Rail Alliance is the largest business-to-business community in rail, this event served as an ideal opportunity to bring together transport sector specialists of the Midlands to prompt collaborations while these ambitious plans are in their infancy.
With developments in rail transport becoming increasingly relevant due to environmental and congestion-related concerns, the rail industry is seeking to implement innovations to improve passenger experience via a focus on user-centric design. The ntdc therefore serves as the ideal venue to channel interest amongst Rail Alliance members to this end, helping to embed the region as a transport design and manufacturing hub.
Martin Little, Commercial Director of the Rail Alliance said:
"We try very hard to select venues that reflect the conversations that we are trying to stimulate at these events. Although it has been on our agenda for years, this is the first time we have run a light rail event. There is a lot of technology innovation and product development coming though in light rail and we felt that this was represented by the capabilities that are demonstrated at the National Transport Design Centre."
Paul Herriotts, Professor of Transport Design:
"At the ntdc, we are very much concerned with user-centred design and passenger experience, and rail is one of the transport areas that we work in. So this is a great opportunity to meet with people working particularly in the light rail sector to form collaborations with and to engage in applied research, of which we have the expertise here at Coventry University."
This event comes at an ideal moment for the National Transport Design Centre as visiting academic, Keiko Kioka from Toyo University, Japan, diversifies the expertise of the ntdc to further explore human factors the rail industry of the future. Keiko's research themes include the psychological assessment of train drivers, the division of labour between drivers and automated trains and training programmes for drivers coping with exceptional circumstances.
Find out more about the National Transport Design Centre.