Professor Gideon Maas, Director International Centre for Transformational Entrepreneurship, is appointed President of the Institute for Small Business and Entrepreneurship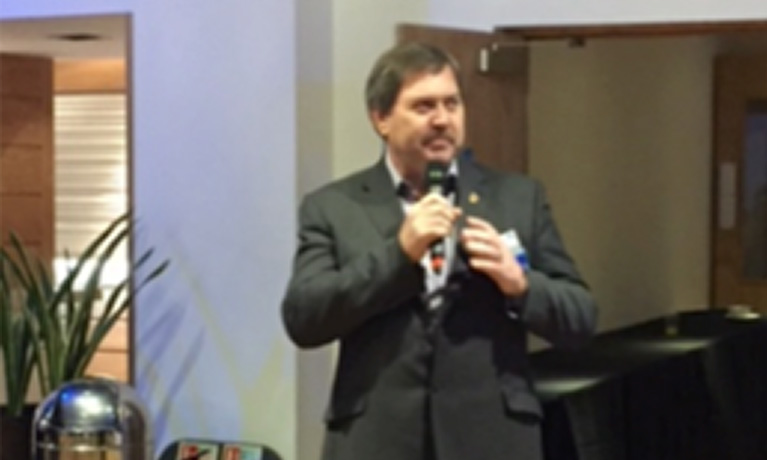 ---
Monday 02 January 2017
Press contact
---
Professor Maas took over as President at the Institute for Small Business and Entrepreneurship's (ISBE) 40th Annual Conference in Belfast on 8 November 2017. ISBE's (www.isbe.org.uk) focus is to enable excellence in small business and entrepreneurship across research, policy, practice and learning communities and this 40th annual conference succeeded in highlighting new knowledge in these areas. Coupled with intensive debates around these topics ISBE will endeavour to work actively on these issues to improve its impact on small business and entrepreneurship in future.
In his opening remarks as President, Prof. Gideon Maas mentioned that he wants to focus on two specific areas during his term of office namely internationalisation of ISBE and addressing the cooperation between academia, industry and government. Prof Maas said "ISBE has an important role to fulfil promoting small business and entrepreneurship in the UK and beyond its borders. We need to focus on achieving sustainable growth in economies represented by our members."
ISBE was created as the UK Enterprise Management and Research Association (UKEMRA) during 1989, changed to Institute for Small Business Affairs (ISBA) during 1992 and finally to the current Institute for Small Business and Entrepreneurship (ISBE) in 2004. ISBE is governed by an Executive Board and a Board of Trustee Members. Ordinary members are in excess of 500 with regular contacts in excess of 4000. Apart from the annual conference, various interest groups exists such as Entrepreneurial Finance, Entrepreneurial Learning Practice and Policy, Entrepreneurship Studies Network, Gender and Enterprise Network, Rural Entrepreneurship Network and Social and Sustainable Enterprise. The journal associated with ISBE, The International Journal of Entrepreneurial Behavior & Research (IJEBR), publishes original research related to the human and social dynamics of entrepreneurship, and entrepreneurial management in small and growing organisations.