Centre for Low Impact Buildings links up with USA to boost bamboo construction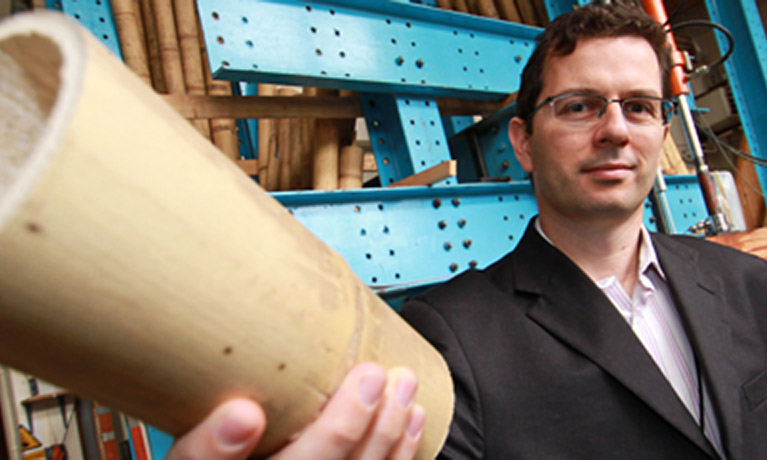 ---
Monday 05 October 2015
Press contact
---
It's as tough as steel and sturdier than concrete – and now bamboo is set to be the focus of a $200,000 research project co-led by academics at Coventry University and funded by the British and U.S. governments.
The research – which is backed by the UK's Department for Business, Innovation and Skills and the U.S. Department of State through the prestigious Global Innovation Initiative – will bring together world-leading experts in sustainable design to explore the use of bamboo as an urban construction material.
Coventry University and the University of Pittsburgh, Pennsylvania, will co-lead a team of civil engineering and design gurus in carrying out extensive testing and analysis of the effectiveness of bamboo as a safe construction resource.
The two-year 'Bamboo in the Urban Environment' project was one of only 14 across the world to win funding as part of the Global Innovation Initiative, which aims to boost research collaborations between the UK, the USA and other less well-developed nations.
Coventry and Pittsburgh will also work with Bogor Agricultural University (Indonesia), the Indian Institute of Technology Delhi, the International Network for Bamboo and Rattan (China) and several industry partners in the UK and USA.
Undergraduate and graduates from each of the institutions will have the chance to participate in the research, with students from Coventry's civil engineering and architecture courses getting involved through the university's state-of-the-art Engineering and Computing Building.
Bamboo can grow up to 30 metres in length in six months, and can be matured for structural purposes within three years – a process which lends it superior mechanical properties to oak and puts it on an equal footing with steel in terms of tensile strength.
Bamboo is one of the world's oldest construction resources, dating back thousands of years, but we haven't come close to fully exploiting its potential as a sustainable alternative to current industry materials and techniques. This project is chiefly about advancing our understanding of bamboo's capabilities so that we can harness them to help reduce costs and improve safety in housing in lagging and developing countries, or those which are particularly at risk from natural hazards. Being relatively cheap, incredibly strong, lightweight and renewable lends it a unique set of properties which make it well-suited to contribute to major global challenges such as population growth, urbanisation and also resilience in the face of climate change. If we can go some way towards empowering the next generation of engineers, architects and builders to be able to use bamboo to meet the demands of the 21st century, then the project will have been a success.

David Trujillo, senior lecturer in civil engineering at Coventry University and one of the project's leaders
It's a great experience working on this project and exploring how a material like bamboo can have different applications in the construction industry. The opportunity to take part in the research in the USA is also fantastic, not only in helping with my studies but also in gaining relevant experience for when I graduate. To be at the forefront of work like this which could have a real impact on sustainable construction solutions in the future is a real privilege.

Kelly Webb, a structural engineering and architecture student at Coventry University who is currently in the USA working on the project
STUDENTSHIP - DEVELOPMENT OF STRENGTH GRADING METHODS FOR ROUND BAMBOO
It is estimated that over 1 billion people around the world live in bamboo housing, mainly in developing countries in the tropics and subtropics. Over the past 20 years, increasingly ambitious structures are being built across the world including foot-bridges and schools, with scant guidance from standards and codes. This research project is framed in the context of developing bamboo standards, for which the first step is deemed to be the development of strength grading procedures. The next step is the development of appropriate factors of safety, followed by appropriate connection design theory. Strength grading is a technique already used in timber engineering that uses non-destructive methods to infer the strength of a piece of wood. Developing these methods requires an investigation into the relationship between the proposed non-destructive tests and the strength properties in question.
Bamboo's appeal as a structural material includes its remarkable strength, sustainability and low-cost. The techniques or methods that are developed need to be sufficiently reliable to justify their adoption, yet not so costly that makes their adoption unlikely.
Due to the geographical distribution of bamboo for structural applications, travel is likely to be required.