The Big Question: Can we build communities of trust and peace?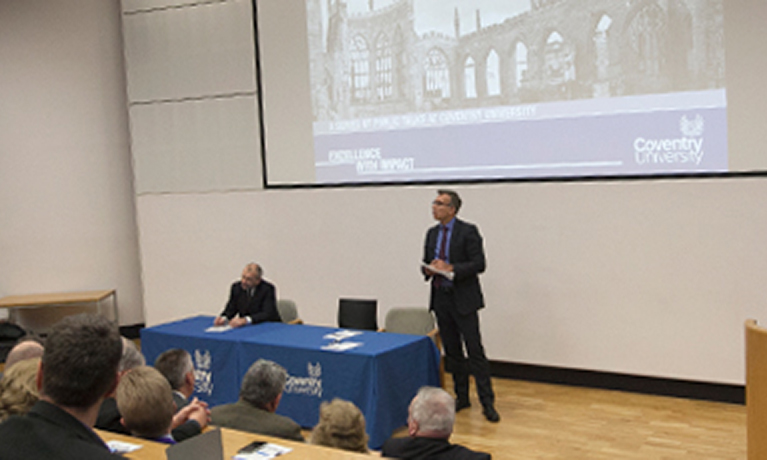 ---
Friday 20 February 2015
Press contact
---
On Tuesday 3rd February 2015, the Centre for Trust, Peace and Social Relations (CTPSR) played host to the Archbishop of Canterbury, Justin Welby, launching a new series of public talks at Coventry University entitled 'The Big Question.' This new seminar series sets out to address some of the most pressing concerns of our time, raising important questions over how to manage the unprecedented economic, political and social challenges facing contemporary society.
In front of a packed house, Archbishop Justin Welby asked: Can we build communities of trust and peace?
THE CHALLENGE
The Archbishop offered a series of compelling reflections upon reconciliation in contexts of diversity. Diversity has changed with the advent of information technology and of social media in particular: when it was less visible, diversity could largely be ignored, but this is no longer the case. Diversity is now inescapably visible, it is constantly 'in our faces'. In this way, Archbishop Justin noted that diversity is both a gift and a challenge, with the challenge now being to learn 'how to live with our deepest differences when they're right in front of us.'
In this context, reconciliation cannot be imposed from above. The Archbishop urged us to move beyond the neo-colonialist assumptions of the past and to recognise that 'Nobody makes reconciliation for others….No reconciler reconciles people. People reconcile themselves to each other.' When we are involved in reconciliation processes, it is to help others to build their own communities of trust and peace.
The Archbishop further cautioned the audience that inclusive and peaceful societies are not necessarily reconciled societies, pointing to the communities of which we are a part here in the UK as a clear example. He asserted that 'reconciliation is a rare and endangered species. Constantly endangered. We have many places in which there is peace, but there is no reconciliation.' And peace without reconciliation is 'extraordinarily fragile.'
BUILDING COMMUNITIES OF TRUST AND PEACE
Archbishop Justin surmised that reconciliation is a 'complex, fragile flower and it takes time.' In such contexts of diversity and fragility, communities of trust and peace must be founded upon 'transparency, integrity, hospitality and welcome, honesty and reality.' Reconciliation requires 'ensuring fair interactions, building common ground, developing a sense of belonging, acknowledging past wrongs and committing to attitudinal change', and above all, it requires time.
The Archbishop concluded his talk by highlighting the responsibility of religious leaders amidst the complex, identity-based conflicts of contemporary society. He asserted that all too often these figures 'allow religion too easily to be used as a justification for violence' and that the challenge now is for religious leaders to 'up their game.'
Archbishop Justin Welby's talk was thought-provoking, engaging, insightful and, above all, inspirational. His words planted the seeds of further reflection, prompting challenging questions from the audience, and inspiring us to think more deeply about the challenges of diversity, reconciliation and peace. His speech was a fitting launch to The Big Question series.
For more information contact Simon McMahon