Coventry University Research expands its network of institutional collaborations in Pakistan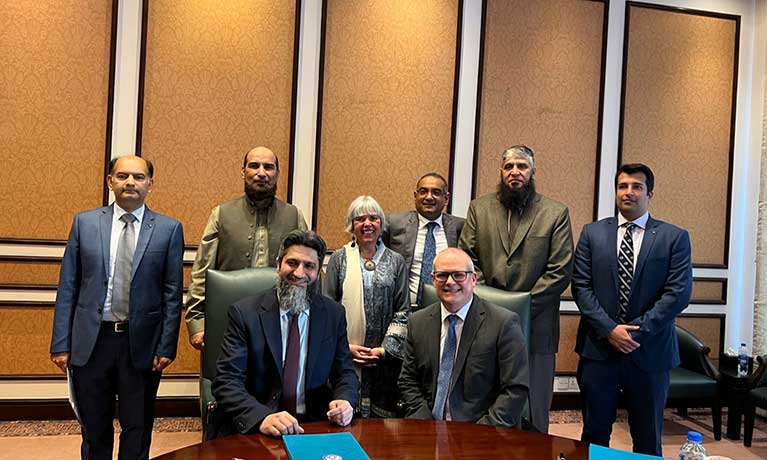 ---
Friday 31 March 2023
Press contact
---
Richard Dashwood, Deputy Vice-Chancellor Research, supported by senior research colleagues from Coventry University have signed Memorandum of Understandings (MOU) with five Pakistan Universities.
The universities are Pak-Austria Fachhochschule: Institute of Applied Sciences and Technology, Air University, National University of Sciences & Technology (NUST), NED University of Engineering & Technology, and the Institute of Business Administration.
The MOUs play an important part in the delivery of the 2030 Research Strategy and align to the Coventry University Group Mission of Creating Better Futures. The signing of these agreements strengthens the university's commitment to sharing academic expertise and enterprise and innovation services globally.
Aiming to build upon knowledge exchange and student enrichment, the MOUs will focus on enhancing Pakistani students' teaching and learning experiences in computer science and engineering.
Opportunities to undertake research aimed at international master's students and Postgraduate Researchers at the five universities will also be made available through the collaborations.
Professors Elena Gaura, (Institute Director of Data Science and Emerging Technologies) and James Brusey, (Co-Director of the Centre for Computational Science and Mathematical Modelling), joined Richard Dashwood and Pakistani academics to celebrate the agreements, and also delivered a series of talks, including sessions focused on Coventry University's current Women in STEM scholarships offering.
Professor Richard Dashwood said:
I am personally delighted to be strengthening our work and relationships in Pakistan. We have a shared history, culture and language which combined with the strength of the Pakistani higher education sector and the quality of students, makes these collaborations extremely powerful. It is very important for Coventry University to be building these international networks, as it is only through diversity of thinking and lived experiences that we will successfully address the global challenges that drive our research.

Professor Richard Dashwood, Coventry University Deputy Vice-Chancellor, Research
The signing of the agreements follows the successful conclusion of the university's Research Capacity Building Programme - funded by the British Council – which has provided 23 workshops to over 1000 esteemed Pakistani researchers, delivered by members of Coventry University's dedicated research community.
---
Coventry University has hubs and offices in Africa, Europe, China, the Middle East, and Singapore and look to create strong regional collaborations to deliver its education, research and enterprise and innovation services into key locations across the globe. Discover more.
Find out more about our presence and about the Research Capacity Building Programme in Pakistan.
Find out more about our Institute of Business Administration MoU.