Coventry University researcher wins Lifetime Achievement Award for extraordinary services to Marketing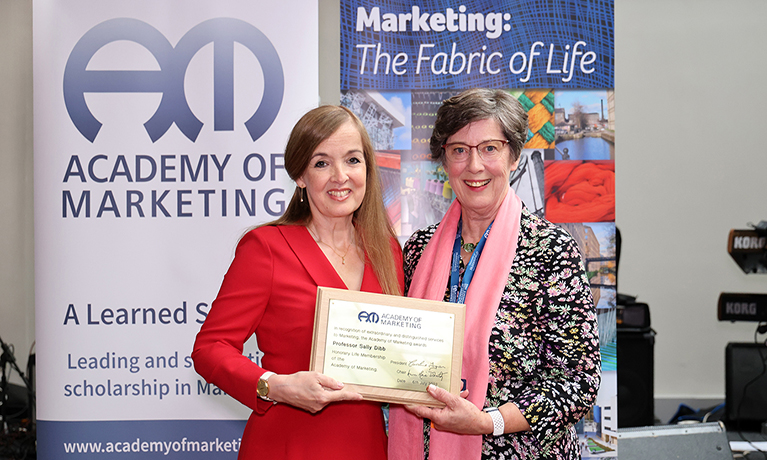 ---
Wednesday 21 September 2022
Press contact
---
A Coventry University researcher has been awarded a Lifetime Achievement Award in recognition of her extraordinary and distinguished services to marketing.
Professor Sally Dibb from the Centre for Business in Society (CBiS) was presented with the award by The Academy of Marketing, the leading membership body for marketing education and research.
Sally's commitment to social marketing, the esteem in which she is held by the Academy, and her leadership role in the recent REF2021 (Research Excellence Framework), contributed to her recognition for the award.
Examples of Sally's dedication to enrich student learning include the 12 textbooks she has published on subjects including marketing, market segmentation, marketing strategy and marketing planning.
The award was presented to Sally at the Academy's 2022 conference, where she delivered a keynote presentation reflecting on REF2021, the latest assessment of research in UK higher education, and the implications for both the sector and the marketing discipline.
Sally was nominated by the Academy to be the Deputy Chair on the REF2021 panel for the Business and Management Unit of Assessment and as an Output Assessor in the previous REF2014.
I feel very honoured to have received this Lifetime Achievement award from the community that means such a lot to me and that's been such an important part of my career right from the start. The Academy is an amazing organisation that has always made me feel welcome and supported. I'm looking forward to many more opportunities to work with fellow members of this fantastic organisation in the years to come.

I didn't expect to receive the award and I'm still getting my head around it. Some of the other recipients are my marketing academic heroes, which makes it seem a particular privilege. There have previously been only 18 recipients of this award… the 'rock gods' of the discipline.

Professor Sally Dibb, the Centre for Business in Society
I first worked closely with Sally when she was appointed as an Output Assessor for REF2014. She was an absolute pleasure to work with, collegial, professional, and diligent, offering a wide range of expertise and all this with a great sense of humour.

I am delighted to present this Lifetime Achievement award to Sally on the Academy's behalf to recognise her as marketer of stature, who richly deserves this recognition for her contribution to our discipline.

Professor Caroline Tynan, President and Fellow of the Academy of Marketing
At CBiS, Sally co-leads the Data, Organisations and Society cluster as her research focuses on consumer behaviour change, social marketing, the digital society, and big data in strategic decision-making. Her recent projects were funded by the Economic and Social Research Council (ESRC), Leverhulme, the European Union, Santander and Innovate UK. Currently she is looking into areas including financial vulnerability, the adoption of new energy solutions and how to minimise unsustainable consumption practices.
Learn more about Sally's research within the Centre for Business in Society.