Coventry University research shows how smart home technology can help people live more independently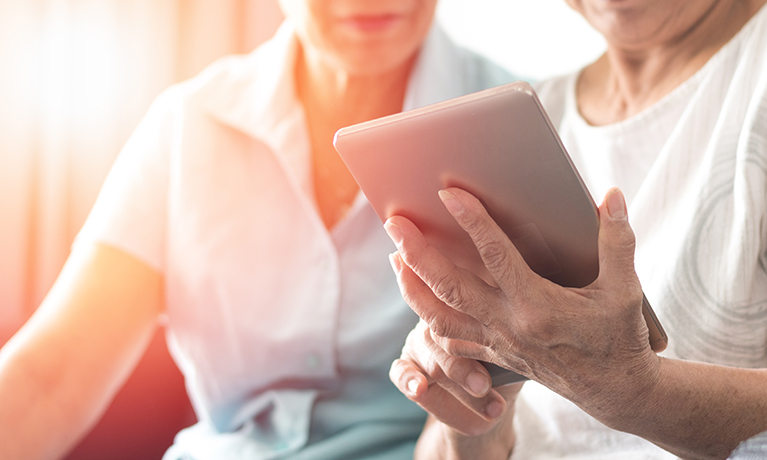 ---
Wednesday 20 July 2022
Press contact
---
Coventry University research is showing how smart technology can help older and disabled people to live more independently in their own homes.
Enabling people to live independently has significant benefits for the individual and reduces pressures on the NHS and social care.
The evidence, provided by Professor Sally Dibb from the Centre for Business in Society and Professor Louise Moody from the Centre for Arts, Memory and Communities, has contributed to the latest Policy Connect report, which outlines tangible actions for government and industry to help people take full advantage of smart home technology.
Smart home technology includes virtual assistants like the Amazon Alexa or Google Home, which enable users to control home settings such as lighting and temperature through voice commands or their phone. These technologies offer new opportunities for disabled and older people who wish to have more control over their domestic environments.
Some of the recommendations include calls for the government to embed independent living principles at the heart of health and social care policy and practice, and the launch of a new grant that would provide funding for consumers to buy low-cost tech.
Policy Connect is a cross-party think tank that specialises in supporting parliamentary groups, forums, and commissions, delivering impactful research to help shape government policy.
In the report, Commission chair Sir Paul Carter CBE and author Clive Gilbert highlight good practice case studies of the impact smart home technology can have and how these can help to reduce financial pressures on the NHS and social care system.
The report highlights that when the right support services are provided alongside well-designed technology for older people and those with disabilities, this ensures that social contact remains, and the technology doesn't isolate people in our increasingly digitalised society.
There are an increasing number of technologies available to support people to live independently in their own homes. Too often though, they are hard to use, unappealing or stigmatising. As highlighted by this report, the pandemic has changed attitudes towards the use of technology; we have an opportunity to build upon this through the design of solutions that are easy to use, and desirable to have around us to ensure more people benefit.

Professor Louise Moody, from The Centre for Arts, Memory and Communities
The recommendations aim to give people more control over their environment, help people to remain socially engaged and connected to their communities, and support the provision of care services.
I am delighted that Coventry University has been able to financially sponsor this report and to contribute to the evidence sessions. The holistic approach taken by Policy Connect in examining this complex issue has enabled the joined-up thinking necessary to bring about much-needed change.

This report draws on the combined expertise of healthcare practitioners, the scientific community, policymakers, business and the third sector, to develop a forward-looking set of recommendations.

Professor Sally Dibb, from The Centre for Business in Society
To read the full report and recommendations, visit the Policy Connect Website.