Researchers design new citizen science project to study the impact of air quality on honey bees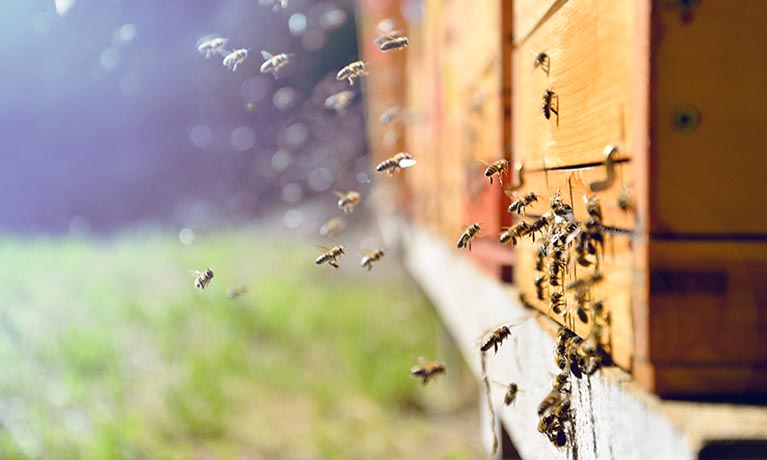 ---
Monday 15 March 2021
Press contact
---
A pilot study by Coventry University's Centre for Agroecology, Water and Resilience (CAWR), supported by the British Bee Keepers Association (BBKA), will work with beekeepers across the Midlands to explore the possible impacts of air pollution on honey bee health.
With almost a quarter of a million hives in the UK, honey bees deliver more than a third of the pollination demands for our crops whilst simultaneously supplying the ever-growing honey market.
Honey bees face many environmental threats to their health and numbers; including habitat loss, alien species invasions e.g. varroa mites, disease, pesticides, and climate change pressures - all of which could ultimately impact our food chain.
Of these issues, the least understood is air pollution. Whilst air pollution effects on human health are well documented, research around how many hives and bees are exposed to, or affected by, the threat is not.
Through the new 'Thriving Hive' Hub, CAWR will map air particulate levels across the Midlands. Working closely with beekeepers, researchers will then test whether the particulates can be detected in bee bodies and hive products. This information will then be correlated with disease, parasite loads and productivity.
The little research that has been done suggests that particulates in air pollution could impact bee immune and circulatory systems but not much is known about the physiological effects. In our first project, we will determine the scale of the potential problem. We will then move on to look at the health outcomes for bees. Key to this project is working in partnership with beekeepers, who know their bees better than anyone else.

Dr Barbara Smith, Associate Professor at CAWR
Sixty beekeepers across Warwickshire, Worcestershire, Northamptonshire and Leicestershire with two or more hives will be issued with sensors to be placed in their apiaries.
The sensors measure the particulate matter, focusing on particles less than or equal to 10 microns (PM10s) and 2.5 microns or smaller (PM2.5s), temperature and humidity in real-time, shown as a live feed on the project website. Beekeepers will be asked to collect various samples from their hives and keep records with the Thriving Hive team's support.
BBKA are delighted to be able to fund this interesting project. This is an area on which little research has been carried out to date and given the increase in pollution in our environment, this pilot study might give us valuable insight as to the extent of the problem.

Spokesperson from BBKA
To find out more and sign up as a research apiary visit www.thrivinghive.co.uk
Follow the action via Twitter: @HiveThriving