Coventry University provide technology aid to support learning in Kigeme Refugee Camp, Rwanda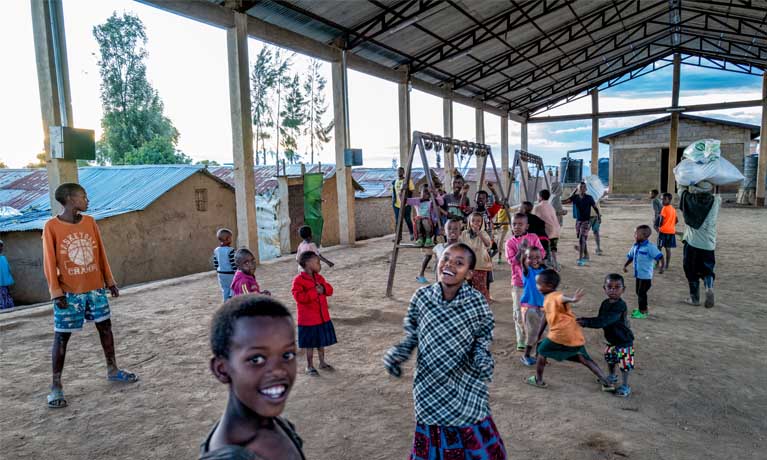 ---
Wednesday 06 October 2021
Press contact
---
A humanitarian initiative led by Coventry University has donated essential electronic equipment such as laptops, projectors and tablets to help provide interactive learning opportunities to the people living in the Kigeme Refugee Camp in Rwanda.
The donation was made by the university's Faculty of Engineering, Environment and Computing in association with the HEED (Humanitarian Engineering and Energy for Displacement) project, which is led by researchers from Coventry University. The HEED team have worked closely with the Kigeme Refugee Camp for four years, aiming to improve understanding and access to energy through sustainable energy sources in the displaced setting.
The HEED team worked closely with refugees within the community to understand how the energy systems could offer maximum benefits to the those who use the communal space. This is where the idea of multi-purpose electronic equipment was identified as a requirement.
The donated equipment is located in Kigeme Camp's learning facility which is powered by a solar micro-grid that was installed as part of the HEED project, as a pilot project to implement community co-designed energy systems in the humanitarian setting.
Jonathan Nixon, HEED Co-Investigator and Associate Head, School of Mechanical, Aerospace and Automotive Engineering at Coventry University said:
It was my privilege to work with refugees in Kigeme in co-creating and deploying a PV-battery micro-grid for two nursery buildings and a playground.

This donation of equipment by Coventry University goes towards maximising the utilisation of the renewable energy resource and supports educational structures that are vital in improving community capacity and self-reliance.
The donated equipment was distributed by World Vision Rwanda. The laptops, projectors and tablets will be used to support holistic early childhood development, providing audio and visual learning experiences, and will also be used by primary and secondary school students, providing the opportunity for independent interactive learning.
Access to the equipment will allow children and young people living in the camp to build digital skills and engage in new ways of learning using technology.
---
About the HEED project: The HEED project, based at the Centre for Computational Science and Mathematical Modelling (CSM), aims to increase access to affordable and sustainable energy for displaced populations. The HEED project aims to develop a human and data-centred approach to knowledge about energy demands in contexts of displacement, by implementing user-centred energy systems and processes, in order to inform future energy policy and practice in the humanitarian sector.
About CSM: CSM aims to develop cutting edge pure research in Artificial Intelligence, Data Science and Future Computing, linking fundamental science to real-world applications.