Social supermarket and community centre continue to support Coventry residents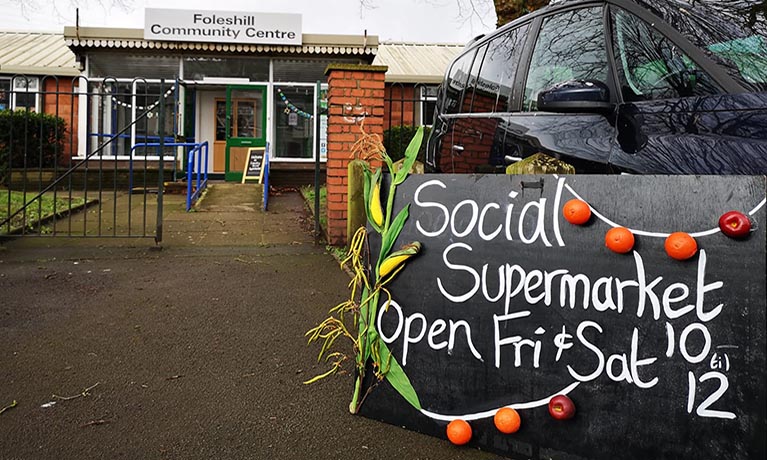 ---
Monday 13 December 2021
Press contact
---
More than 10,000 of a Coventry community's most vulnerable people have been fed by Foleshill Social Supermarket throughout the height of the pandemic.
Since March 2020, the supermarket, set up through Feeding Coventry, has distributed 5,000 bags of shopping to local families.
Supported by volunteers, donations, and expertise from trustees, including researchers from the Centre for Agroecology, Water and Resilience (CAWR), the social supermarket is just one of the many positive projects running at the Foleshill Community Centre.
I just wanted to offer my help, especially because of the pandemic. And for me, I've grown as a person and I've met some really nice people on the way. All I can say is that I won't stop ... I really like what I'm doing, it makes me feel good.

Volunteer, Foleshill Social Supermarket
Since then, they have become a strategic provider for Coventry City Council's Holiday Activities and Food programme (HAF). Over the 2021 summer holidays, they provided food and support to families who are entitled to benefits-related free school meals. This included an exciting programme of events such as sports, break dancing, crafts, and games open to all age groups. They reached 188 children in total and many local families.
Through funding provided by Severn Trent and working with Team Springboard, the community centre has recently launched the Foleshill Community Garden, which grows vegetables for the supermarket and supports mental and physical wellbeing.
Dr Lopa Saxena from CAWR is leading the evaluation of Foleshill Community Centre. According to Dr Saxena: "Foleshill Community Centre has been going from strength to strength, becoming a vibrant community hub. Whether it is the HAF summer programme or the community garden that it's supporting, in addition to the social supermarket, the feedback received from families involved and the members shows it is making a huge difference to their health and wellbeing."
The Community Centre has also recently teamed up with Coventry Independent Advice Services (CIAS) to offer help and advice to members around welfare benefits issues and debt/money support.
Helen Needham, Foleshill Operations Manager, said: "It's great to have the opportunity to be at the heart of a community organisation that offers life changing support to its members. We have a caring team of staff and volunteers, and the community centre is a place where everyone is welcome. We have a strengthening focus on working with our members to provide support and wellbeing activities that create an environment where people go from strength to strength, and everyone supports each other."
Find out more about CAWR and the Foleshill project.