UK-Indonesian research consortium unite to address global challenges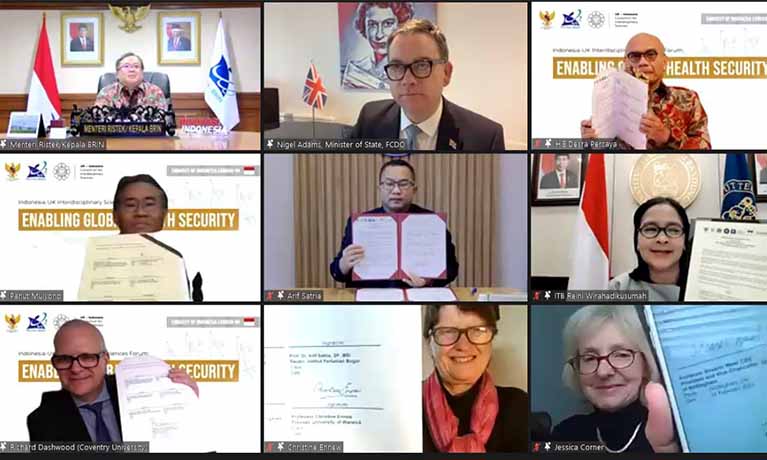 ---
Friday 05 March 2021
Press contact
---
On 25 February 2021, the members of the UK-Indonesian Consortium for Interdisciplinary Sciences (UKICIS) met to participate in the formal signing of the consortium's Memorandum of Understanding (MoU), following the establishment of UKICIS on 20 August 2020.
Solidifying the partnership between the two countries, the MoU outlines the UKICIS's aims to strengthen their research and innovation partnership. Moving forward, UKICIS will share research and expertise in a bid to build global resilience against the global pandemics, climate change and natural hazards.
Coventry University's Deputy Vice-Chancellor (DVC) for Research, Professor Richard Dashwood attended the signing and spoke as part of the proceedings. He commented;
Coventry University is delighted to be one of the founding member universities of the UKICIS. Interdisciplinary research is central to our strategy and we look forward to working with our UK and Indonesian colleagues to address some of the key global challenges associated with the current pandemic.

DVC Professor Richard Dashwood
Joining UKICIS shows the continued commitment of Coventry University to consolidate its strategic links with Indonesia. Coventry has established a number of funded research projects with partner universities and continue to welcome Indonesian scholars to the university through various doctoral scholarship programmes.
UKICIS is an innovative way of initiating and further advancing knowledge via impactful research cooperation carried out by the consortium members. Coventry University is well placed to draw upon world leading research in sustainable production and consumption, benefitting from pioneering industry partnerships and state-of-the-art facilities, to reinforce the capabilities of the consortium. I am very pleased with the support provided by the UK and Indonesian governments, enabling the cross-fertilisation of expertise amongst the UKICIS members.

Professor Benny Tjahjono, Centre for Business and Society, Coventry University
The MoU was signed by the UKICIS founding members (Coventry University, University of Nottingham, University of Warwick, IPB, ITB and Gadjah Mada) and the Embassy for the Republic of Indonesia in London. High profile officials witnessed the event; including Nigel Adams MP, Minister for Asia in the UK's Foreign, Commonwealth & Development Office; Professor Bambang Brodjonegoro, Indonesian Minister of Research and Technology; Owen Jenkins, British Ambassador to Indonesia and his counterpart Dr Desra Percaya, Indonesian Ambassador for the UK, and Professor Carole Mundell, UK Chief International Science Envoy.
The signing was followed by the Indonesia-UK interdisciplinary Sciences Forum entitled 'Enabling Global Health Security'. Amongst the distinguished speakers was Professor Ali Ghufron Mukti, President Director of the Health Social Security Administration (BPJS) / Chairman of the Covid-19 Research and Innovation Consortium, who has an honorary doctorate from Coventry University.
The forum also marked the launch of the UKICIS website.