New UK-Indonesian research consortium launches to tackle coronavirus and climate change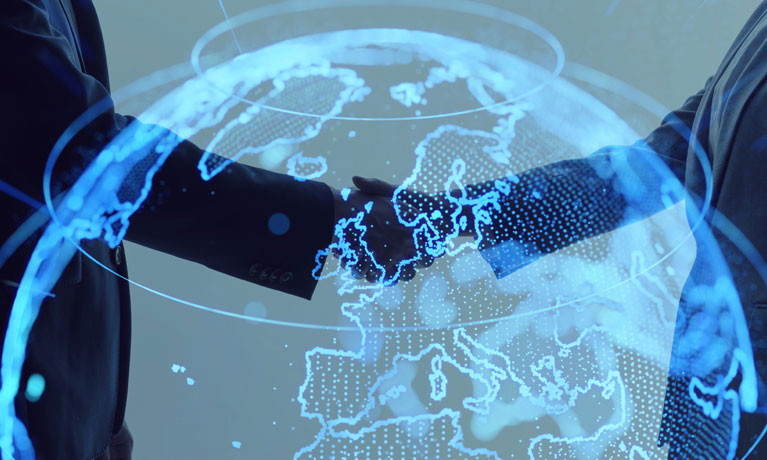 ---
Monday 24 August 2020
Press contact
---
A new Anglo-Indonesian alliance has been established to share research and expertise in a bid to build global resilience against pandemics, the climate emergency and natural hazards.
Within the next 25 years, the new UK-Indonesia Consortium for Interdisciplinary Sciences (UKICIS) aims to become a beacon for knowledge exchange and tech transfer between the two countries.
UKICIS will bring together the best of Indonesian academic talent at the Universities of Nottingham, Warwick and Coventry, together with those at Institut Teknologi Bandung, IPB University and Gadjah Mada University in Indonesia. These founding members are supported by the Indonesian Embassy in London, the British Embassy in Indonesia, and the Indonesian Ministry of Research and Technology/National Agency for Research and Innovation.
This pioneering development builds on a science and technology research and innovation partnership agreement that was signed between the UK and Indonesian governments on 5 August, 2020.
UKICIS will assist the implementation of that five-year agreement; and support research partnerships between the UK and Indonesia going forward. The consortium will also serve to develop and enhance Anglo-Indonesian educational, economic and cultural links through outreach activities and community engagement.
UKICIS aims to:
Deliver training, educational programmes and capacity building for higher education institutions and academics in both countries
Hold an annual UKICIS Workshop will bring together the brightest researchers from different backgrounds, generations, disciplines and sectors in order to explore potential for collaboration across academia, government, and industry
Promote associate activities between individual institutions
Prepare policy briefs for UK and Indonesian governments
Support academic/student exchanges between the UK and Indonesia
Driven by the imminent problems raised by the Covid-19 crisis, the founding members will initially work together on the issue of global resilience against pandemics before broadening this to climate change and natural disasters.
The British and Indonesian governments have shared goals and are committed to collaborate in providing solutions to future pandemic and reducing carbon print. The consortium is a concerted effort by UK and Indonesian universities towards fulfilling the goals of the MoU, by catalysing research collaboration and knowledge exchange between the two countries on these subjects.

Resilience will be explored from varied and interdisciplinary angles by UKICIS members. This includes food and how we can ensure there is sufficient, accessible supplies for all in the wake of unforeseen disasters. Our researchers will examine the mental health implications of, and public health preparedness for, the kinds of crises we are now witnessing.

Other research projects will focus on the capabilities of man-made structures, data systems, energy supplies or transport networks to withstand hazards. We will also shine a light on business recovery strategies in the wake of financial crises and policy resilience when challenged by societal and economic change associated with shocks.

Dr Bagus Muljadi, Assistant Professor in Chemical and Environmental Engineering at the University of Nottingham and appointed UKICIS Coordinator
Coventry University is working on multiple projects to help businesses and societies recover from the impact of the coronavirus crisis, and we welcome this opportunity to combine our expertise, with those of our partners in the UK and Indonesia, to help combat common challenges on an international scale and help build a resilient future for both countries.

Our research within the Sustainable Production and Consumption cluster, in the Centre for Business in Society, adopts a multi-disciplinary approach and is framed by the United Nation's Sustainable Development Goals. By working together and sharing our expertise with our partners in the UKICIS within this sector, we aim to tackle global sustainability challenges in business and to support the overall agenda across the world.

Professor Benny Tjahjano, Co-Lead of the Sustainable Production and Consumption cluster within Coventry University's Centre for Business in Society
Coventry University is delighted to be joining this new UK-Indonesia Consortium for Interdisciplinary Sciences. Coventry has been working with Indonesian University partners and academics as well as Indonesian government departments and officials for the last few years and developed great relationships, not least in research in social relations, health, engineering and business. The consortium between the three UK Midlands universities of Coventry, Nottingham and Warwick, and partners at Gadjah Mada University, IPB University and Institut Teknologi Bandung, brings together an exciting mix of institutions and individuals well placed to provide real world answers and insights from interdisciplinary perspectives to some of the major societal challenges that we face.

Professor Guy Daly, Coventry University Deputy Vice-Chancellor (Education and Students)
The University of Warwick has been collaborating with Indonesian partners including universities and government institutions for many years. This includes research projects funded by Newton Fund and European commission as well as a dual degree MSc programme in Tunnelling and Underground Space. At the moment, Warwick is leading a major €1 million project in Humanitarian Engineering which involves Indonesian academic partners. We are also in the process of establishing a doctoral training programme, working together with Indonesian Ministry of Education and Culture to provide scholarships for Indonesian students to study at Warwick. The inaugural meeting of the UK-Indonesia Consortium for Interdisciplinary Sciences (UKICIS) is a start to a series of collaborative actions and programmes by all partners in the consortium as we work together globally to address global challenges.

Dr Irwanda Laory, Associate Professor of Civil Engineering at the University of Warwick
Global challenges such as food security, the climate emergency, and disease pandemics can only be properly addressed through true international collaboration – different countries and institutions pooling their expertise, their resources, and their unique local knowledge.

The UK-Indonesia research consortium will serve to further connect our two countries in this way, establishing a research and educational network that will seek to tackle widespread social and scientific issues, from urban rehousing and women's empowerment to energy and protecting crops.

Warwick welcomes hundreds of students from Southeast Asia to its campus every year, and we've hosted events such as the Warwick Indonesia Forum, the Indonesian Scholars International Convention, and the Overseas Indonesian Students' Association Alliance International Symposium, in the last few years.

I am proud that Warwick is now building on its strong existing links by co-founding this new consortium, alongside our partners across Indonesia and the UK.

Professor Christine Ennew, Provost of the University of Warwick
UKICIS's inaugural meeting of founding partners - and joint declaration ceremony – organised by the Indonesian Embassy for the UK was held on Friday 21 August 2020, which coincides with the 75th anniversary of the independence of the Republic of Indonesia. The declaration outlines a future Memorandum of Agreement between all founding organisations to take forward UK-Indonesia collaborations in research and education.
The launch of UKICIS is timely. Firstly, it shows the diaspora of Indonesian scientists' contribution to working together in finding innovative solutions to address the global challenge of Covid-19 pandemic. Secondly, UKICIS will serve as a platform for Indonesian and UK scientists and researchers to enhance their collaboration in supporting the MoU on Research and Innovation Partnership between Indonesia-UK, signed on 5 August 2020. Thirdly, it aims to bridge communication between university and community through public outreach programs. The launch of UKICIS on the Anniversary of Indonesia's Independence day was a truly lovely gesture.

Adam M. Tugio, Charge d'affaires, Indonesian Embassy in London
While Dr Bagus Muljadi chaired the meeting, participants were:
Professor Bambang Brodjonegoro, Minister of Research and Technology/National Agency for Research and Innovation, Republic of Indonesia
Amanda Solloway MP, Minister for Science, Research and Innovation, the UK Government
Mr Adam Tugio, Deputy Chief of Mission of the Republic of Indonesia and Charge d'affaires, Indonesian Embassy
Mr Robert Fenn, Deputy Head of Mission to Indonesia and Timor-Leste
Professor Ir. Nizam, Acting Director General of Higher Education, Ministry of Education and Culture of the Republic of Indonesia
Professor Arif Satria, Rector, IPB University, Indonesia
Professor Christine Ennew, Provost of the University of Warwick
Professor Guy Daly, Deputy Vice-Chancellor (Education and Students), Coventry University
Professor Panut Mulyono, Rector, Universitas Gadjah Mada, Indonesia
Professor Reini Wirahadikusumah, Rector, Institut Teknologi Bandung
Professor Robert Mokaya, Pro-Vice-Chancellor for Global Engagement, University of Nottingham
A live stream video was broadcast by the Indonesian Embassy in London on the day.