Researchers lead on thought-provoking Life on the Breadline photographic exhibition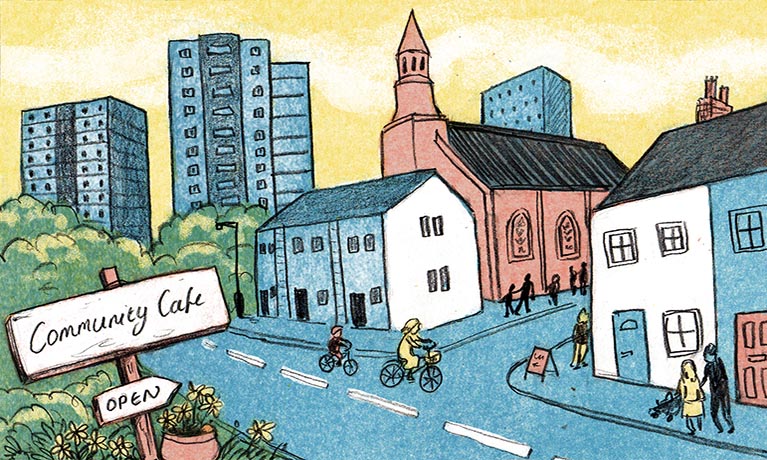 ---
Thursday 01 July 2021
Press contact
---
Researchers from Coventry University's Centre for Trust, Peace and Social Relations (CTPSR) are set to premiere a challenging new exhibition on urban poverty in Coventry Cathedral this summer.
The exhibition arises from the ESRC funded Life on the Breadline project, led by Coventry University, the University of Manchester, and the Queen's Foundation.
We are excited to launch our Life on the Breadline photographic exhibition at Coventry Cathedral this July. The Cathedral's focus on peace and reconciliation makes it the perfect space for people visiting our exhibition to challenge their ideas of poverty and the Church in the UK.

Stephanie Denning, Life on the Breadline project team member, CTPSR
Since 2018, the project has analysed the nature, scope and impact of Christian engagement with urban poverty in the UK in the context of austerity following the 2008 financial crisis.
The research, conducted across the UK with national and regional Church leaders, with case studies in Birmingham, London and Manchester, shows people from different faiths and backgrounds working together to respond to poverty and life-on-a-low-income in their local area.
Case study approaches included asset-based community development focussing on gifts and assets at a neighbourhood level, foodbanks, social enterprise events and café's offering cheap but nutritious meals, as well as training and workshops on youth violence for national and local organisations, and advocacy.
The free exhibition will run in the Chapel of Unity in Coventry Cathedral from 3rd July to 28th July 2021, and will feature photographs taken by the research team, local residents, volunteers, and staff from each case study of their experiences.
The event aims to challenge the way society thinks about people's experience of poverty in the UK and how Christians and others have responded to poverty during the 'age of austerity'.
In conjunction with the project's closing conference on 24th and 25th June, the project consortium also launched the Anti-Poverty Charter, a free-to-download action-oriented resource that will help local churches and individuals to challenge poverty where they are.
Informed by our research, Life on the Breadline's Anti-Poverty Charter aims to help local churches and individuals to understand the unequal impact of austerity, the causes of poverty, and how to support people in immediate need and challenge structural injustice in communities across the UK.

Christopher Shannahan, Life on the Breadline Principle Investigator, CTPSR
Find out more about the project and register your place at the exhibition now.