Pioneering Dance Researchers lead campaign to illustrate the importance of dance and bodily knowledge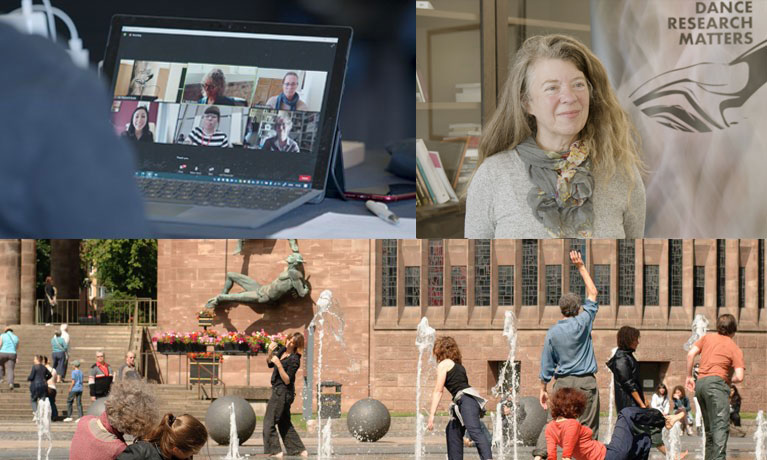 ---
Friday 22 October 2021
Press contact
---
Researchers at Coventry University are leading a major international campaign which aims to share and celebrate the importance of dance research.
The University's Centre for Dance Research (C-DaRE) is hosting the Dance Research Matters campaign, its ambition being to open up new lines of enquiry for dance research and to explore new ways in which the field can, and should be, funded.
By invitation of the Arts and Humanities Research Council (AHRC) - part of UK Research and Innovation (UKRI) – the campaign has become more urgent since we are now at a time when the arts and humanities, and dance research in particular, face huge financial hits and physical restrictions caused by the COVID-19 pandemic.
A launch event for the campaign took place with national experts attending the Belgrade Theatre in-person, alongside other national and international panellists and audience members taking part virtually.
Each panel discussion explored a wide range of pressing issues, ranging from public and community benefits of dance research, cultural value, research futures and funding arenas.
The panel discussions were incredibly rich, showing not only the breadth and depth of the current state of dance research but also the potential for dance research to make a much more significant contribution to arts and humanities research if given the right support and visibility. The day was just the start of what will be a dynamic programme of advocacy and activity, supported throughout by the AHRC, to build a greater role for dance research in the UK's research landscape.
The event was also attended by AHRC Executive Chairman Professor Christopher Smith, and performer and broadcaster Baroness Deborah Bull, who spoke in conversation about cultural value and dance.
Dance is a form of knowledge – and it is one that is vital and enriching.

This project exemplifies both the importance and vitality of practice research, which the AHRC is committed to supporting, and the urgency of incorporating embodied research and practice into our understanding of ourselves and our world.

Dance tells us about leadership, about culture, and about ourselves as individuals and in community. I look forward to learning from the Dance Research Matters campaign over the coming year.
The event was attended by more than 250 people worldwide, demonstrating significant support for the campaign and highlighting the value and ongoing impact of dance research as we look to the post-pandemic future.
The AHRC and C-DaRE are inviting people to contribute to their WordPress site where material from the event will be shared. The Dance Research Matters campaign will run for at least the next year and a network of UK dance researchers is now being set up to take the campaign forwards.
There are also opportunities for an open discussion on the Dance Research Matters blog asking people to finish the sentence 'Dance research matters because…'.
You can contribute your suggestions and find out more about the campaign on the Dance Research Matters website.
Find out more about the Centre for Dance Research.