Coventry University project to assist emergency services in treating road traffic collision victims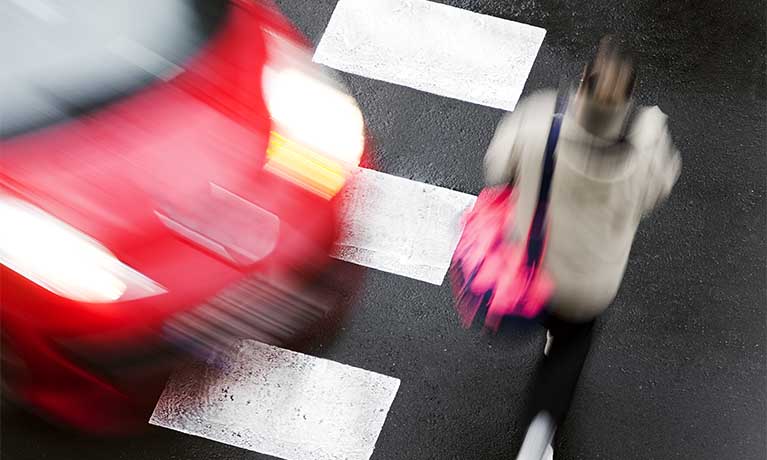 ---
Friday 21 May 2021
Press contact
---
An initiative led by researchers at Coventry University's Institute for Future Transport and Cities (IFTC), in conjunction with University Hospitals Coventry and Warwickshire (UHCW), will create a pedestrian trauma database to enhance current understanding of how the human body is affected by major impacts.
Funded by the Road Safety Trust, the 'Reducing Road Traffic Casualties through Improved Forensic Techniques and Vehicle Design' (RoaD) project originated from a challenge given to the university's researchers by West Midlands Police. Road Traffic Investigation officers were interested in knowing if it was possible to calculate the vehicle impact speed, after fatally striking a pedestrian, from a post-mortem report and a simple examination of the damaged vehicle.
IFTC's researchers developed a mathematical model that can be used to calculate soft tissue trauma in impact scenarios. This model was applied to an advanced digital model of the human body, developed by Toyota Motor Corporation and Toyota Central R&D Labs, to simulate pedestrian collisions and was able to successfully determine the severity and location of damage to brain white and grey matter.
These simulated collisions will support the creation of a Forensic Pedestrian Trauma Database (FPTD) of post-accident trauma injuries, which would offer ongoing assistance and training to the police and healthcare sector in investigation and diagnosis of post-accident trauma cases.
Using the FPTD, the research will look to help the police force speed up their future post-incident investigations. It would further offer medical professionals instantaneous advice on treatment by allowing them to conduct a detailed virtual CT scan in seconds based on a quick visual inspection of the vehicle damage and the victim's injury to determine the best course of action.
We anticipate our findings to be of benefit to the emergency services, both in terms of pedestrian treatment after a road traffic accident and forensic investigation. The pedestrian trauma database has further potential to improve the safety of vehicle design, by incorporating new pedestrian injury criteria based on complex lower leg fracture patterns, thorax soft tissue trauma injuries, head injuries based on impact direction, gender and age. These new injury criteria could protect a population and aims to improve current vehicle safety assessment methods which are based on unbreakable crash test dummies.

Dr Christophe Bastien, Associate Professor at IFTC and the university's lead for the project
As an additional outcome of the project intelligent tools will be created in the next three years to support accident and emergency staff with training. It is also anticipated that, in the future, the mathematical trauma model could inform the development of mobility products to ensure higher safety standards. For instance, the model could improve head impact testing by including a further brain injuries assessment to enhance the ability of new motorcycle and bicycle safety helmets to protect against harm.
About IFTC: The Institute for Future Transport and Cities develops pioneering mobility solutions. From accelerating the progression towards zero-carbon transport and developing inclusive design practices to ensuring the safe implementation of autonomous transport solutions, IFTC is central to solving global mobility challenges. IFTC works closely with industry to ensure that its research has real-world applications, maintaining close relationships with leading businesses within the transport sector.