Coventry University leads research tackling bioplastics dilemma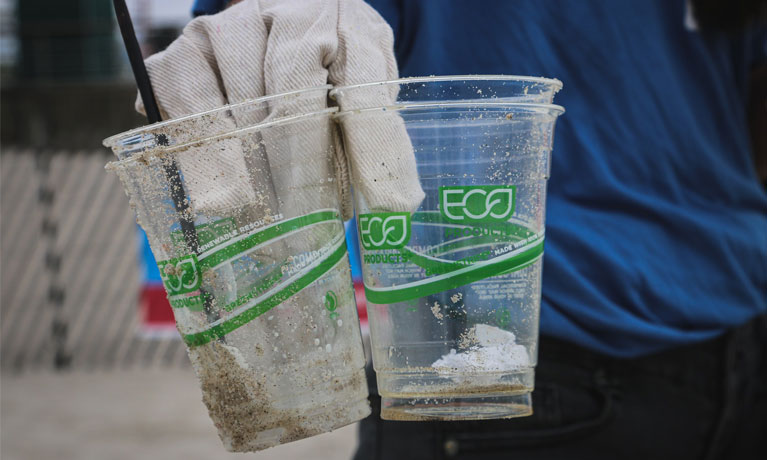 ---
Monday 22 March 2021
Press contact
---
A team of Coventry University researchers welcomed more than 40 international stakeholders from the bioplastics industry to the first of three social innovation labs to address the bioplastics supply chain dilemma.
The Social Innovation Management for BIOplastics project (SIMBIO) brings together a wide range of stakeholders in the bioplastics supply chain, via a series of social innovation labs, to identify and address the economic, social and political challenges of implementing packaging solutions for bio-based biodegradable plastics.
The Economic and Social Research Council (ESRC) funded project is led by a team of Coventry University researchers, including Professor Benny Tjahjono, Dr Macarena Beltran, Dr Jordon Lazell and Dr David Bek from the Centre for Business in Society, and Dr Anna Bogush from the Centre for Agroecology, Water and Resilience.
With increasing awareness of the negative environmental effects of traditional polyethylene plastic packaging, there is an increasing trend towards adopting bio-based alternatives. Although bio-based products are single-use, they are made from renewable resources, such as plants, and offer a sustainable packaging solution when compared to traditional single-use plastic, which is produced from fossil fuels.
While technological innovations in the form of biodegradable plastics offer hope for the future, many challenges across the supply chain need to be tackled before they can be successfully rolled out.
Bio-based plastics are recyclable, however, because they are difficult to distinguish from traditional plastics, cross contamination can easily occur. Therefore, in order for bio-based plastic packaging to be rolled out successfully, fundamental issues in the supply chain including waste management need to be addressed.

Through the Social Innovation Labs, we are able to gain participants' perspectives as to the realities of the current bioplastics packaging supply chain. We are also able to identify the structure of the bioplastic supply chain and the governance system that drives it. We want to collectively identify barriers, opportunities and develop a pathway towards greater uptake of bio-based biodegradable materials in the future.

Professor Benny Tjahjono, Coventry University's Research Centre for Business in Society
The first event engaged stakeholders in the bioplastics supply chain from Brazil, Canada, Poland, Indonesia, and the UK.
The learnings from this event will feed into the subsequent two social innovation labs, scheduled for May and July 2021, aiming to design action plans for how solutions can be materialised for addressing the challenges of implementing bio-based packaging.
Understanding the role of innovative materials and how society reacts to the transition into more sustainable practices is a crucial question. As we move towards net zero emissions, we have to think across systems and how material applications can help achieve those ambitious goals. The SIMBIO project is an aid to that process.

David Newman, Director of Bio-based and Biodegradable Industries Association (BBIA)
In the right applications, compostable bioplastic packaging has a niche but important role to play in the more efficient collection and organic recycling of food wastes into digestates, biogas and composts. I welcome their consideration as part of the social interventions this SIMBIO project will develop to support appropriate production, consumption and end-of-life management of the producible range of bioplastics.

Emily Nichols, technical manager for the Association for Renewable Energy and Clean Technology (REA)
For more information about the social innovation labs tacking challenges in the bio-based plastics supply chain, please contact Professor Benny Tjahjono.