Professor Mike Hardy steps back from the Centre for Trust, Peace and Social Relations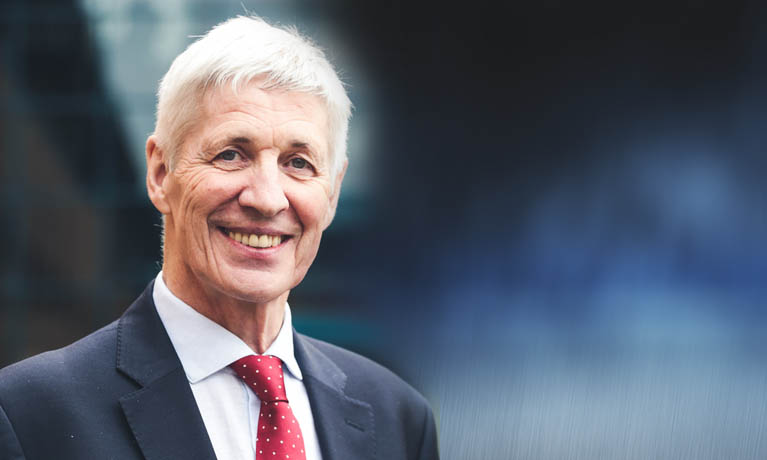 ---
Tuesday 08 September 2020
Press contact
---
It is with a sense of gratitude and great sadness that Coventry University's Centre for Trust, Peace and Social Relations (CTPSR) announces that Professor Mike Hardy stepped down from his role as Executive Director of the centre at the end of July 2020.
For those that don't know, Professor Hardy is an applied economist by training and was Head of Economics and Public Policy at Leeds Beckett University, before becoming Head of the School of Economics and Chair in International Business at the University of Central Lancashire. In 1995, following work with the UK Government, British Council and European Commission, Mike moved full time to the British Council to develop international work in intercultural relations.
In 2001 he was awarded an OBE for his work in the Middle East, and was appointed a Companion of Honour of St Michael and St George (CMG) in the Queen's June 2010 Birthday Honours for his work internationally in intercultural dialogue.
Mike joined Coventry University in 2011 as the Director of the Institute of Community Cohesion, which he transformed into the Centre for Social Relations. He was the founding Director of CTPSR in February 2014, and as one of the university's longest standing research centres, CTPSR has undergone significant growth and development under Mike's leadership. The centre exemplifies Coventry University's longstanding commitment to research that impacts on society, fostering security and improving the quality of life for people worldwide. It has been Mike's vision and leadership that has made the Centre the world class research facility it is today.
During his time at the university, Professor Hardy has continued to be active within the UN Alliance of Civilization. In December 2011, he led a network session on the role of higher education in managing diversity at the Doha Forum. Mike was appointed as special adviser to the Ministry of Religious Affairs in Indonesia in 2014, and to the Government of Azerbaijan in 2012 and has led the design of the biennial World Forum on Intercultural Dialogue held in Baku. Consistent with his focus on transforming research into action, Mike was the driving force behind the CTPSR's high profile RISING Global Peace Forum and the community engagement within Coventry and the West Midlands, where the centre's work on migration, including their partnership with FabLab, has attracted global recognition.
Professor Hardy is an incredibly valued and respected member of the Coventry University research community. Mike will remain at CTPSR as a Professor, focusing on his research interests and writing, and will continue his work with the RISING Global Peace Forum.
CTPSR is a product of Coventry University, a product of an exciting decision to invest in world class research in social science that could build on the iconic status of our host City of Peace and Reconciliation. It is a product also of the inspiring commitment of belief and scholarship from the many that have joined since our inception in 2014. That Coventry is now sitting at the high table of global research in peace, peacefulness and human security, and a key player in important networks that shape the safety and well-being of vulnerable communities worldwide, is a credit to an utterly professional staff whose teamwork describes the clear understanding that the outputs of their research matters hugely more than the careers built on its success. Leadership is sometimes a real privilege, but continued membership of this team will be even more so.

Professor Mike Hardy, CTPSR
Mike has had an astounding career to date and, more importantly, has impacted the dialogue of peace and relationship building across the globe. As he transitions into his new role within CTPSR, below are some reflections from members of Coventry University's senior leadership team on Mike's contributions to the university whilst in an executive leadership role:
Mike has been instrumental in establishing CTPSR as a truly multi-disciplinary Centre that tackles many of the most critical and sensitive contemporary challenges facing society today. As he steps down as Director, I am delighted that he will continue his research career with us as a professor and champion of RISING.

Vice-Chancellor John Latham CBE
I would like to personally thank Mike for his support over the four years I have been at the university and wish him all the best for the future. His influence on the growth and success of not only CTPSR but also the Group's research mission cannot be underestimated. His contributions to the senior research leadership team will be sorely missed.

Richard Dashwood, Deputy Vice-Chancellor (Research)
Staff at CTPSR convened an online forum recently to thank Mike for his vision and inspirational leadership in establishing the Centre. Mike's founding of CTPSR on a solid bedrock of core values and behaviours has been central to its success as a high performing research centre, and has made the CTPSR a truly special place to work and study. We are all incredibly grateful to have had the opportunity to work alongside Mike during this period.

Thea Gibbs, Director of Operations, CTPSR