Wholodance
Breakthrough technologies – including advanced motion capture systems and life-size holograms – are being used to transform dance learning and rapidly revolutionise choreography.
The Wholodance project's innovative use of state-of-the-art technology aims to develop a range of new tools to help dancers investigate movement content in greater depth, to invent and preserve new dance compositions digitally and to widen access to dance.
Researchers in our Centre for Dance Research (C-DaRE) are part of a team focusing on five different areas during this three-year project, funded by the European Union's Horizon 2020 programme.
Innovating the teaching of dance and choreographic invention is at the heart of this, focusing on ballet, contemporary dance, flamenco or Greek folk dance. Data is generated through the dancers wearing 3D motion capture suits – similar to those worn by actors during the making of films such as Lord of the Rings, Avatar and King Kong. As they perform, their movements are translated into digital data, displayed on a computer screen and recorded.
The ultimate aim of this is to develop a life-size graphic display that enables a dancer to dance with a dancing avatar using the hololens, effectively 'stepping inside' their own projection or another dancer's body.
Through this technology, the project is also building interactive motion capture dance libraries so users can build new movement sequences through blending different dance actions or qualities. These will give both choreographers and dance teachers access to tools which they can use to build up dance compositions from the data stored, opening up new working methods and new creative processes.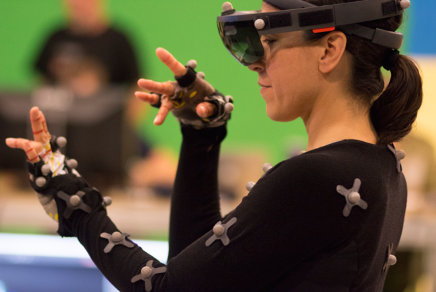 And when the project reaches its exciting conclusion, researchers will show off their hard work to the public with a dance-athon and public event to spread the results of what they have achieved.
Back to Creative Cultures