West Midlands unis to join forces in devolution-inspired collaboration
University news / Business news
---
Wednesday 18 May 2016
Press contact
---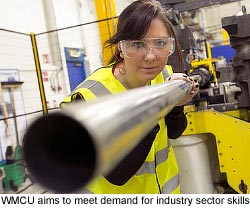 Three West Midlands universities are joining forces to meet the demands of devolution across the region, putting higher education at the centre of the drive for economic growth.
Birmingham City University, Coventry University and the University of Wolverhampton are today launching the West Midlands Combined Universities (WMCU) initiative – a partnership which brings together the institutions' applied research and training expertise to develop skills and foster innovation across the region.
The link-up of three like-minded universities will provide the West Midlands Combined Authority (WMCA) with a powerful resource with which it can meet ambitious objectives around skills, employment opportunities and productivity – including the creation of over 500,000 jobs by 2030 and a targeted rate of growth to match that of the London economy.
The WMCU will also support the devolved body's stated priority of tackling a significant shortage of lower and higher end skills – particularly in the health and advanced manufacturing sectors – in a renewed effort to address the high level of unemployment (9.3%) across the region's seven metropolitan authorities.
Today's announcement – which comes ahead of the official launch of the WMCA next month – gives a major vote of confidence for the region's devolution deal, and signals a significant development in the way higher education institutions can contribute to increasing productivity, wealth creation, and job opportunities across the West Midlands.
Leaders of the three universities anticipate that the WMCU will be able to:
fill predicted nursing shortages in the region by offering flexible, region-wide courses tailored to WMCA skills needs, and with greater access to facilities;
close the skills gap in the automotive sector by working with local businesses to provide higher apprenticeships alongside existing degree programmes;
retrain current industry sectors with new skills and in new technologies, as well as inspire young people to follow careers in these areas;
stimulate new ideas and innovation in priority sectors to reduce costs and increase productivity;
bring to bear an unprecedented level of resource and expertise to focus on the challenges facing the West Midlands economy.
Professor Cliff Allan, vice-chancellor of Birmingham City University, said:
The launch of West Midlands Combined Universities is about making sure higher education across our region can meet the ambitious demands of the devolution agenda.

When the West Midlands Combined Authority comes into being next month it will offer a great opportunity for our region, but its success will in part be driven by closing the skills gap with the rest of the country. This partnership of three like-minded universities will form a major part of making that happen.
Professor John Latham, vice-chancellor of Coventry University, said:
By launching this ambitious initiative in collaboration with our neighbouring universities Birmingham City and Wolverhampton, we're creating a partnership which spans the combined authority area and is ideally placed to reaffirm the role that higher education plays in shoring up the industries which are vital to our region.

Health, advanced manufacturing and associated supply chains are just a few of the sectors which will benefit from our institutions' collective drive to educate more local young people, upskill more local workforces and engage more deeply with local employers to support innovation and meet their specialist training needs.
Professor Geoff Layer, vice-chancellor of the University of Wolverhampton, said:
Our ambition through our collaboration is to build on existing assets across all three universities focusing on product leadership and priority industries for the region including health care, construction, digital and creative and professional services.

At the moment no single university can offer a geographically comprehensive range of services available in one place, and it's our aim to provide our customers with a seamless journey whilst at the same time providing value for money and economies of scale which benefit our partners.
---
For further press information, please contact Alex Roache, external press and media relations officer, Coventry University, on +44 (0)24 7765 5050 or email alex.roache@coventry.ac.uk.
---
NOTES TO EDITORS
The West Midlands Combined Universities (WMCU) collectively span a region which encompasses three Local Enterprise Partnership (LEP) areas and seven metropolitan councils – bodies which themselves make up the West Midlands Combined Authority (WMCA).
The area covered is home to over 4 million people and has an economy worth £80 billion a year (GVA) through its 130,000 businesses and the 1.7 million jobs it supports. The WMCU comprises three universities representing the three core cities of the West Midlands.
Between these universities there is: a total combined revenue of over £600 million; around £1 billion of combined investment in the region by 2021; circa 70,000 students and 8,500 staff in total.