University's registry team up for education leadership award
Tuesday 16 June 2015
Press contact
---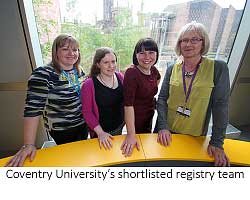 Coventry University's professional services staff have been commended with a nomination for a coveted higher education industry accolade.
The University's registry team has been shortlisted in the 'Outstanding Administrative Services Team' category of the Times Higher Education Leadership and Management awards, which highlight the best examples of innovation and teamwork across the sector.
Affectionately known as the THELMAs, the awards – which take place on Thursday – aim to 'shine a spotlight on teams who work in the engine room' of the UK's universities, celebrating those which have made a particularly impressive contribution to the success of their institution.
Coventry University's registry team underpins the administration of the whole of the students' academic journey – from enrolment to graduation – as well as supporting the governance of the institution and the quality assurance and enhancement of the whole of the University's educational provision, both in the UK and overseas.
The team was shortlisted based on a number of successful streamlining initiatives related to the processing of students' results, which enabled the University to bring forward assessment boards and make students' results available earlier.
As a result, students could be informed of their progress earlier and could make personal arrangements sooner – for example on matters such as travel, accommodation, visas, placements and employment – which contributed to improving the student experience at the University.
Coventry's nomination comes in the wake of the Guardian University Guide 2016, in which the University was ranked top in the whole of the UK for the percentage of final-year students satisfied with assessment and feedback by their tutors.
Andrea Bolshaw, academic registrar at Coventry University, said:
We are thrilled to be shortlisted for this award. The recognition of our team's efforts is a reflection of the hard work that all the staff at Coventry University put in on a daily basis to ensure that we put our students at the heart of everything we do.
The Times Higher Education Leadership and Management Awards ceremony is set to take place this Thursday evening in the Grosvenor House Hotel, Park Lane, London, where the results will be announced.
For further information, please contact Alex Roache, external press and media relations officer, Coventry University, on +44 (0)24 7765 5050 or email alex.roache@coventry.ac.uk.