Uni's research into Mediterranean migration crisis up for 'impact' award
Thursday 09 March 2017
Press contact
---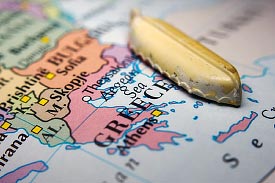 Coventry University has been shortlisted for a prestigious award by the Guardian for the impact of its research shedding light on the dynamics of Europe's migration crisis.
The Unravelling the Mediterranean Migration Crisis (MEDMIG) project team is up for an accolade in the research impact category of the Guardian University Awards, whose winners will be announced at a ceremony on March 29.
The team – led by Professor Heaven Crawley from the university's Centre for Trust, Peace and Social Relations (CTPSR) and funded by the Economic and Social Research Council (ESRC) – spent time in Italy, Greece, Malta and Turkey interviewing 500 people who crossed the Mediterranean in 2015, as part of the first large-scale study of the backgrounds, experiences, aspirations and routes of refugees and migrants arriving in Europe.
Professor Crawley's team reported in November that there were "flawed" and "deeply politicised" assumptions by European governments about the reasons why people moved, and that states were contributing to the crisis by blaming people smugglers – rather than conflict and human rights abuses in countries such as Syria, Libya, Iran, Eritrea and Afghanistan – for increased migration.
According to the findings, Europe's failure to open up safe and legal routes to asylum, and a focus on border security, actually drove demand for smugglers, who became the only option for those trying to enter countries which could offer protection.
The study – which also involved academics from the universities of Oxford and Birmingham, and research partners in each of the case study countries – brought clarity and evidence to a divisive and complex political situation, and the researchers are now in discussion with the European Commission about using the findings to inform and develop policy.
Professor Crawley said:
We're delighted that our research is attracting attention not only from EU policymakers and member states, but also – through this nomination – from our peers within the higher education sector.

Much has been said by politicians about the causes and complexities of the migration crisis, but our study provides the first in-depth analysis of the dynamics of migration in the Mediterranean region. We will continue to work with a range of stakeholders to ensure that it has real impact in influencing policy at the highest levels.
More information about MEDMIG can be found at the website – www.medmig.info – and the full Guardian University Awards shortlist is available here.