Student productions nominated for film festival awards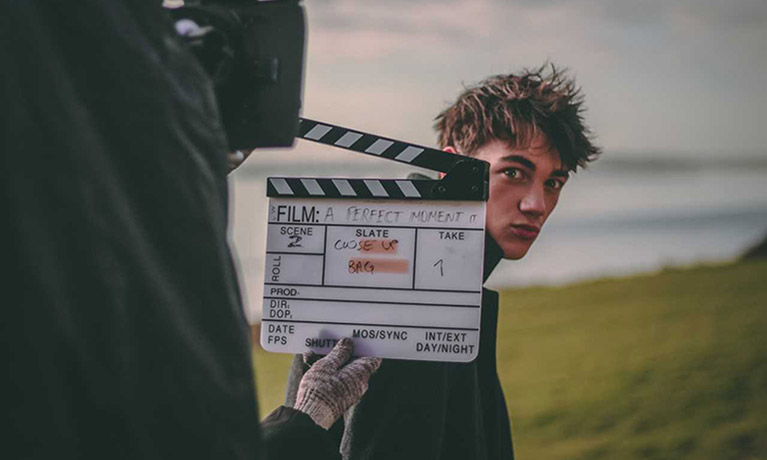 ---
Wednesday 31 October 2018
Press contact
---
Two films made by university students are in the running for awards at a festival.
Jump and A Perfect Moment in Time were created by Coventry University media production students for a module during the second year of their course. They will be screened alongside professionally-made productions as part of the Birmingham Film Festival in November. Jump has been nominated in the best local film, best hair and make-up and best stunt category at the festival's awards.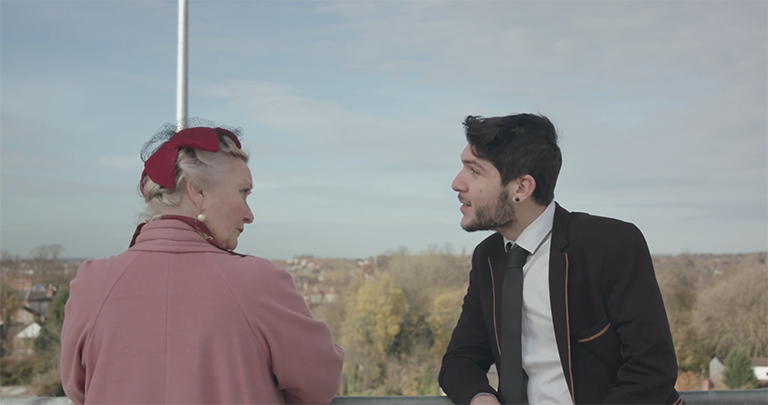 Image: A scene from Jump
It tells the story of two strangers who become friends when they meet while standing on a car park roof as they consider ending their own lives. But as they discuss their fate, another person rushes past them and jumps to their apparent death instead. The seven-minute dark comedy was filmed by a team of nine students over two days at Belgrade Plaza car park, in Coventry. They then spent another month editing and putting the finishing touches to it, including perfecting the stunt scene. The students were very rigorous about health and safety during their filming and had to produce a risk assessment before starting their production.
Producer, who is now in the final year of her media production degree, said:
We're so proud of how our film came together. It doesn't look like a student production. It was filmed at a proper location, with real actors and it's been fantastic that the quality of our work has been recognised.

Our stunt made it look like one of our actors had jumped off the car park roof. It was all about clever editing and camerawork. It's a very darkly comic moment, but we were really pleased with how it looked. It was brilliant to be nominated for that, as well as for the other awards.

Leeza Khatun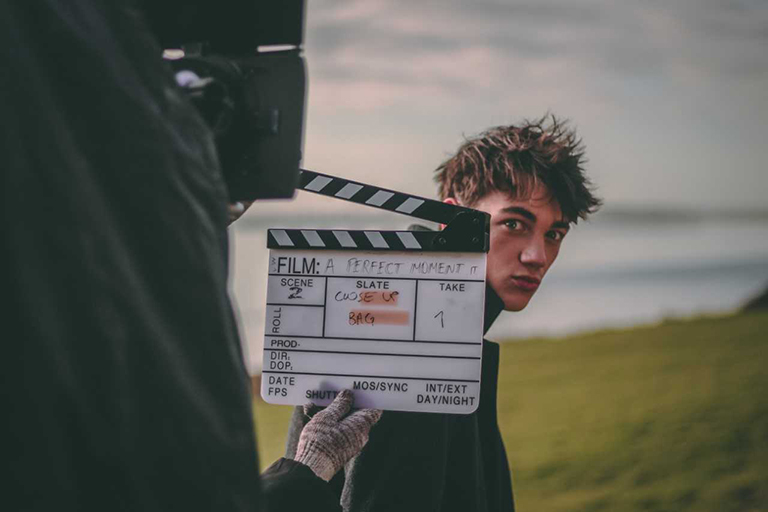 Image: Actor Freddie Dadson stars in A Perfect Moment in Time
The students chose what film to make from a selection of short screenplays, but had to cast, film, produce, direct and edit the productions themselves. The 13-minute film A Perfect Moment in Time was produced by a team of 10 students and included three days filming at Draycote Water, in Warwickshire. It focuses on the character Daniel who is pursuing his passion for photography to help him cope with grief, when a chance meeting with an older woman consoles him. The film has already been screened at Screentest, the national student film festival which took place in London earlier this month.
Director & a final year media production student, said;
We're over the moon to be nominated for an award. As soon as we read the script we knew we could do something really special with the film. It's so much easier to work on a project like this when you're really passionate about the material. The whole group knuckled down and made this film our own.

To be at this film festival legitimately on our own merit while still students is very humbling. Attending the event will be crucial to us for networking and giving us new ideas for future films."

Jake Griffin
Coventry University media production lecturer, said:
The students' success has been a real inspiration for our current year 2 students, who are about to embark on producing their own films. Media production students at Coventry University learn real film-making skills, from producing to directing, filming and marketing. We wish them every success at the festivals and in their future careers."

The festival takes place at venues across Birmingham from 20th until 25th November.

Sanna Wicks
Jump will be screened from 4pm on Tuesday, 20th November. A Perfect Moment in Time will be screened from midday on Thursday, 22nd November. Award winners will be announced at an event on Saturday, 24th November.
For more information visit: www.birminghamfilmfestival.co.uk