Stephen Sutton to receive posthumous honorary degree
Tuesday 11 November 2014
Press contact
---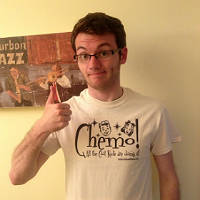 Stephen Sutton MBE, the teenager who raised £5 million for the Teenage Cancer Trust after a four year battle with cancer, will be posthumously awarded an honorary degree by Coventry University next week.
The Burntwood-born charity activist, who died in May this year, will receive an honorary doctorate of science – which will be accepted by his mother – in recognition of his outstanding contribution to highlighting the unique needs of teenagers and young adults with cancer.
In September, the Teenage Cancer Trust announced that £1.2 million from the funds Stephen raised will be invested to support vital research and – in recognition of his ambition to pursue a medical career – to create 50 scholarships in Stephen's name for professionals to undertake training on Coventry University's postgraduate certificate in Teenage and Young Adult Cancer Care.
Stephen's honorary degree will be awarded on Tuesday 18th November in a ceremony at Coventry Cathedral, in the same week that film director Ken Loach and Archbishop Justin Welby also receive honorary doctorates.
Nuneaton-born Loach is globally renowned for his gritty, hard-hitting style of cinema which explores class society in the UK, and will receive an honorary doctorate of arts in recognition of his contribution to the British film industry.
Archbishop Welby will be recognised for his longstanding commitment to peace and reconciliation, particularly the strong collaborations developed with African churches to support them in dealing with inter-ethnic violence.
Justin King CBE, former CEO of Sainsbury's; Jimmy Doherty, TV farmer and former Coventry PhD student; and Siobhan Davies CBE, renowned dance choreographer, will also each be receiving honorary degrees from the University.
The awards will be made alongside around 7,000 graduands of Coventry University who will be presented with their degree certificates in the cathedral, watched by their families.
John Latham, vice-chancellor of Coventry University, said:
Our honorary graduates have all excelled in or contributed to their respective fields in a way that deserves the utmost respect and admiration, so it is a pleasure to be commending them alongside our own graduands during the graduation ceremonies next week. I hope our students will be inspired by the passion and perseverance of these individuals as they embark on their own careers.

Stephen's commendation is particularly fitting, not only in light of his wish to pursue a medical career, but also coming soon after the Teenage Cancer Trust announced it would be using part of the money he raised to fund scholarships for professionals to train at Coventry University. We're delighted to be supporting Stephen's legacy in this way.
Stephen's mother, Jane Sutton, said:
It was a wonderful surprise when I heard the news about the posthumous honorary degree. To be awarded an honorary doctorate of science is especially fitting for Stephen as he had planned to go to university to study medicine. He decided he wanted to be a doctor from the moment he started to spend time in hospital when he was 15. He really wanted to help others and make a difference and I know he was capable of achieving whatever he set out to do.

Although it was not how he originally intended, he still made that difference. His accomplishments have benefited humanity and his legacy will help others now and in the future. I feel incredibly proud that Stephen's achievements are to be recognised in this way by Coventry University and I know he would feel the same about the honorary degree and the scholarships that have been set up in his name.
For further information, please contact Alex Roache, external press and media relations officer, Coventry University, on +44 (0)24 7765 5050 or email alex.roache@coventry.ac.uk.