Pete Waterman to tell secrets of success in Coventry University talk
Monday 02 June 2014
Press contact
---
Legendary pop producer and songwriter Dr Pete Waterman OBE is set to give a free talk in Coventry later this week about his rise from a working class background in the city to become a leading figure in the global music industry.
Dr Waterman will be sharing his story and the secrets of his success during the talk at Coventry University on Friday 6th June – the first time he has spoken at the University since he was awarded an honorary doctorate in business administration in 2001.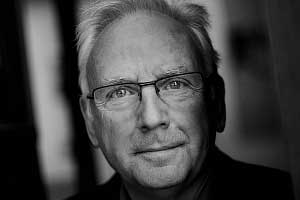 The Coventry-born music mogul is one of the most successful British producer-songwriters in history, with over twenty number one hits to his name and upwards of 500 million records sales around the world.
After setting up the world-famous record label Pete Waterman Limited (which later became Pete Waterman Entertainment) in 1984, the former Whitley Abbey School pupil scored a string of global smash hits over the next decade with artists such as Paul McCartney, Kylie Minogue, Rick Astley and Bananarama.
Alongside his career as a music producer and songwriter, Dr Waterman is also a successful DJ, author and TV presenter, and was one of the original four judges on the genre-defining music talent show Pop Idol from 2001 to 2003.
Dr Waterman has also had a lifelong passion for the railways, ever since his first job as a railway stoker when he left school. He is the proud owner of a significant collection of commercial and historic locomotives, and continues to make major contributions to the preservation and development of the industry.
In 2001, Dr Waterman was made an Honorary Doctor of Business Administration by Coventry University for his services to the pop industry, and four years later he was awarded an OBE in the Queen's New Year's List for his services to music. November 2011 saw him receive the John Peel Award for his outstanding contribution to UK music radio.
Dr Waterman, who hails from the Stoke Heath area of Coventry, said:
I'm very much looking forward to coming back to Coventry and taking the opportunity to speak with students and public. I've been fortunate enough to have had a fantastic career and worked with some amazing people, and it's always a pleasure to be able to share some of these stories, including the ups and downs, since my early days in the city.
The free talk, entitled 'Rags to Riches – the story and secrets of Pete's success', is open to the public and starts at 6pm in the Goldstein Lecture Theatre in the Alan Berry Building (opposite the cathedral). To register, please visit www.eventsforce.net/petewaterman.
For further information, please contact Alex Roache, external press and media relations officer, Coventry University, on +44 (0)24 7765 5050 or email alex.roache@coventry.ac.uk.