Jane Sutton congratulates first teenage cancer care grads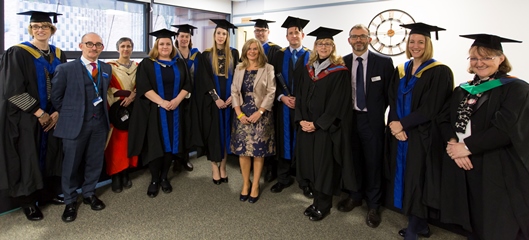 ---
Wednesday 23 November 2016
Press contact
---
Jane Sutton, mother of inspirational teenager Stephen Sutton MBE and Teenage Cancer Trust ambassador joined Coventry University to celebrate the graduation of the first students to graduate from the country's only postgraduate certificate in teenage and young cancer care.
In total, 12 students were awarded the Post Graduate Certificate in Teenage and Young Adult Cancer Care, with four also the first to benefit from having their tuition fees paid through the Stephen Sutton Scholarship.
The award winning Post Graduate Certificate in Teenage and Young Adult Cancer Care, delivered online, covers the latest developments and innovations in supporting this age group, inspiring change in practice and improved services, here in the UK and beyond.
The scholarship funding is part of the incredible amount raised through donations inspired by Stephen Sutton, which currently stands at more than £5.6m, of which £1.6m is being spent on professional development for nurses and specialist staff.
Applications for the scholarship are invited from anyone working with teenagers and young adults with cancer - including doctors, nurses, allied health professionals, youth workers, and social workers.
After graduating, Steven Shiels, Young Persons Social Worker at the children and young people's cancer support charity CLIC Sargent, also received an academic Excellence Award in recognition of his dedication and commitment to high standards work while completing the post-graduate course.
He said:
Receiving the Stephen Sutton Academic Excellence Award is a humbling achievement for me. It is an absolute honour to receive an award associated with Stephen's legacy.




"Completing the Post Graduate Certificate in Teenage and Young Adult Cancer Care has been a rewarding experience, and everything I have learnt will help me achieve the best possible results for the young cancer patients I work with in my role at CLIC Sargent."
On meeting the first group to benefit from the scholarship, Jane Sutton said:
To be invited back to Coventry University, two years on from collecting Stephen's posthumous honorary doctorate in Science, and witness the first students to graduate after benefiting from the 'Stephen Sutton Scholarship' is an honour and a privilege. Congratulations to everyone who has graduated here today.




"Stephen's wish was for every young person diagnosed with cancer to receive the best possible care and treatment. He would be thrilled to know these scholarships are playing such an important role in developing the knowledge of professionals working with young cancer patients and are therefore instrumental in helping to fulfil his wish."
Simon Fuller, Director of Services at the Teenage Cancer Trust, said:
Stephen had ambitions to pursue a career in medicine, so we decided to name the scholarship programme in his memory. Stephen has helped us to take significant steps in ensuring all young people with cancer receive the best possible care, and we're incredibly proud that, through his legacy, we're able to fund the development of the professionals that provide this support."
---
For more press information contact Kelly Baker-Adams, Coventry University, on 02477 659752 or email Kelly.baker-adams@coventry.ac.uk.