Gratitude wall tour aims to help boost people's happiness
Monday 09 October 2017
Press contact
---
A mobile gratitude wall inspired by Coventry University research, which showed how encouraging people to write down what they were grateful for helped boost their happiness, is going on tour.
Members of the public will be able to write messages of gratitude on the wall when it is stationed at museums in Coventry and Warwickshire during the next few months.
The project was prompted by the amount of research which has suggested that taking part in activities such as this increases happiness and reduces anxiety and depression.
Coventry University's own research on the topic looked at how participants on its HOPE programmes, which support parents of children with autism and also people living with cancer and multiple sclerosis, had benefited from expressing gratitude during their six-week course.
Participants completed a regular gratitude diary and filled in surveys at the start and end of the course to determine how grateful and positive they were feeling.
The results showed that they felt more positive and able to cope better with their situations after regularly filling in the gratitude diary.
The HOPE programmes are run by community interest company HOPE 4 the Community, which spun out of Coventry University's health psychology research.
Academics, from HOPE 4 The Community and the university's Centre for Advances in Behavioural Science, also say research they are carrying out in this area suggests people who say they were more grateful at the end of the courses because of these activities, were also less depressed.
They wanted to see if these gratitude activities could reach a wider audience and boost more people's positivity – and worked with CU Social Enterprise, which supports community-focused initiatives and businesses, to develop the wall, which can be transported to different locations.
The 4.8m by 1.2m chalkboard made its debut at Coventry's Godiva Festival in July, when more than 1,100 people left messages to say what they were grateful for that day.
Now the wall, part funded by the Museum-University Partnerships Initiative, will be stationed at Coventry's Herbert Art Gallery from October 16 until November 2 and the Market Hall Museum, in Market Place, Warwick, for the rest of November.
The wall will also be at The Priory Visit Centre on October 14.
Volunteers will be with the wall at the museums and the team eventually hope to do further research to see how people writing messages on the wall have benefited from the experience.
The wall was constructed by volunteers from the city's FabLab and has been developed in partnership with HOPE 4 the Community CIC, Culture Coventry, CU Social Enterprise CIC and Heritage & Cultural Warwickshire.
Gabriela Matouskova, business delivery manager at CU Social Enterprise, said:
"We're very excited that people across the county are going to benefit from the gratitude wall.

It is so visual and interactive and anyone can use it.

When we've taken it out before, the messages people have written and the conversations we've had with them have often been very powerful."
Andy Turner, professor of health psychology at Coventry University's Centre for Research in Advances in Behavioural Science, said:
"We saw from our HOPE courses that regularly expressing gratitude was a really popular and effective activity. It helped refocus people who were in a negative cycle.

The gratitude wall is not only easy and fun to do, it's rooted in scientific research."
Mum-of-three Alia Baig, from Baginton, Warwickshire, who took part in one of the HOPE courses as two of her children have special needs, said:
"Filling the gratitude diary in at night and reflecting on all the good things in my day meant I went to bed feeling positive, grateful and optimistic.

I think it's brilliant that members of the public will have a chance to use the gratitude wall. Anyone can be going through a difficult time in their life and really benefit from taking time to reflect on the things they are grateful for."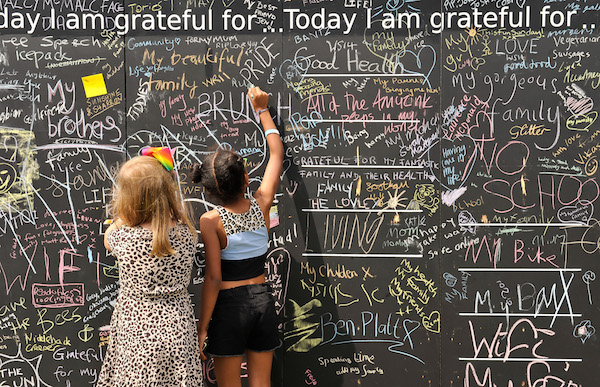 ---
For further press information, please contact Alison Martin, press officer, Coventry University, on 02477659752 or email alison.martin@coventry.ac.uk.