Godiva returns to join thousands of runners at Coventry Half Marathon
Tuesday 20 February 2018
Press contact
---
A larger-than-life Lady Godiva will return to wave off thousands of runners as they pound the city pavements in this year's Coventry Half Marathon.
Godiva, a seven metre high puppet created for the city, will appear with her mechanical horse at the start and finish line of the 13.1 mile race from Coventry University on Sunday 18 March.
Created by puppeteers at Imagineer Productions, Godiva will be dressed in the ceremonial coat made by local artists for her journey to London in the Olympic Games celebrations in 2012.
Jane Hytch, CEO of Imagineer Productions, said:
We are delighted to announce that Godiva will be with her giant mechanical horse at the start and finish lines of the half marathon to celebrate everything that is great about our city and its heritage.

Godiva has had a busy time helping to support City of Culture 2021 bid and now she's all set to will walk the streets of the city once again on race day."
The run is this year being led by Coventry University Students' Union as the university celebrates its 175th year in the city, and organisers are making sure the day celebrates and promotes everything Coventry has to offer.
Francis Chidiebere Ahanonu, CUSU President, said with places filling up, now is the time to sign up and take part in what will be another great day for the city.
He said:
We are really pleased to be organising this year's event, and having Godiva out with us is another way we can use the day to show off everything that Coventry's students and the community have to offer.

Around 2,000 runners are already signed up, and we want to encourage everyone to come out, support Godiva, and give it a go."
This year, runners will set off from The Hub, Coventry University Students' Union building, to complete a 13.1 mile loop before finishing near the steps of the city cathedral.
The day will include the annual Children's Mile and see street vendors and a food market at the Students' Union through the morning to entertain finishers, their friends and families.
2018 is the first year that the race has been organised by the Students' Union and coincides with celebrations to mark 175 years since the university was founded in the city with the opening of Coventry School of Art in 1852.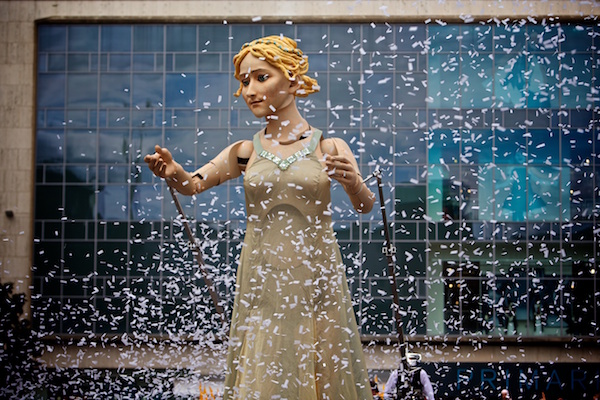 ---
For further press information, please contact Hannah Smith, press officer at Coventry University, on +44 (0)24 7765 8352 or at hannah.smith@coventry.ac.uk.