Food and Nutrition student wins Young Scientist Competition
Wednesday 10 May 2017
Press contact
---
A final year Coventry University student has scooped the title of undergraduate Young Scientist 2017 after impressing judges with a presentation looking at whether colour could be used to help reduce sugar intake.
Jessica Giovanni, who studies Food and Nutrition, won the prize at a competition run by the Midlands branch of the Institute of Food Science and Technology (IFST), held at the University on Monday night (9 May).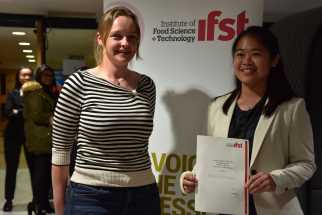 Five out of the six finalists in the undergraduate competition were Food and Nutrition students from Coventry University.
They each had to give a short presentation about a food science-related project before facing questions from the judging panel.
Jessica's presentation looked at whether colours could be used to replace sugar content, and therefore help the fight against obesity.
She ran an experiment investigating how the pink colour, from beetroot, affected people's perception of sweetness.
She concluded by saying if there was more research done into the issue of colour in food, it could be used to reduce sugar intake and could save the NHS money which it currently spent tackling obesity.
Coventry University students Hope Fields, Izzah Haji Ansrawi, Veenusha Vykunthavasa and Siti Nur Aziemah Haji Zaini also presented in the final, covering topics ranging from salt and ethnicity to how to improve the flavour of tofu.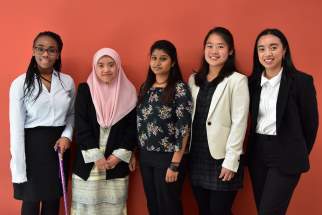 Jessica said:
"I'm very pleased to win. It was a bit scary to make the presentation, but it was a topic that really interests me and it was a nice experience to be able to tell people about my work."
Head judge Vicky Collett, chairwoman of the Midlands IFST branch and global quality manager at PepsiCo, said of Jessica's win:
"We all thought it was a really engaging topic, very commercially relevant, the flow of her presentation was very good and her timing was spot on. "All of the finalists were very impressive. It was very close."
Huda Al-Kateb, senior lecturer in Food and Nutrition, added:
"I am extremely proud of all my students who were in the final. I have supervised all their projects, and they are all very diligent and passionate about their subjects. I can see them going very far."
Jessica's win comes just a few weeks after more good news for the Food and Nutrition course.
The University's food science programmes were ranked 7th in the UK in the Complete University Guide.
And Food and Nutrition student Adelaide Barwood was named IFST Young Ambassador Prize for 2017 at the IFST Spring Conference last month after winning an essay competition.