Duke and Duchess of Cambridge open Coventry University's Science and Health Building
University news / Alumni news
---
Tuesday 16 January 2018
Press contact
---
The Duke and Duchess of Cambridge officially opened Coventry University's Science and Health Building after following a patient's entire journey through its innovative healthcare simulations.
Their Royal Highnesses met staff and students today (Tuesday 16 January) as they toured the £59 million facility, which will transform training opportunities for nurses, paramedics, midwives and other health professionals.
The building is the only facility of its kind where students learn to care for a patient at every stage of their healthcare experience, from paramedics arriving at their house and their subsequent ambulance journey, to their stay in hospital, through to their discharge and rehabilitation at home.
The royal couple's route followed the care of a fictional patient called Bernard who had suffered a deep cut to his arm in a fall.
They saw paramedic science students tending to Bernard in the building's ambulance, visited two clinical wards busy with trainee nurses taking part in hands-on exercises, including caring for Bernard, and watched operating department practice students in the mock surgical theatre preparing to operate on Bernard.
It was an honour for everyone involved in the day to show the Duke and Duchess of Cambridge how our new Science and Health Building immerses students in the realities of their profession.

We were proud to demonstrate the innovative teaching and hands-on activities that are transforming the experiences of our nursing and healthcare students. Their Royal Highnesses opening the building marked a new phase in our commitment to offer some of the finest healthcare teaching in the UK. This was an important day for our staff, students, our partners and the city of Coventry.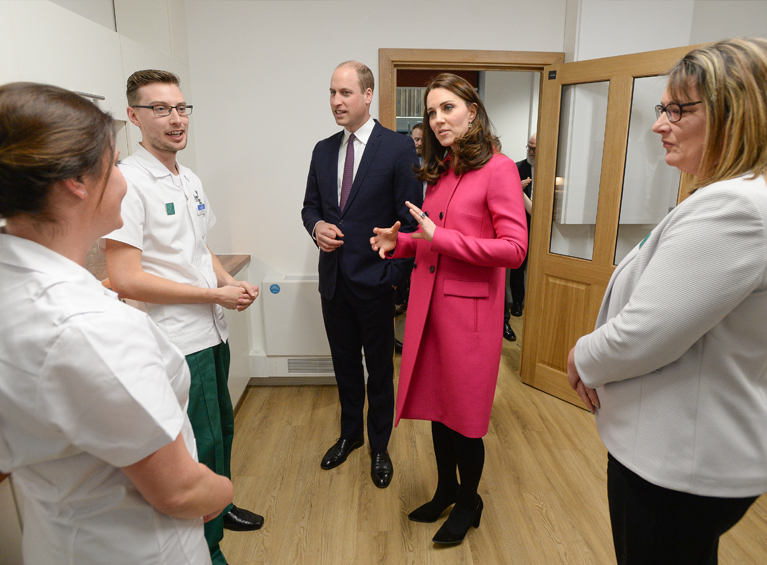 They also looked inside one of the building's community houses, which are designed to give students realistic experiences of working within people's home. Here they saw physiotherapy students working with Bernard on his rehabilitation – the completion of the healthcare journey for his injury.
At the end of the visit the Duke and Duchess of Cambridge launched a short animation to reflect the patient journey and to officially open the building. As well as healthcare training facilities, the Science and Health Building, which opened for teaching in October, includes professional-standard science laboratories, Olympic-grade fitness and sports research areas and a sports therapy clinic which is open to the public.
Alice Brooks, a second year paramedic science student, said:
They were amazed at the building we have here, how good the facilities are and how realistic it is. I explained all about the patient journey to them and how we can go right through from when a person is ill or injured to their time in hospital and their rehabilitation.
Neelum Choudhary, one of the second year operating department practice students who was in the mock operating theatre when the royal couple visited, said:
The Duke and Duchess were really interested in what was going on. I explained exactly what we were doing and how it was just like real surgery, but just without a real patient.
Eleanor Vines, a second year student studying children and young people's nursing, was in the children's ward with youngsters from Mount Nod Primary School. She said:
We told them how we bring children into our wards sometimes as it's much more realistic. They were really lovely and wanted to hear about what we were doing and how we were working with the children.