Dance researcher's work on show at ground-breaking virtual reality exhibition
Wednesday 23 August 2017
Press contact
---
A choreographer and academic will showcase her innovative work as part of a ground-breaking virtual reality exhibition.
Ruth Gibson, Creative Fellow at the Centre for Dance Research (C-DaRE), will exhibit her MAN A virtual reality dance pieces at the Enter Through The Headset 2 show, taking place at the Gazelli Art House in Mayfair, London, in September.
MAN A was created through her work as one half of the Gibson Martelli artistic duo and used motion capture technology – which often features in Hollywood films – to record dancers' movements digitally.
Visitors to the gallery will wear a virtual reality headset to be fully immersed in the performance piece.
It also draws on her research into Skinner Releasing Dance Technique – a specialist form of movement training which uses images, voice and music to prompt unstructured and improvised dance.
Ruth said:
"It's really exciting to be included in a show in a commercial gallery as it proves the art world is waking up to the promise of immersive experiences.

Virtual reality gives you a key to inhabit the space of the dancers, be amongst them and inside them. It's performance in the round and you can walk onto the stage."
Mila Askarova, founding director of Gazelli Art House, said:
"The intention of this show is to continue exploring non-traditional mediums in art, helping artists work within this field by creating a sustainable exposure and nurturing the cross-over between technology and art – a growing area of interest for the gallery over the past two years."
Ruth's work is also currently being exhibited in Auckland, New Zealand.
The moving image installation We Are Here And We Are Everywhere At Once, which was created by a group of artists from the UK and New Zealand, is on show at the TSB Bank Wallace Arts Centre until September 3rd.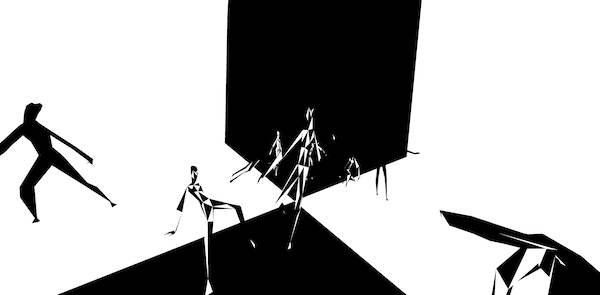 Image: MAN A
---
The exhibition takes place from 8th – 30th September. For more information visit www.gazelliarthouse.com.