CU Scarborough's Health Conference to welcome England rugby star as part of two days of events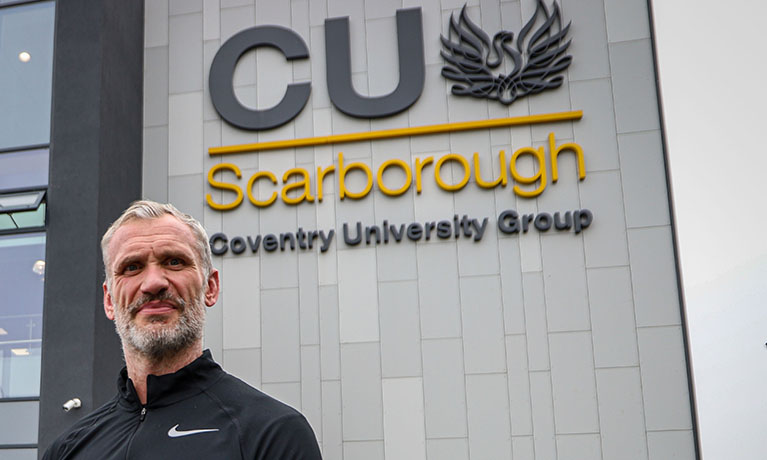 ---
Tuesday 24 October 2023
Press contact
---
CU Scarborough will welcome an England rugby legend to speak at its second annual health conference this week, which this year focuses on the Learning Disability and Mental Health sectors.
Jamie Peacock, who captained the England rugby league team for eight years and has been recognised for his services to the game and awarded an MBE, will hold an interactive session for students, teachers, health professionals and visitors as part of the two-day conference. He will discuss the four pillars of wellbeing and how they can help people to deal with the challenges and stresses of life.
Regardless of who you are, wellbeing is something that is foundational for you to be successful, no matter your ability, what you do or who you are in life. It's very, very difficult, almost impossible to fulfil your potential unless you've got a strong base of wellbeing behind it.

I like that CU Scarborough is punching above its weight, I like the story to it. I've managed to get to the top of professional sports, overcome a number of huge obstacles on the way, and had to show a lot of resilience and I think Scarborough's at the same place. It's a great spot in Yorkshire but is also home to a campus that is full of good people. Those are two things I like; good people and organisations or people who are not limited by what other people expect of them. So that's why CU Scarborough resonates with me.

Jamie Peacock
Speaking on the opening day of the conference, which runs on Thursday 26 October and Friday, 27 October, under the theme of Learning Disability and Mental Health, Jamie will be offering insights and small actions that people will find easy to make part of their daily routine and help them to build stronger habits.
The Learning Disability and Mental Health theme is particularly significant this year as CU Scarborough has recently celebrated the first year of graduates from its Learning Disabilities Nursing course, as well as the second year of Mental Health Nursing graduates, all who have secured jobs within the York and Scarborough area.
There are fantastic opportunities within the mental health and learning disabilities industries and we want to show just how diverse working in these sectors can be and the impact that they can have on those accessing services and their families. Within our courses we have been exploring innovative ways to enhance the student experience, including guest speakers, exposure visits, simulation and the use of virtual reality.

We hope the conference raises awareness of how a resilient workforce is needed in meeting the needs of vulnerable groups within the nursing and social care sectors.

Claire Barwick, Head of Curriculum, Health, Education and Nursing at CU Scarborough
The health conference will be particularly useful for those currently at school or college and thinking about higher education study in the Health and Social Care sector or those who are currently working and wanting to enhance their career.
It has a different theme each day and there will be a selection of guest experts covering key topics from the industry who will provide attendees with an insight into different job roles within health and social care. There will also be keynote speakers, breakout room sessions and networking opportunities as well as refreshments, a goody bag and certificate of attendance.
To book your free place, sign up here.