CU London student population set to more than double in the next academic year
Wednesday 09 May 2018
Press contact
---
East London's newest University campus is set to more than double its student population in the next academic year.
Having opened in September 2017, CU London is on track to welcoming 500 students in its first year, with that figure expected to rise to around 1,100 in 2019.
To cope with the increase, over 30 academic and professional staff have been sought in a major recruitment campaign, which will take the employee total up to 100.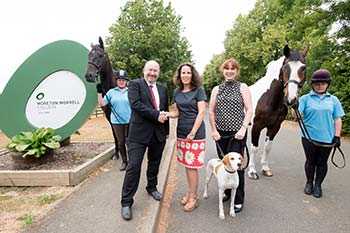 This is a very exciting time for CU London, we have huge ambition for continued growth over the coming years and this is the start of that.

To have recruited to target in our first year from a standing start is an incredible achievement and we are ready to take another big step forward in readiness for September.

We have a great team here; our staff and students are enjoying their experience.

We're all looking forward to the incredible opportunities ahead.
CU London is part of the Coventry University Group which was ranked in the top 12 of UK universities in The Guardian University Guide 2018 and achieved Gold in the Teaching Excellence Framework 2017.
CU London have put considerable time and effort into restoring and revitalising the historic Grade II listed former Dagenham Civic Centre, which is now transformed into a top-quality university learning environment thanks to a £4.5 million investment.
Based upon a high-value, career-focused model of higher education, CU London offers lower fees and more flexible and accessible learning options than other universities, which fit around students' lives.
A broad range of courses are on offer at the campus including: law; accounting; business; health and social care; combined engineering; cyber security; policing; primary education; and more.
Andy added:
We have a fantastic campus which is a pleasure to work in and of course being part of the regeneration of this hugely ambitious borough is a once-in-a-lifetime opportunity.
For potential students, CU London will host its next open day on Saturday May 12, from 10am to 2pm.