Coventry University Scarborough Campus granted planning approval
Thursday 16 July 2015
Press contact
---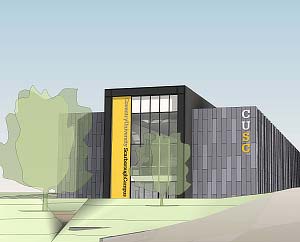 Coventry University has been granted planning approval by Scarborough Borough Council to develop its new campus in the North Yorkshire town.
The decision paves the way for the new £14 million Coventry University Scarborough Campus to be built and opened by September 2016, as part of a new sports and education facility on the former Weaponness park and ride site.
Based on the high-quality and low-cost career focused model of higher education pioneered in Coventry, the Scarborough campus aims to address the employment and skills needs of the Yorkshire coast as well as attracting students from the wider Yorkshire region and beyond.
An open day and launch event will be held on Saturday 25th July at the Scarborough Spa Complex in the town, during which visitors can find out about the range, flexibility and accessibility of degree and professional courses which are designed to produce career-ready graduates.
The beach-themed launch event will reflect the seafront location of Scarborough Spa, with free ice-cream and rock for visitors and a professional sand artist who will be creating a sculpture on the South Bay beach near Scarborough Spa.
Professor Craig Gaskell, provost of Coventry University Scarborough Campus, said:
We are very pleased at the decision of the committee and will now be progressing the project. The students we recruit this September will move to the brand new building in their second year of study in September 2016.

We believe our new University campus will have a transformational economic and social impact enhancing the education, skills and career prospects of local people for many years to come.

We are also aware, however, that the development has to be handled with sensitivity and with respect for and in consultation with those residents that live closest to the site. We will keep local people, businesses and other stakeholders informed as our plans move forward and we look forward to being integral to Scarborough for the long term.
For further information, please contact Alex Roache, external press and media relations officer, Coventry University, on +44 (0)24 7765 5050 or email alex.roache@coventry.ac.uk.