Coventry University mentioned in Government plans to increase nursing training places
Tuesday 03 October 2017
Press contact
---
Coventry University was today mentioned by Health Secretary Jeremy Hunt at the Conservative Party Conference as he announced plans for a 25% increase in nurse training places.
He spoke about the need to 'not just increase traditional university places' but also make it easier for people to become nurses without needing to do a degree.
Mr Hunt said an extra 5,500 nursing associates will receive on the job training to qualify as fully registered nurses through a new apprenticeship route.
He said that Coventry would be one of three universities, along with Derby and Wolverhampton, offering the innovative apprenticeship nursing courses.
His announcement came on the same day that CU Scarborough revealed it has had approval from Coventry University and the Nursing and Midwifery Council (NMC) to deliver a BSc Adult Nursing degree. It means nursing training has returned to Scarborough for the first time in 23 years.
Speaking about Mr Hunt's speech, Professor Guy Daly, Coventry University Pro-Vice-Chancellor for Health and Life Sciences, said:
"The NHS desperately needs more nurses and we are proud to be contributing to the innovative ways of training the nursing workforce.

It is crucial that these future NHS staff are educated to the highest standards. A well-educated nursing workforce has a positive impact on standards and quality of care, and will save more lives. This is at the heart of all our training.

The development of alternative routes – such as nursing associates and apprenticeships into the profession - are positive. But the full details must include a clear understanding of how this will be funded, with an arrangement that works for trusts, universities and trainees.

With this announcement, alongside the opening of our Science and Health Building, which has transformed nursing training for our students, and our new nursing bursary for men, we continue to be leading the way in finding innovative ways of encouraging and educating future generations of the healthcare professionals."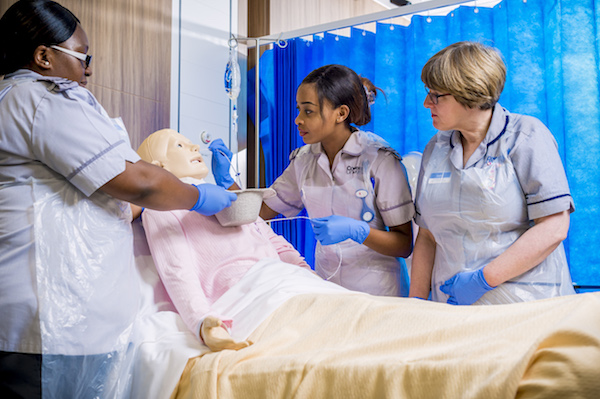 ---
For further press information, please contact Alison Martin, press officer, Coventry University, on 02477659752 or email alison.martin@coventry.ac.uk.